Sara Rich Dorman: Rise in Eritrean refugees due to military service
THE number of Eritrean asylum applications is very striking given that Eritrea is a tiny country of around five million people and not engaged in active warfare, despite its uneasy relations with bigger neighbours such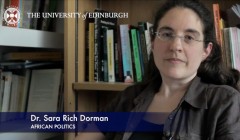 THE number of Eritrean asylum applications is very striking given that Eritrea is a tiny country of around five million people and not engaged in active warfare, despite its uneasy relations with bigger neighbours such as Ethiopia.
That these asylum seekers tend to be so young is best explained by the country's mandatory military draft, which begins as soon as children have left school, and may continue for decades. Although some are lucky enough to spend their military service working for the government, the majority spend years in extremely difficult conditions, with no opportunities to start families, look after ageing parents or pursue careers.
The rise in under-18s seeking asylum therefore reflects young people fleeing before they are captured by the draft. Although military service may sound like a reasonable option for youth in a poor country, and Eritrea has a proud tradition of national service, the current regime of military service is often compared to forced labour – youth have no option whether or not to participate, even if they have religious or conscientious objections.
In addition, military service is, for many, without end – you don't serve your time and leave, you remain stuck in the military for decades.
Forced military service is recognised internationally as grounds for asylum.
There are also many other grounds for asylum in Eritrea – the UN Commission of Inquiry on Human Rights in Eritrea reported extensive and gross human rights abuses in Eritrea in a detailed report released last summer. In particular, freedom of religion and political association are extremely limited.
Although it is hard to know why so many appeals have been allowed this year, my suspicion is that it may relate to the changing UK Government guidance in March 2015.
We know that this lead initial approval rates to go from 73 per cent in the first quarter of 2015 to 34 per cent in the second quarter.
But there were very serious problems with the UK guidance – it was based on a very misleading interpretation of evidence and many experts, including myself, criticised this decision.
I am therefore not at all surprised that many of those refused asylum may well have succeeded on appeal.
My experience of the system suggests that their applications were likely to have been well-founded.
Dr Sara Rich Dorman is a lecturer in politics at Edinburgh University and specialises African politics
The National, Scotland