Rubbish dump landslide kills at least 30 in Ethiopia
Many victims are thought to have been people who scavenged for a living at Koshe landfill site At least 30 people have been killed and dozens more hurt in a giant landslide at Ethiopia's largest rubbish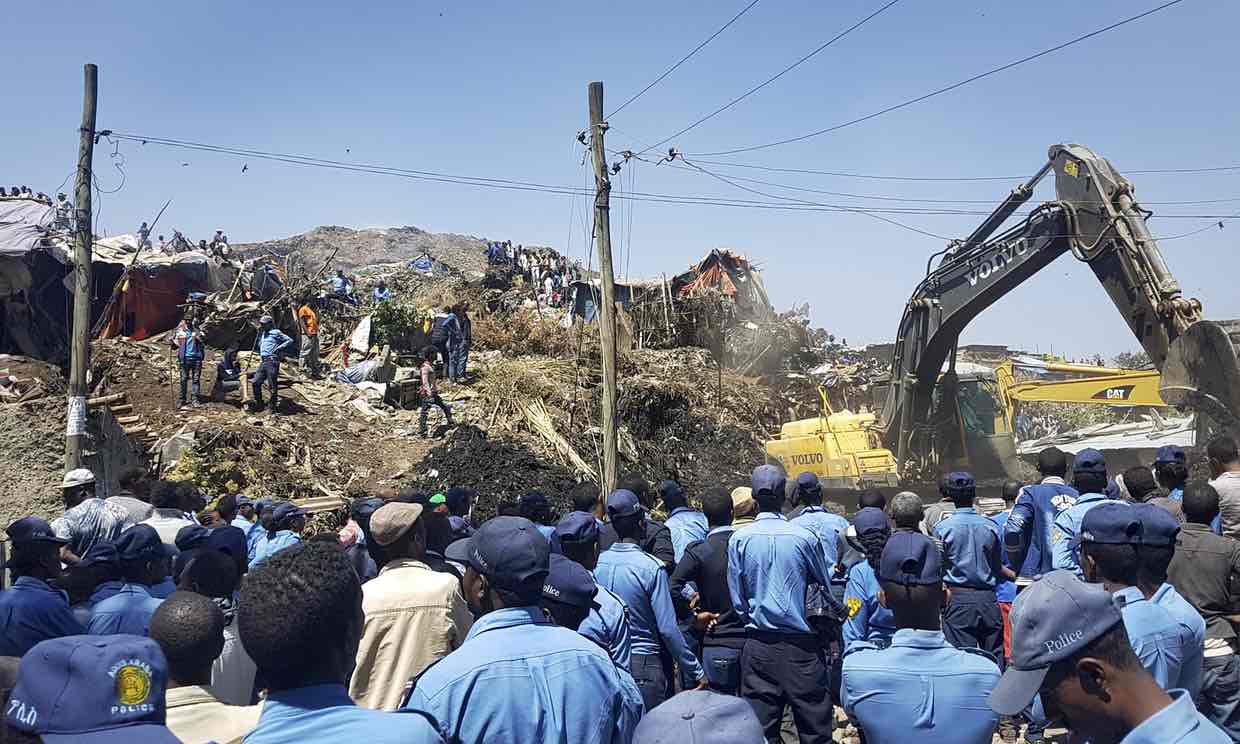 Many victims are thought to have been people who scavenged for a living at Koshe landfill site
At least 30 people have been killed and dozens more hurt in a giant landslide at Ethiopia's largest rubbish dump, officials have said.
Dozens of homes of squatters who lived in the Koshe landfill site, on the outskirts of Addis Ababa, were flattened when the largest pile of rubbish collapsed on Saturday.
"The death toll is now 30," said Dagmawit Moges, head of the city communications bureau, adding that the number of fatalities could rise further. Many of the victims were squatters who scavenged for a living in the dump, she said.
Construction materials, wooden sticks and plastic sheeting could be seen in the wreckage.
The Koshe site has for more than 40 years been the main garbage dump for Addis Ababa, a rapidly growing city of about 4 million people.
According to residents, about 50 houses with about seven people living in each of them were built on the rubbish.
People had built the houses about two to three years ago, said Berhanu Degefe, a rubbish collector who lives at the dump but whose home was not destroyed.
"Their livelihood depends on the trash. They collect from here and they live here," Degefe said, referring to the victims and other squatters.
"This part, all of it went down," he said, gesturing at a huge chunk of the hill that suddenly slid. "A lot of people died last night."
Degefe blamed the collapse on a new biogas plant being constructed on top of the hill. Bulldozers could be seen on top of the hill pushing piles of rubbish around. Degefe said they were levelling ground for the plant, increasing pressure on the hillside and causing the collapse.
Cracks were visible in the ground at the top of the hill, suggesting more of the pile could slide.
Koshe, whose name means "dirt" in local slang, was closed last year by city authorities who asked people to move to a new dump site outside Addis Ababa. But the community there did not want the landfill, and so the garbage collectors moved back.
Poverty and food insecurity are sensitive issues in Ethiopia, which was hit by a famine in 1984-85 after extreme drought.
In recent years, the country has been one of Africa's top-performing economies and a magnet for foreign investment, with growth in near-double digits and huge infrastructure investment.
Still, nearly 20 million Ethiopians live below the poverty line set by the World Bank. Critics have hit out at the government's economic policies, saying they have a limited trickle-down effect from the elite to the majority of the people.
The Guardian