Repatriation of 339 Victims to Eritrea May not Take Place: Pro-Democracy Eritreans Call for Increased Public Pressure against PFDJ and Italy
Repatriation of 339 Victims to Eritrea May not Take Place: Pro-Democracy Eritreans Call for Increased Public Pressure against PFDJ and Italy FOR IMMEDIATE RELEASE: October 11, 2013 – Pro-democracy Eritreans who have been demanding the repatriation of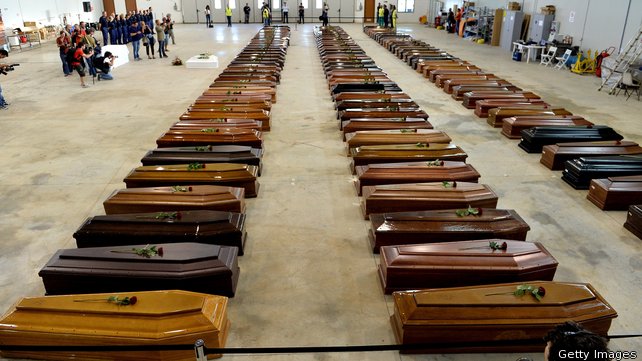 Repatriation of 339 Victims to Eritrea May not Take Place: Pro-Democracy Eritreans Call for Increased Public Pressure against PFDJ and Italy
FOR IMMEDIATE RELEASE:
October 11, 2013 – Pro-democracy Eritreans who have been demanding the repatriation of boat victims to Eritrea fear that the recent statement by the Eritrean Embassy in Italy is not genuine. On Wednesday, October 9, 2013 the Eritrean Embassy in Rome announced that the bodies of the boat tragedy in Lampedusa would be repatriated to Eritrea for burial, days after the Eritrean Government was busy dismissing the news as some boat carrying "African Immigrants" sinking in the Mediterranean Sea. The statement was a response to the mounting pressure by Eritreans worldwide demanding that the bodies should be returned.
"We believe that there is a very big chance that this was a tactical move and that the repatriation to Eritrea will not take place because the Eritrean regime does not want it to happen", says a local representative of the Eritrean Youth Solidarity for Change (EYSC). "And we have several indicators that suggest so."
The indicators can be summarized as follows:
The national tragedy was only acknowledged by the Eritrean Government after an entire week after the incident took place.
The announcement of repatriation of the bodies to Eritrea was only made by the Eritrean Embassy in Rome using a media channel exclusively accessed by the Eritrean Diaspora who was driving the campaign for burial of the victims in Eritrea. The government's official statement on state run EriTV and and its official website shabait.com however, did not mention the returns of the bodies. This means that the people mostly affected by the tragedy, the very families and parents of the victims who reside inside Eritrea, have not been made aware of such an undertaking.
The repatriation of over 300 victims is an undertaking for which the Eritrean Government needs to take full responsibility. There are no signs up to this date that the Italian government has prepared to hand the victims over, nor is there any official request by the Eritrean government that Italy should do so or that affected families should come forward.
No Eritrean government officials have visited Lampedusa to pay respect to the victims or the survivors including Eritrean Ambassador to Italy, Zemede Tekle, and Head of Political Affairs Yemane Gebreab, who are both within geographical proximity in Rome.
Isaias Afewerki has not made any announcement to the Eritrean people
Burial will need to take place within days and there are no signs whatsoever informing families in Eritrea that the PFDJ regime is working on a transfer of the bodies. The announcement by the Eritrean Embassy may have been simply a means to halt the accelerating pressure in the Diaspora, because families inside Eritrea waiting in agony have been left in the dark. EYSC calls for the Eritrean people to not let the PFDJ get away with any last minute excuses why the bodies could not be repatriated. We call upon every Eritrean to keep up the public pressure and to loudly demand from the PFDJ and the Italian Government that all 339 victims will be returned to their families and buried in their homeland Eritrea in full state honor. Anything less will not be accepted by the Eritrean people.
For more information:
CONTACT:
Eritrean Youth Solidarity for Change (EYSC)