Refugee's risk in Eritrea leads to happy life in Santa Rosa
Not everyone he knew in the Sudanese refugee camp supported Girmai Araya's decision to seek refuge in the United States in 1984. "They said, 'You don't want to go to America. You're gonna wash dogs, you're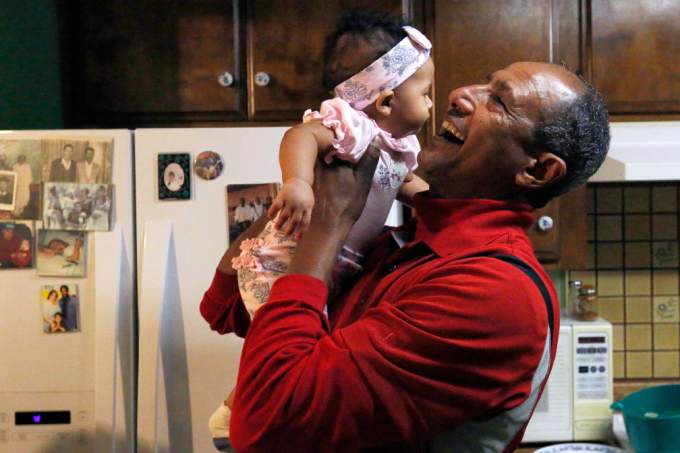 Not everyone he knew in the Sudanese refugee camp supported Girmai Araya's decision to seek refuge in the United States in 1984.
"They said, 'You don't want to go to America. You're gonna wash dogs, you're gonna wash horses.' It was scary," said Girmai, seated with his wife, Lavonne, in their Roseland home of nearly 30 years.
"But I tell all my friends, 'If you want to go out of this, you just got to go. You never know what's out there, but you got to take a risk. And I'm going,'" he said.
Then he added: "Everybody thinks I'm basically getting lost — maybe four or five years later, they wish they did what I did."
The war between Ethiopia and Eritrea drove the teenage Araya from Eritrea, after the Ethiopian army burned down his village, Adi Groto, and kidnapped his sister. He and a friend walked for a week to Sudan, he said. He was 17, destined for five years of working in crop fields.
"Like they do wines here," said Araya, now 53. "They take you in the van and put you out there to work for a month."
An uncle working with the Red Cross helped him apply for refugee status and he arrived in New York City in 1984. Unlike some other refugees, he doesn't recall the exact date. The next day, he flew to San Francisco and was put on a bus to downtown Santa Rosa, arriving wide-eyed and determined.
"The buildings, the houses, the trees, it was something totally different. And the people. It was totally different," he said. "My instincts were, I have to eat. I have to eat, and I have to go to work. My mind was get a job, learn the language and move on."
He had a few months' assistance from Catholic Charities. The nonprofit furnished some money for incidentals and food stamps, which he quickly decided he wouldn't use.
"I still remember me and my friend — healthy-looking kids — trying to pay food stamps at Lucky," Araya said. "And they look at us in our faces, they were saying something, we just didn't understand. We figured it out later: 'They're young kids. Why can't they have a job?' "
He gave the food coupons to an Eritrean family with children, he said. Soon, he was taking English classes at Santa Rosa Junior College. By 1988, he had three jobs and was working seven days a week: He was cleaning the meat department at FoodMaxx on Sebastopol Road (where he and Lavonne met), working in a convalescent home and assembling parts for a guitar manufacturer.
"That was a lot of schooling for me," he said, referring to the amount of English he learned in those years. "I studied a lot; I learned a lot by having to talk to a lot of people."
Eventually, he went full time at FoodMaxx. He didn't like the cleaning work, but his eyes were on a greater prize.
"We do our own meat back home — cattle, goats and lambs — so I liked it. I wanted to be a meat cutter," he said. "I waited, I waited, so they gave me the chance to work the morning shift. I loved that."
Four years later he joined Costco's meat department in Santa Rosa, becoming its manager in 2007, he said.
In 31 years, he has seen a lot of fellow Eritreans, including a brother in 2012, arrive as refugees in Santa Rosa. He offers this advice:
"First thing is, they have to be patient. You have to learn the language, you have to understand the culture — how you really want to fit into it. Not get any other bad influence; there's a lot of drugs and alcohol. You can get in a lot of bad stuff really easily, gangs," he said.
"Try to be safe, do your own thing. You go to home, you go to work, take care of the things you want to take care of. Because if you have plans to support your family, you have plans to get your education, it's not going to come easy, you have to work on it," Araya said. "And you got to start with your head. There's a million opportunity out there but you got to be the chooser to make it happen. That's what I tell them."
He felt for the first time fully American in 1993, the first time he returned to Eritrea, following a divorce from his first wife.
"I said to myself, this is it, I will never go back here to live. The country, the whole entire atmosphere. It's easy to live there, there's not a lot of cost, but there's not a lot of security, either," he said. "You don't know. One year might be fine, the next year might not be, There's a lot of roller coaster."
"I said this is my home," Araya said, referring to Santa Rosa. "I got nowhere else to go."
In 2000, Araya became a U.S. citizen.
"I wanted to vote. It's your opinion. Your voice. You feel like you vote for the things you believe in," he said. "You believe in to live in a peaceful, good environment, if that's what you believe in, you vote for it."
Still, for Araya, who has helped financially sustain his family in Eritrea since he left them, his passage has stripped some fond goals.
"I wanted to be a pilot. That's what my goal was. I had a chance to go for it, I could have gone to school here," he said. "But I couldn't do it. My goal was to support my family first. That was the only thing that was mine. I changed that goal to support my family."
He and Lavonne have four children, three from his first marriage. They all went through the Roseland school district. He is at home, he said.
"All different, worldwide people came here, and make their best effort," he said. "I like this area because we fit in it."
Source:pressdemocrat.com