President Afwerki AND Fear (I)
President Afwerki  AND Fear (I) Dedicated to our fearless hero Brigader Colonel Sied Ali Hjay (Wedi Ali) Quote of the moment: A person who fails to be educated in a convenient environment for education is a murderer of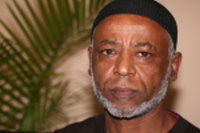 President Afwerki  AND Fear (I)
Dedicated to our fearless hero Brigader Colonel Sied Ali Hjay (Wedi Ali)
Quote of the moment: A person who fails to be educated in a convenient environment for education is a murderer of one's mind and potential creativity.
 Dear readers;
Although our gallant members of the army at FORTO uprising involved concerned Eritreans in general the way Brigader Colonel Sied Ali Hjay(Wedi Ali) sacrificed his life for freedom and the extent of heroism he showed in the overall event deeply impressed me to dedicate this article to this special gentleman in the name of the RESISTANCE and our society at large with maximum respect to all other brothers and sisters involved in the uprising.
In response to FORTO,  Mr. Afwerki said, "Entertain no worry at all, as there was – and does not exist – any reason for being apprehensive".
Mr. President;
You know you did not say much in your statement above but you would be surprised the character you reflected through it to the universe. Please allow me to share my view without personalizing it.
 It so seems like emotion and extreme individualism govern your mode of thinking: I was shocked of your self-deceptive pattern through this statement. Human beings are naturally crafted to be afraid of a threat but you claim to absolutely not. If fear is an inherent human nature and you do not get afraid at all, you are logically disclaiming that you were human; don't you?  Your self-deception, apparently might have helped you in the past to enjoy momentary stability but I doubt it can serve you this time because I believe the cumulative consequence of your countless mistakes should exceed your physical or/and psychological resistance beyond repair by now to expect medication out of this mechanism even temporarily. What I mean is that your self-deception has reached the threshold where it cannot help you any more, don't you think?
Coming to your statement, this is not a boxing contention where one reflects the image of fearlessness to demoralize an opponent before a match. I have heard that you do not hesitate to correct the dudes around you physically and mentally when they misbehave; this could have happened once and twice throughout your administration but one is one too many for a person in your position. I admire your bravery but the confrontation here is on sociopolitical issues, my brother!  The time for political bullism is globally over and I am sorry to tell you that your statement is denial of the "objective reality, rejecting real problems on the ground and saying that everything is all right" the clinical psychologist Michael was talking about you. 
In  "An Afternoon with Louis Michel in the European Parliament; the author on Michael Lewis continued;  "this kind of tendency deprives a person from a rational approach to dialogue. In fact, he was so frank in stating that most of his engagement with the Eritrean president was a monologue rather than a dialogue. The man talks a lot and once he starts talking he doesn't want to stop. [] The Eritrean president also speaks on some issues with a great deal of obsession and unnecessary technical detail, denying completely what is happening on the ground. He seems to be always occupying himself with everything…. Indeed, it requires a lot of patience and endurance to simply sit and listen to what has to be said in an unconventional behavior…..the sense of victimization is deeply engrained in the mentality of the Eritrean president. Apparently, the president thinks he has been victimized [] by the international community. He thinks everybody is against him and he has internalized this belief to an extent that it has now clouded his rationality"
 Mr. Pesident! Your state of mind described by the clinical psychologist/politician fits the meaning of paranoia; at least I think so! Do you mind checking it together?
Brief definition from the NET for discussion
 "Paranoia is a symptom in which an individual feels as if the world is "out to get" him or her. When people are paranoid, they feel as if others are always talking about them behind their backs. Paranoia causes intense feelings of distrust. An individual suffering from paranoia feels suspicious. As a result, [one] changes his or her actions in response to a world that is perceived as personally threatening.
Paranoia is often manifested as part of the symptom complex ofschizophrenia . [A sufferer of] "paranoid schizophrenia [is]preoccupied withdelusions in which the world seems to be pitted against him or her. As with other forms of schizophrenia, sufferers often lack contact with reality, and display hallucinations , flat or emotionless affect , and disorganized thinking and behavior.
Psycho-Analysis
In this case, there is no question that you distrust everybody; you could not even let Ali Abdu ("closest" servant in the past) the whereabouts of Dawit Issac. You would not have mismanaged the nation with this extent of insecurity without a chronically suspicious mind. In fact you would not have blown the unanimous Eritrean support, trust and love we gave you in the beginning without paranoia: without feeling threatened in the complete absence of a threat. In this regard, I regrettably tell you that you have wasted one of the best opportunities to impact society positively.
You further assumed the whole world was out there to get you and this mentality is logically inexistent without imagining everyone talking about you directly or indirectly. The two positions are mutually inclusive in my understanding. Yet; the international community has totally ignored you except Eritreans only because you have been the cause of their suffering for the most part. This seemingly tranquilized mind qualifies you for being a sufferer of paranoid schizophrenia.
Good bye Mr. President!!