Petros' story: "Never Stop Fighting For What You Believe In"
Ozichi Emeziem "Never stop fighting for what you believe in and never give up on your dreams." That's Petros Tesfagherghis' advice – and the belief he lives by. Petros is modest and unassuming. Asked about his own successes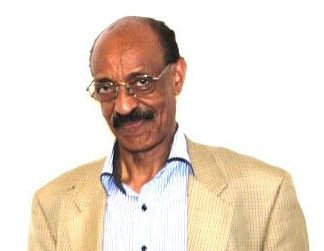 Ozichi Emeziem
"Never stop fighting for what you believe in and never give up on your dreams." That's Petros Tesfagherghis' advice – and the belief he lives by.
Petros is modest and unassuming. Asked about his own successes and difficulties – including twice fleeing his home country of Eritrea – he turns the question away from himself and back to social justice.
His persistent passion for social justice is closely tied to events and experiences in Eritrea, which reveals some reasoning behind his adamant belief.
Born in the capital, Asmara, Petros comes from a middle-class family who owned a leather factory. For most of his youth Eritrea was under the rule of neighbouring Ethiopia. However, by the early 1960s groups were pushing for independence and started an armed struggle.
He too joined these efforts through the university student movement against dictatorship while studying in Addis Ababa for a degree in business administration in the late-'60s. It was, he recalls, "the most radical movement in Africa". He joined in the belief that "if a democratic government installed itself in Ethiopia then the case of Eritrea would be solved peacefully."
But democracy was not yet in sight. Instead, Ethiopia's autocratic Emperor Haile Selassie was ousted by the army in 1974, "which then hijacked the momentum of the movement and declared itself military junta government".
In 1973 Petros returned to Eritrea from university to manage the family firm, but the military dictatorship became increasingly repressive. He witnessed "security forces shooting youth in cold blood who they suspected to be sympathisers of the armed struggle".
Stirred by the frequent injustices, he joined an underground cell of the Eritrean People's Liberation Front (EPLF), which was fighting the dictatorship. Smuggling goods such as medicines for Eritrean fighters and injured civilians and fundraising from patriotic businesses was risky. Capture meant torture and death. On 3 March 1975 one of his friends in the underground cell was captured by the security forces. Petros escaped to the outskirts of the city in order to avoid the same fate. After 3 days news came that his friend had died during torture.
Petros was sent to the Sahel Camp in the liberated area and began to train with the rebels. However, the dust at the camp worsened an eye condition and he left for the UK, initially for medical treatment and later sought asylum.
Even from afar he continued to do whatever he could to help his people and country. He got an MA in social policy in developing countries from the London School of Economics. Then for 17 years worked with the Eritrean Relief Association helping Eritrean refugees adjust to life in a new country as well as soliciting aid for areas controlled by the EPLF in Eritrea.
After Eritrean forces defeated the Ethiopian army in 1991 he returned to Asmara to help rebuild the country. He worked at the Commercial Bank of Eritrea and wrote for Eritrean publications. Sadly, he found himself witnessing repression again, this time at the hands of President Isaias Afewerki, who led the ELPF in the fight for independence but emerged as a dictator unwilling to subject himself to election.
Thus one of the issues for which Petros raised awareness passionately – then and now – is mandatory indefinite military conscription which started during the border war with Ethiopia and remains in place. He is of the opinion that the ulterior motive was to control the youth, preventing them to rise up to oppose the gross human rights violations in Eritrea.  In Eritrea, 12th grade, the last school leaving year, is taken in Sawa Military camp under the military regime with no academic freedom.
In his eyes and many others, including United Nations Inquiry Commission for Eritrea this indefinite military conscription is slavery. It involves gross human rights violation as those conscripted are given unliveable wages, forced to do hard labour, and subjected to violence including beatings, prison, rape, or threats of disappearance.
He believes the repression is widespread, destroying the fabric of the Eritrean society and together with arbitrary imprisonment and lawlessness, has led many young people to flee the country.
Petros himself ended up leaving again. As a writer who openly criticized the government he began to feel at risk of the government seeking revenge, especially with the arrest of G15, a faction within government whose members have since been imprisoned for advocating democracy. They were arrested on 18 September 2001 together with the editors of private papers like those to which Petros contributed. Sadly, it was the end of freedom of expression.
He left because "once [the government] realised there would be no counter-offensive then the witch-hunt would begin and we would be the victims".
Returning to the UK did not separate him from the new struggle for social justice. Instead, he committed himself to raising awareness of the plight of Eritreans who leave the country and on their journeys fall victim to kidnapping networks which ransom or kill them, or steal their organs.
He continues to advocate for change in his homeland while working to support Eritreans in the UK, though such activities are voluntary and hampered by lack of money. He was the secretary of the Eritrean Refugee Support Association (ERSA) that has merged with Eritrea Focus (EF). Eritrea Focus is an organisation that exposes human Rights abuses in Eritrea and has commissioned research on UK corporate complicity in human rights abuses there. The organisation also works to offer skills training and education to refugees in the UK. One of its recent successes is to ensure the formation of an All Parliamentary Party group for Eritrea (APPG), which has already led to a debate in the House of Lords.
Petros also is the secretary of Eritrean Elders Welfare Association – a charity that combats loneliness and isolation among Eritrean Elders in the UK.  He works as an interpreter, speaking English, Amharic and Tigrinya, and is active in other organisations, including Migrant Voice, Migrants Organise, and Citizens UK.
He says fear of the long arm of the Eritrean government through informers is rampant in the community abroad, which is also facing social problems as children grow up in a society and culture different from their parents' expectations. Internationally, he feels that the European Union and the United Nations have avoided tackling the root causes which send Eritrean refugees into exile but are more concerned with stemming the flow of refugees, who have already put their lives at risk.
Nevertheless, his commitment to social justice has not wavered, which is why he keeps fighting for what he believes in and has not given up on his dreams.
And though he deflects personal questions in order to talk about humanitarian issues, he is a husband of 33 years and a proud father to a daughter and son who are both working graduates. When he is not writing, translating, or helping organisations, he likes to relax while watching a football match or a film, and is rather fond of the gym.
Petros has witnessed many things in his life from violence to successes. Yet, his devotion to human rights is inspiring and also comforting. In the midst of growing instability in global affairs it is consoling to meet a person whose engagement has not faltered. His humanitarian work continues so long as there is work to be done.
Source: Migrant Voice