Open let­ter to Chris­tine N. Umu­toni, UN Resident/​Humanitarian Coor­di­na­tor in Eritrea
Chris­tine N. Umu­toni UN Resident/ Humanitarian Coor­di­na­tor & UNDP Res­i­dent Rep­re­sen­ta­tive Asmara, Eritrea Dear Ms. Umu­toni, This is to reg­is­ter my deep­est regret at repeated state­ments you've made in sup­port of the Eritrean regime, the most bru­tal sys­tem of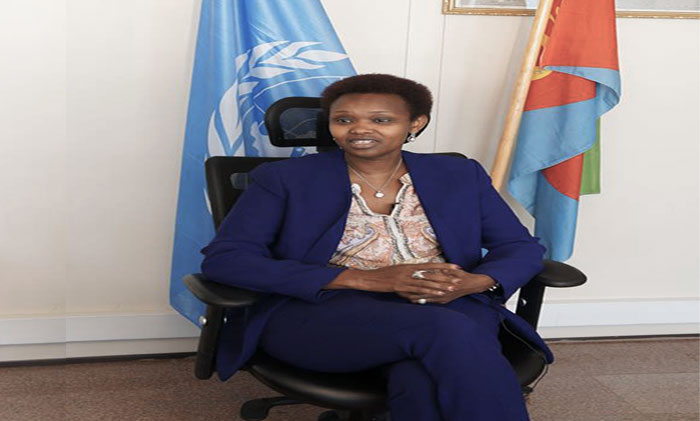 Chris­tine N. Umu­toni
UN Resident/ Humanitarian Coor­di­na­tor & UNDP Res­i­dent Rep­re­sen­ta­tive
Asmara, Eritrea
Dear Ms. Umu­toni,
This is to reg­is­ter my deep­est regret at repeated state­ments you've made in sup­port of the Eritrean regime, the most bru­tal sys­tem of gov­ern­ment our peo­ple have had to endure for more than two decades.
As you're well aware, the Human Rights Com­mis­sion (HRC) ren­dered its ver­dict in a final report of a painstakingly- documented pat­tern of egre­gious human rights vio­la­tions in the coun­try.
The com­bined crimes of Eritrea's pre­vi­ous col­o­niz­ers pale in com­par­i­son to the level of atroc­i­ties, impris­on­ments, phys­i­cal and psy­cho­log­i­cal abuse and wan­ton dis­re­gard for life per­pe­trated by the PFDJ.
While you're at lib­erty to dis­cuss views con­sis­tent with your assign­ment as a UN rep, you have repeat­edly veered off to polit­i­cal ter­ri­to­ries that under­mine your cred­i­bil­ity as a mem­ber of the world body.
The objec­tives of your assign­ment are chiefly to sup­port the women and chil­dren of Eritrea, iron­i­cally the two con­stituents that are the most griev­ously impacted by the regime's open- ended con­scrip­tion, impris­on­ment with­out trial, shoot- to- kill pol­icy, mass immi­gra­tion and dan­ger and death across the Sahara and the Mediter­ranean waters.
We Eritre­ans are cur­rently alarmed and dis­traught at the loss of thou­sands of our peo­ple who are leav­ing the coun­try, hun­dreds per­ish­ing in the seas while oth­ers fall prey to unscrupu­lous mer­chants of human organs and traf­fick­ing.
The sin­gu­lar cause of our cur­rent cri­sis is the regime of Isa­ias Afw­erki, a dic­ta­to­r­ial ruler whose gov­ern­ment you have pub­licly and repeat­edly sup­ported. No such diplo­mat or mem­ber of regional or inter­na­tional orga­ni­za­tion has endorsed this tyran­ni­cal regime in a nation that is con­sis­tently referred as the North Korea of Africa.
Indeed, so rare and few are its sup­port­ers that the gov­ern­ment has repeat­edly fea­tured you as a char­ac­ter ref­er­ence dur­ing pub­lic events includ­ing when com­mu­ni­cat­ing with the inter­na­tional media.
One can under­stand and even appre­ci­ate a for­eign official's reluc­tance to get involved in the inter­nal affairs of a host nation. Much to our dis­may, you have opted instead to stand squarely behind the gov­ern­ment, giv­ing suc­cor and com­fort to one of the most noto­ri­ous despots in the world.
As a con­cerned cit­i­zen, I would like to inform you that your com­ments under­mine our cur­rent strug­gle to remove the dic­ta­tor­ship and install a demo­c­ra­tic sys­tem of gov­ern­ment. At the very least, we would like you to main­tain a neu­tral stand by stick­ing exclu­sively to your domain of exper­tise and assign­ment.
Respect­fully,
Rus­som Mes­fun
Host & Editor- in- Chief
Face The Ere­s­pora
Erespora@gmail.com