Nordea helps dictatorship recover illegal tax
Nordea allows Eritrean government use PayPal to collect a tax that the UN believes is illegal. Now expected the state -owned bank have to explain itself in parliament. According to a recent UN report, Eritrea stands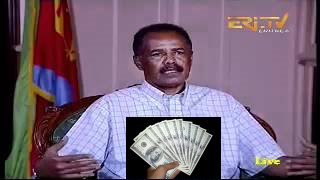 Nordea allows Eritrean government use PayPal to collect a tax that the UN believes is illegal. Now expected the state -owned bank have to explain itself in parliament.
According to a recent UN report, Eritrea stands near terror stamped al- Shabaab and buy weapons in violation of a UN resolution . It also states that Eritrea continues with "illegal fundraising " from Eritreans abroad , " particularly the application of a two percent income tax ."
The UN has evidence that , among other things happened in Sweden where the embassy draws in taxes from all the Nordic countries. The tax is one of the dictatorship 's main sources of income. Just from Sweden may only be present for tens of millions of dollars annually . How much gone through Nordea is unclear.
AD : Eritrea claims that the tax is voluntary, but TT's sources say that it is driven in with blackmail if needed.
– In my eyes , the tax is illegal . One should not be forced to pay anything, says Yoseph Yohannes , prominent Swedish – Eritrean dissidents .
According to TT's sources, the Eritrean embassy used a specific Plusgirokonto for many years and at least as late as last spring. A search of the PayPal shows that the Embassy has six accounts in Nordea.
In the Bank's ethical guidelines states that all employees shall work with great integrity and high ethical standards and that Nordea will take " strong measures to fight crime ."
But last spring, the bank was fined 30 million kronor when FSA found that, lagvidrigt , could not know if many customers finance terrorism or launder money .
Now brought back questions about Nordea , and the Parliamentary Industry Committee responds quickly.
– Suspicions that it has not gone right with these accounts is very serious , says committee chairman , Christian Democrat Mats Odell.
Nordea will be included in the committee already on Thursday.
– I will suggest that we call the company so it may explain what happened, says Odell.
Green Party Rock Jonas Eriksson , vice chairman of the committee, believes that Financial Markets Minister Peter Norman (M) must " ensure that the Board acts on this and the information obtained in the UN report and ensure that the deficiencies are rectified ."
– I think it's just fine to the Economic Affairs Committee invites the bank , said Norman himself.
He would not yet comment on the substance.
Nordea says nothing about any measures against the Eritrean embassy : " We can not and should not comment on the potential customers we have. We comply with the laws and regulations arising from EU directives in the field and acts in accordance with the sanction demands of the UN and the EU , "the press secretary Erik Durhan .
TT sought a comment from the Eritrean embassy .
Source: EKONOMI