Libya stops air flights to Sudan
Libya's internationally recognised government based in Tobruk decided to stop air flights with Sudan for security reasons without further details. Sudan is accused by the official government of supporting Libyan Islamists government based in Tripoli, as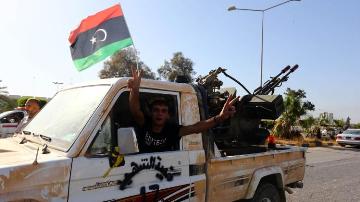 Libya's internationally recognised government based in Tobruk decided to stop air flights with Sudan for security reasons without further details.
Sudan is accused by the official government of supporting Libyan Islamists government based in Tripoli, as reports say Jihadist fighters from Sudan and other African countries are joining the Libyan chapter of the Islamic State of Iraq and Syria (ISIS) or Daesh group.
A spokesman for the Libyan Interior Ministry, of Colonel Abdul Hakim al-Obeidi said that the interior minister instructed to stop flights to and from Sudan for security reasons with effect from 28 February 2016.
Al-Obeidi didn't elaborate on the reason behind the decision.
On Tuesday February 2, a senior police officer in Misrata town, told London based The Telegraphthat Daesh is recruiting improvised migrants from neighbouring countries such as Sudan, Chad and Mali.
"Illegal immigration is a menace because it brings and encourages foreign fighters to come and fight with ISIS. "Most of the migrants want to go to Europe, but some want to link up with ISIS. Unfortunately, here in Libya we are right in the middle of the migration rat run."
Colonel Ismail Shukri, the head of military intelligence in Misrata, further said that around 70 % of ISIS's army in Sirte was made up of foreign fighters. "The majority – I cannot tell you exactly how many – are Tunisians, while the rest are made up mostly of Sudanese, Egyptians and then people from the Sub-Saharan countries stretching from Chad and Nigeria, along with a few from Algeria and the Gulf," he said.
In September02014, the Libyan government had expelled the Sudanese military attaché after accusing Khartoum of flying weapons to Islamist rebels in Tripoli.
The Sudanese army on Wednesday said they clashed with rebels belonging to the Sudan Liberation Movement (SLM) without specifying which faction near Libyan town of Al-Kufra which borders Sudan.
Sudanese army spokesperson Ahmed al-Shami told Radio Sawa that Libyan Army killed over 20 SLA fighters. He added the rebels were forced to enter in the Libyan territory after their defeat by the Sudanese army in the far northern border.
On the other hand in statements to Alarabiya.net Wednesday, a Libyan military source confirmed the clashes with the Sudanese rebels.
According to Alarabia, the Libyan army repulsed an attack by the Sudanese rebels who tried to recapture Bouzriq area in the southern part of Al-Kufra town.
The SLA fighters controlled the area for three months before to pull out of the areas as result of an attack by the Libyan army.
Al-Kufra region is under the control of the rival government of the General National Congress (GNC) in Tripoli.
The international community still continues its efforts to form a national unity government in Libya including Tobruk and Tripoli governments, one month after the signing of a UN-brokered deal in Morocco.
(ST)