Leaked document show government estimates over half a million will sign petition denouncing UN human rights report on Eritrea
Posted on April 27, 2016 by Samuel N. An Eritrean whistleblower that goes by the name Samuel has recently started publishing leaked government documents through a Facebook page: SACTISM: Classified documents of the dwindling PFDJ. On April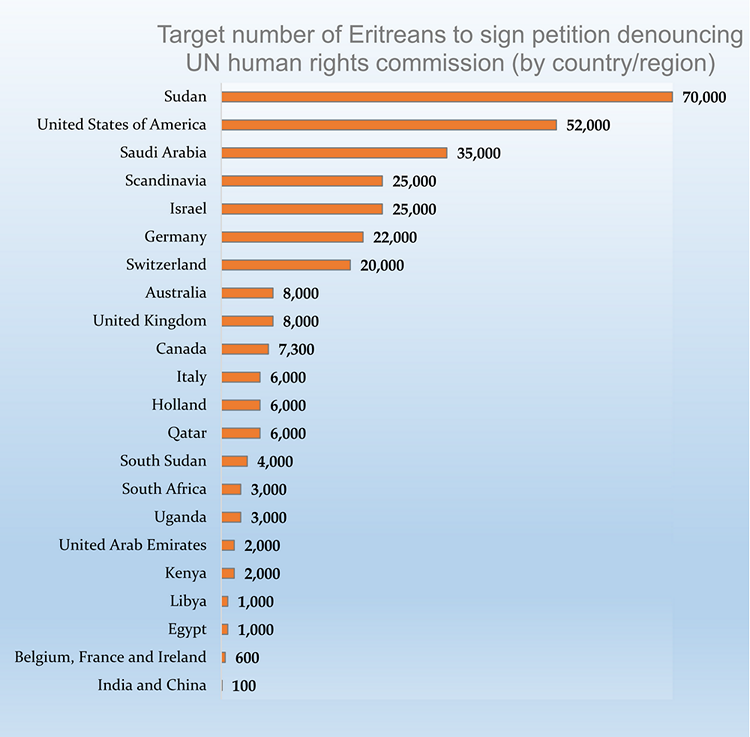 An Eritrean whistleblower that goes by the name Samuel has recently started publishing leaked government documents through a Facebook page: SACTISM: Classified documents of the dwindling PFDJ.
On April 20, SACTISM posted a seven-page document, in Tigrinya language, of a letter by Eritrean Ministry of Foreign Affairs detailing a government plan to collect over 300,000 signatures from Eritreans for a petition that denounces the UN Commission of Inquiry and its 'fabricated' reports.
The letter, dated 12th of April 2016, is addressed to "All Eritrean missions" and to "Eritrean consulates in Canada and Australia" with copies to "(1) Coordinating committee; (2) Coordinator of Action Europe, Ambassador Fisehatsion Petros; and (3) Eritrean permanent representative to the UN, Ambassador Ghirma Asmerom"
The letter urges the responsible to collect signatures starting from 16th of April until 27th of May 2016 and fulfill their respective country's "quota". The document lists 25 countries including the Scandinavia region and sets the target number of signatures for the petition.
These numbers are perhaps indicative of the number of Eritreans in those countries (most of them as refugees or political asylees), and the level of influence and leverage the government believes it has on its citizens residing in each country.
The document details that this 'drive' is overseen by a certain "Global Eritrean Action for Justice" and all reports and copies of petitions are to be sent to it via email (eritreanglobalmekete@gmail.com). The letter also indicates that a peaceful rally will be held in relation to this petition sometime between 21st and 23rd of June.
Perhaps an interesting point is when the letter explains how the 'drive' will be mobilized. It indicates that "every citizen will take the petition form and collect signatures from their neighbors, friends, workmates and so on." furthermore it indicates that during this mobilization, citizens will be "helped by groups, organizations and unions who will be leading the action." It will be curious to know who those groups, organizations and unions are since most government organizations claim they are mere civic organizations with no political affiliation to Eritrean regime. In fact, in a recent well-publicized case, a member of one such Eritrean organization sued a Dutch professor for defamation because she claimed he has association with the Eritrean government (details of the incident here andhere).
This also suggests that the signatures will be collected in a similar manner the 2% 'diaspora tax' is collected and Eritrean refugees are forced to sign a 'letter of regret' at Eritrean embassies and consulates. That is, through extortion.
The petition form reads:
"We, the undersigned reject the fabricated Reports of the Commission of Inquiry and the Special Rapporteur on the Human Rights situation in Eritrea and request immediate nullification of the Reports and termination of their mandates, and instead promote constructive engagement!"