Lead Eritrea Leading the Eritrean "Route to Democracy"
Tesfagabir Berhe Tesfu (George) At a time when some critics are undermining the power of Non-Violence struggle, Meron Semedar (probably the youngest dynamic and vibrant human rights activist in the US) has managed to organize to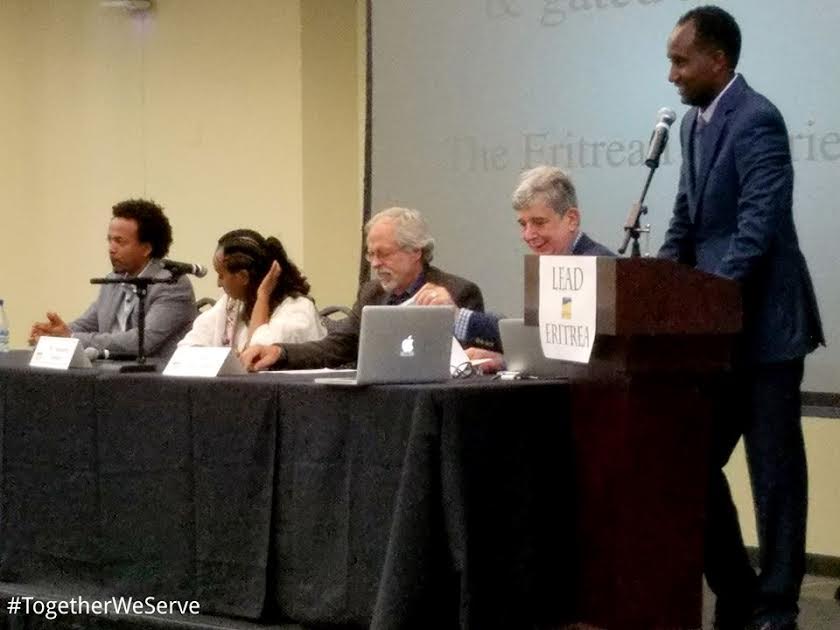 Tesfagabir Berhe Tesfu (George)
At a time when some critics are undermining the power of Non-Violence struggle, Meron Semedar (probably the youngest dynamic and vibrant human rights activist in the US) has managed to organize to Host the first ever conference on Eritrea titled:
Eritrea at 25: Human Rights, Migration and the Route to Democracy.
In his short life span in the US, Meron has successfully managed to establish his own organization called LEAD ERITREA (where Eritrean youth start leading) and the conference that was held in San Francisco on 24/09/2016 organized in collaboration between LEAD ERITREA and the department of International Studies based at the University of San Francisco.
One of the most painful and less discussed issue on this post-modernism era is the disillusionment associated with going to exile, where Eritrean young people have to settle for whatever job they get in the Diaspora but Meron Semedar does not fall into this category. He wasted no time in integrating his hobby (marathon) his studies (international relations) and his passion (human rights) and I must commend him for initiating a conference where Eritrean and non-Eritrean activists, politicians and diplomats came together to discuss on Eritrean past and contemporary issues.
Meron was also the coordinator of the conference and he stated that the objectives of the gathering were:
"- to create a route for many Eritreans refugees, asylees and Eritrean American to be accepted at the University to study.
– to minimize the gap in generational difference and ideas,
– to craft a policy to directing our nation in the right direction and giving a positive international recognition
– to help in bringing peace and reconciliation in Eritrea
– to bring ideas that can help in solving the risky route Eritreans have to take to save their lives."
25 years after 'independence' Eritreans are still leaving their country in their numbers due to the gross human right violations taking place in the country. In the invitation video , Meron sent a strong reminder that our actions today will determine what kind of country we will have in 25 years from now.
The event was very well thought in all aspects. The participants were very diversified in terms of their  age/gender/culture/political opinion/educational back ground and that made the conference more fruitful. The event was non participant in which Eritrean government representative (PFDJ) and its youth group (YPFDJ), members of the opposition and more were invited to speak and attend. Meron believes that we all are Eritrean, hence we all need to come together with good intention for our people and country. Bringing the good in us all and finding the solutions for the problems that our country and people are facing will take us a long way and far in fulfilling the reasons why our heroes died for Eritrea and its people.
A conference can be numb without any form of entertainment hence Young Eritrean Americans were there in full force to show case the Eritrean cultural dance.
One of the big issues that is disturbing in the Eritrean opposition camp is, justice seekers are busy belittling each other forgetting that they have a common goal to deal with. On the contrary we are supposed to affirm each other and LEAD ERITREA is leading this initiative by; among other things, honoring Dr. Haile Debas and Dr. Alganesh Fesseha for not only pioneering the Eritrean activism but for their long, persistent and relentless leadership and humanitarian work.
Four panelists discussed in depth around the Eritrean past and current situation focusing on: the root cause for why the Eritrean people are leaving their country in their numbers, the predicament they had to pull through in their pursuit for a better place and daunting issues around integration and resettlement.
The Eritrean struggle for liberation was launched on 01 September 1961 and the Eritrean government closed all the private newspapers and detained top government officials as well as journalists of the private newspapers on 18 September 2001. International peace day is also celebrated on this month hence organizing the conference on September had a deep historical and geo-political significance.