Italy sounds alarm as 4,000 immigrants land
Rome (AFP) - Italy said Wednesday that 4,000 immigrants have reached its shores by boat in the past two days -- the highest number since it launched a naval operation to rescue them at sea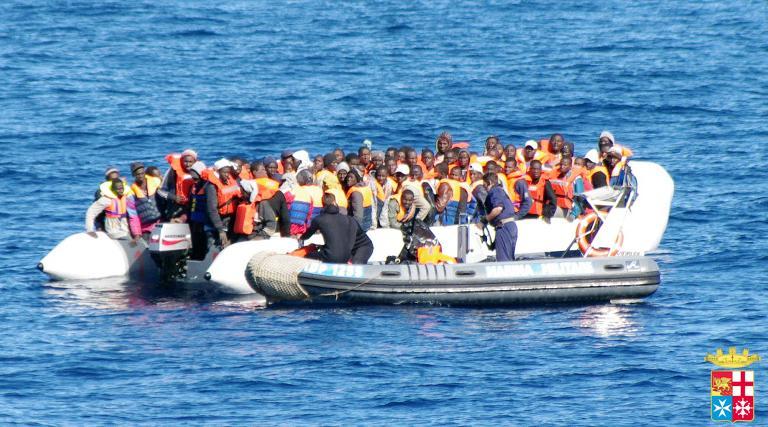 Rome (AFP) – Italy said Wednesday that 4,000 immigrants have reached its shores by boat in the past two days — the highest number since it launched a naval operation to rescue them at sea in the wake of two shipwrecks last year.
"The landings are non-stop and the emergency is increasingly glaring," Interior Minister Angelino Alfano told Rai Uno public radio, adding that a corpse had been found on one of the migrant boats rescued.
Alfano estimated that 15,000 migrants crossing the Mediterranean had been rescued so far this year and said up to 600,000 migrants from Africa and the Middle East were ready to set off from Libyan shores.
He called on the international community to set up "refugee camps" in Libya and said the next six months would be "extremely difficult" because favourable weather conditions meant more would make the crossing.
Italy reported a 60-percent increase in asylum claims last year — mainly people fleeing the war in Syria — although the number of arrivals is still lower than in the wake of the Arab Spring revolts in 2011.
"Europe must take the situation in hand. It cannot say that, having given 80 million euros ($110 million) to Frontex, the problem has been resolved," Alfano said, referring to the European Union's border control agency.
Alfano, who is also head of the New Centre-Right party, also said that "the procedure for expelling those who do not have a right to stay in Italy should be sped up, but we should welcome those who have a right to asylum".
The latest increase comes just ahead of European Parliament elections next month and lawmakers from the anti-immigration Northern League — a small opposition party — have been quick to weigh in on the issue.
MPs Davide Caparini and Nicola Molteni released a statement urging Alfano to stop the arrivals "by turning them back" and complained that asylum-seekers were getting better treatment "than any Italian citizen".
– 'No more space' –
But Silvia Canciani, a spokesperson for the Association for Legal Studies on Immigration (ASGI), which carries out research and provides legal aid for asylum-seekers, played down the scale of the new influx.
"The number of people arriving is increasing but it is only becoming an emergency because of the bad management of Italy's asylum system," she said.
She warned there was "no more space" in asylum and immigration centres, stressing that vulnerable migrants such as minors risked not receiving the care they needed if they were put up only in temporary structures.
Senator Luigi Manconi from the centre-left Democratic Party, head of the human rights committee in parliament, also agreed the problem was Italy's own.
"We are not facing an invasion, absolutely not. We have to criticise ourselves for not putting in the necessary measures in time," he said.