Israel to pay Rwanda millions to absorb unwanted African refugees
BETHLEHEM (Ma'an) -- Israel and Rwanda are working to finalize a multimillion dollar deal that would relocate hundreds of African asylum seekers living in Israel to Rwanda, Israeli media reported Friday. According to Israeli news site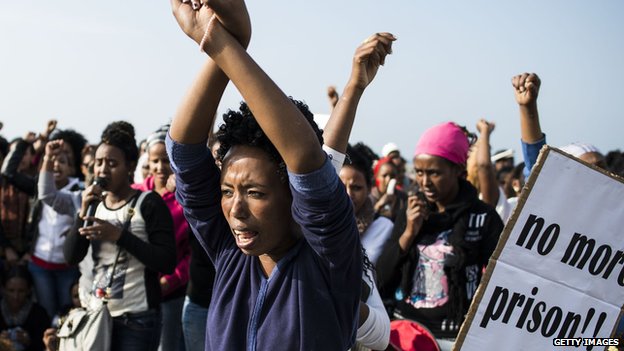 BETHLEHEM (Ma'an) — Israel and Rwanda are working to finalize a multimillion dollar deal that would relocate hundreds of African asylum seekers living in Israel to Rwanda, Israeli media reported Friday.
According to Israeli news site Ynet, Rwandan President Paul Kagame said on Thursday that a deal was being worked out, and Israeli Interior Minister Gilad Erdan later confirmed the report.
Through the agreement, Israel will deport hundreds of Eritrean and Sudanese asylum seekers to both Rwanda and Uganda, with Rwanda receiving millions in grants and sales from Israel.
The deal comes after a new policy was unveiled last week by the Israeli Population and Immigration Authority that would enable the state to deport Eritrean and Sudanese refugees to third party countries in Africa against their will.
Up until now, asylum seekers were required to sign a document indicating voluntary departure from Israel, as Israel is a signatory to the Refugee Convention, which prohibits a state from deporting individuals whose lives are in danger in their home countries.
However, the Population and Immigration Authority, which is promoting the policy, argues that there is no law preventing Israel to deport asylum seekers from Eritrea and Sudan to a third party country where their lives are not in danger.
International human rights organization Human Rights Watch (HRW) released a report in September 2014 criticizing Israel's response to an inflow of Eritrean and Sudanese refugees fleeing human rights abuses in Egypt's Sinai Peninsula in 2006.
The report revealed systematic discrimination of refugees, with the intent of coercing them to leave Israel. It said that Israeli authorities tended to perceive Eritreans and Sudanese refugees as a "threat" and brand them as "infiltrators."