Inside the YPFDJ camp there are citizens with strong ethical values not aligned with the PFDJ doctrines. – A call to YPFDJ to reclaim their lost treasure.
The title should not be misunderstood and it is not trying to attack the YPFDJ personally beside to confront them and challenge them with the reality. Do you (YPFDJ) really believe what PFDJ (HGDEF) believes? Some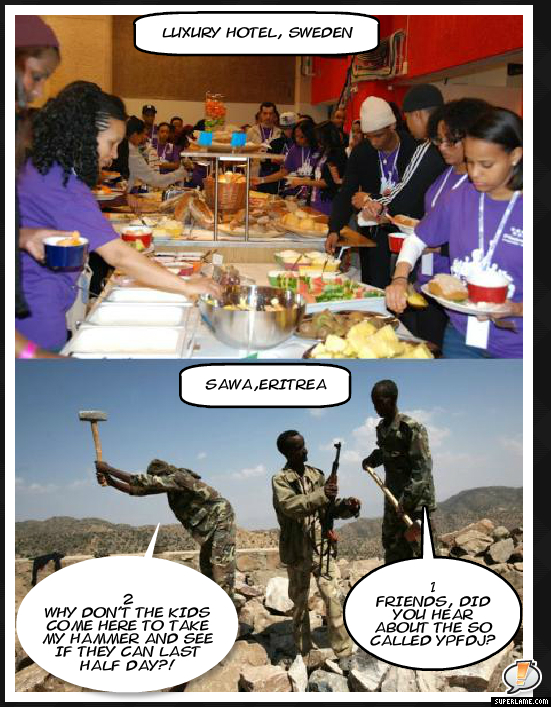 The title should not be misunderstood and it is not trying to attack the YPFDJ personally beside to confront them and challenge them with the reality.
Do you (YPFDJ) really believe what PFDJ (HGDEF) believes? Some may say if you are not attacking them why would you use a statement like "a call to reclaim the lost treasure" in your title.
Let's carefully see and discuss with open mind, what is happening in Eritrea right now. If I put the same title addressing to the Eritrean youth who is fleeing the country, I will look a hypocrite, and they will question me what treasure do we have except we were enslaved from the young age and we had no choice of our own to live plan and prosper.
Yes, I agree, and why would they flee from Eritrea if they have any treasure at all let's leave the material treasure, even the treasure of good cultural values that you get from parents and communities is not there. Why would someone risk life in the desert, kidnapping, ransom, murder and journey on sea, if there is anything that you can hold on or live with?
So let's comeback to  YPFDJ, and the treasure they have,
Those young people most of them born in diaspora, in an environment with good provision, better access to education, better access to health, free choice, and more than that countries who are known for protecting the minority and rights of individuals.
Countries who question authorities if anyone is imprisoned without a concrete reason or fair trial and countries who allow families to visit and contact their relatives even if someone is found guilty and serving their sentences in prisons.
Is not it, a treasure when the countries cared since your childhood looking after, your health, your education and making sure you have access to many opportunities.
Moreover, if you are thought from your childhood, how to stand for your right and, defend the rights of others unjustly treated.
These are truly treasures which need to be cherished and not being corrupted by aligning yourself with a party or group who does not believe on those values. A party with a track record of all abuses, all sort of human rights violations.
I tend to withdraw from generalizing and blackmailing or painting all the YPFDJ are crazy supporters of PFDJ but rather i believe there are many among them with wounded spirits/thoughts and are confused to why and how they ended up in this side of the camp.
Some are due to their families who are die hard supporters of the dictator and end up without their chose due to the choice of their uneducated or narrow minded zealot parents.
Some are due to families who are benefiting from the ruling party in Eritrea and they do not want to be targeted if they do not offer their children as a good worship to the party. Few families put their children in this for fear and others may be just for fun to enjoy a trip organized by PFDJ to Eritrea during summer vacations.
No matter what the reasons brought them to that evil camp as human beings and with ability to differentiate between good and bad. Everyone will be accountable for his/her actions and cannot escape responsibility. However, there are few YPFDJ who struggle with themselves into how they end up in this, despite growing in environments full of dignity, respect and accountability.
Recently, I read one paper about a former Nazi youngster who was right hand of the party and engaged in persecuting many people for her dogmatic and stubborn believe on the party; she caused a lot of damage to many people at time of Nazi. She regrets for what she was part of, and she also confessed that she was so blinded, was not able to see beyond the day to day propaganda of the Nazis. Instead of standing with the people she served a monster and finally left her ashamed for the rest of her life.
Some of the propaganda used by the PFDJ (Isayas regime) targeting YPFDJ are similar to those which were used in Germany Nazi era. As history repeats, these like regimes with similar propaganda styles were/are uncivilized, narrow minded, isolationists and are not accepted in today's world. Although they inflict a lot of damage to people and society, they are doomed to fail for they are founded on hate and, pride..
Some of their propagandas are;
Excessive pride or uniqueness of the Eritrean identity
Unseen hopes and fabricated progresses of the ruling party
Convincing them that Eritreans are fighting many fronts, against Superpowers, Ethiopia etc…
Extreme hate to Northern Ethiopian people (Tgray)
Use of the word "agame" to any opponent or any person who questions PFDJ /YPFDJ
applauding the military conscriptions (SAWA) as a good cause
Brainwashing by arranging tours/conferences strictly managed and organized by PFDJ
If one analyses the above tactics one by one, they are not compatible with a person who grown up in a civilized society with a bright mind. Anyone would then ask so why this educated young people, who are born and lived in diasporas, became easy prey of this old fashioned propaganda. Cannot they analyse themselves and align themselves on the good cause rather?
It is a good question but let every YPFDJ member answers to why they end up in this.
However, i am optimistic there are many young people inside the YPFDJ camp with strong values, look for justice and uncomfortable with what is happening in that camp. In particular if one grows up in a respected family, and was thought how to respect others, defend the rights of victims and advocate to those voiceless, then it is hard to simply seat there and suppress the good identity for the sake of the ruling party's propaganda.
Those deep rooted strong values that were thought from a good family or a good religion or a good country would not let you go astray without nudging you continuously putting you into deep stress and forces you to rethink. These uneasiness feelings will not go away until you give up and align yourself with the people who defend the victims, people who advocate justice. These people are not found in the PFDJ or YPFDJ camps rather they are on the other side; these justice seeking people are those who fight for justice for everyone. It is this way you reclaim your lost treasure.
What would you do?
if you or your family member found wrongly or for some reason in this camp, if there is no courage to leave the camp but at least advice them to shorten their footsteps and helping hands, and let them stop showing up PFDJ conferences. If this is done it is greatest success and of course what good is there from PFDJ conferences, beside dancing day and night, drinking then followed by regrets and shame.
It is everybody's expectation that if the YPFDJ care about the country or the people let them raise the following questions to their leaders; what is the target or mission of YPFDJ?
Is it to defend Eritrea if it is occupied by external powers?
Is it to collect 2% tax and enrich the ruling party?
Is it to get some government positions in Eritrea and serve the regime in Eritrea?
Is it to intimidate any opposition or justice seeking people in the diaspora, by kidnapping, murdering etc?
There must be a mission or goal for any gathering, if it is a mission for understanding, prospering, lifting the marginalized and defending those who are victims. It is a good mission with a good cause and everyone will envy to be part of it. On contrary there are gatherings or groups which results into shame and regret and the PFDJ/YPFDJ is one of them. Engaging in this group will cost you a lot and will damage your reputation; finally you will be left covered with shame for the rest of life.
So come back reclaim you good values and stand with those who fight for justice.
Mulugheta