History won't judge Prime Minister Abiy Ahmed and the Ethiopian people kindly.
History won't judge Prime Minister Abiy   Ahmed and the Ethiopian people kindly. By Petros Tesfagiorgis When the government of Ethiopia and Eritrea signed peace the people of Eritrea were over the moon. Many Eritreans took PM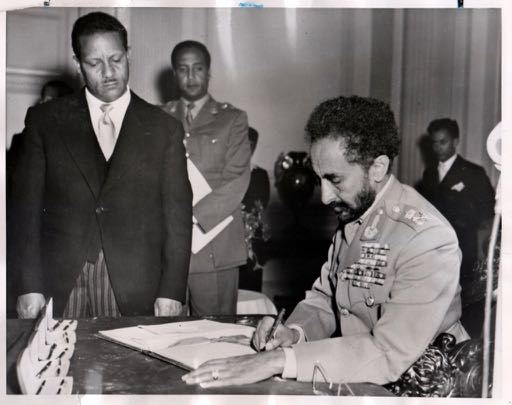 History won't judge Prime Minister Abiy   Ahmed and the Ethiopian people kindly.
By Petros Tesfagiorgis
When the government of Ethiopia and Eritrea signed peace the people of Eritrea were over the moon. Many Eritreans took PM Abiy Ahmed (PMAA) as a peace messenger sent by God. Indeed for the people of Eritrea peace is priceless. They hoped that Isaias will end the indefinite national service and other forms of human rights violations so that they can build their shattered life of poverty and degradation.
To understand the fundamentals of peace in the Eritrean context do matter a lot. It means not only to end hostility with Ethiopia but also to end the gross human right violations that is destroying the fabric of the Eritrean society.
When PM Dr Abiy Ahmed campaigned for peace he released all political prisoners, invited the opposition political organisations operating from abroad mostly from Eritrea to come home and participate in the social, political and economic life of the country peacefully.   On the other hand the president of Eritrea is using the peace with Ethiopia to consolidate his repressive regime and come out from international isolation. The UN human rights commission has voted Eritrea to be part of the commission. It is shameful that the commission has rewarded oppression;
Because of the peace with Ethiopia the fear of the threat of "Weyane" Ethiopian Government's Invasion" to intimidate the population to submission for years is gone. It was used as an escape goat to hold the youth hostage in the national service indefinitely so that they cannot rise up and advocate against the gross human rights violation in Eritrea.   It is expected that the youth will be demobilized.  My concern is that they may be used as cannon fodder (mercenaries) in Yemen's devastating civil war instead.
In Eritrea, the human rights violations continues unabated. Arbitrary arrest is still taking place. Recently the ex-Finance Minister Berhane Abrehe – has been arrested for writing a book critical of the President. President Isaias squandered the momentum by failing to make peace with the Eritrean people. To add insult to injury Isaias Afeworki did not bother to brief the people of all the agreements he did with PMAA.  The population is effectively side-lined. Even his colleagues in the government are ignored.
It is sad to observe that in this moment in time PMAA is not concerned at all of the gross human rights violations perpetrated by Isaias. One could argue that to do so amounts to interfering in the internal affairs of Eritrea. But he is already involved in many ways to the extent that he is allowing Ethiopians to invest in Eritrea denied to Eritrean investors. This is scandalous.   In fact it looks that the peace is among two leader friends. What happens if they quarrel? This has become a concern among some Ethiopian intellectuals as well and they are beginning to speak out.   Eritreans have realized that if they are going to be listened and take seriously they have to struggle in unity. They have a long history of sacrifice and commitment to justice and they can do it.  In fact we are witnessing the Diaspora Eritreans are organising conferences, seminars towards that end, and to own a powerful voice which they lack hitherto. They should not expect any sympathy of their ordeal and pain from Ethiopians.  This has become crystal clear, when PMAA started the peace campaign,   Ethiopians from all walks of life were calling Eritreans "our brothers" and expressed their solidarity and love with passion.   But as soon as they found out that Isaias would not end the brutal repression they maintained their silence.
I am not surprised of their silence. The history of Eritrea is always told by Ethiopian politicians out of its historical context, saying that Eritrea was part of Ethiopia.  That gave them the justification to use force to maintain their occupation until they are defeated and left Eritrea in 1991.
This is the belief particularly by the Amhara ruling elite who happen to be the main beneficiaries of feudal rule over 100 years.  (More on that on part 2). My only consolation is to see the genuine enthusiasm and joy of the people of Eritrea and Tigray/Ethiopia as they greet each other in Zalambessa and Rama celebrating the Ethiopian New Year and the feast of Kudus. It was uplifting.  After all Tigray is the bridge between Eritrea and the rest of Ethiopia. Isaias's Game over has no weight.
In order to put Eritrea in its true historical context ERITREA FOCUS – organised a photo exhibition of the history in pictures in London.  It was in display for 25 days from 4 to 30 September. It is divided into 4 panels.  1.  Italian colonialism 1882 to 1941 2. British Administration 1941-1952. 3. Federation and annexation 1952 – 1991. 4. Armed struggle 1961-1991, Independence, human rights violation and the present peace with Ethiopia.
The exhibition was educational for the British citizens particularly Ethiopians and Eritreans who grew up in the West. Some young Eritreans said, that they have seen the picture of Emperor Haile Selassie for the first time when they saw his picture signing the agreement of the federation (see picture) and when he was crossing from Ethiopia to Eritrea across the Mereb River  cutting  a ribbon as he steps his foot from Tigray/Ethiopia  to Eritrea.
In Its flyer pamphlet Eritrea Focus wrote: Today there is a glimmer of hope. Ethiopia reached out to Eritrea. Their leaders have met and there is the prospect of reconciliation. Yet Eritreans still long for true freedom. This timely exhibition traces how the years of devastating conflict came about and includes rare photographs – some shown for the first time. The exhibition was opened by Lord Aston of Liverpool and there were about 80 people in the opening and it stayed for 25 days.
It is not wise for Ethiopians to ignore the pains and suffering of the Eritrean people and put all their eggs in Isaias basket. The trust the people of Eritrea put on Abiy is wearing out. Abiy don't have to   sacrifice the people of Eritrea in order to serve the interest of Ethiopia, win-win is the answer. It could be done and is sustainable.   History won't judge Prime Minister Abiy Ahmed and the Ethiopian people kindly.
At least PMAA could have shown some concern towards the people of Eritrea by raising his voice to rescue the Eritrean refugees trapped in Libya in this moment in time.   There are voices such as Giulia Tranchina, Meron Estefanos and Elizabeth Blunt   appealing for help persistently (1) reminding UNHCR, IOM to register and rescue the Eritrean refugee trapped in Libya. They are making a difference. To PM Abiy Ahmed the tragedy of Eritrean refuges in Libya presents a chance to show he is concerned of the pains and suffering of the Eritrean people as well and taking advantage of his reputation as a peace maker he is well positioned to ask UNHCR or IOM to move the refugees out of Libya to a third country. His peace campaign has given him powerful voice and he can be heard.
At the same time Sham Gabriel from the London based Eritrean Youth has put out a call on You Tube for demonstration outside the Italian Embassy – in London in order   to put pressure on the Libyan Government to give protection to the refugees and treat them humanely. After all it is the Italian Government   who is funding the Libyans in order to prevent refugees going to Italy but what they did is to put them in detention camps worse than concentration camps. They are being enslaved, starved and in danger of their life.  Date of the demonstration is 31 October 2018.
The End
ERITREA FOCUS (EF) Founded in 2014 is an association of Non-Governmental Organisations (NGOs) human rights organisations, exile and refugee groups and individuals concerned with the gross abuses of human rights of Eritrea. In addition to various activities it has solicited a study and came out with a report titled MINING AND REPRESSION IN ERITREA: CORPORATE COMPLICITY IN HUMAN RIGHTS ABUSES Presented to the All-Party Parliamentary group on Eritrea. Can be downloaded from its website :www.eritrea-focus.org
The Urgent Appeal:  Please help us to try to contact these numbers for the 300 refugees including about 150 women and children in Qaser Bin Ghashir detention centre, 27 km from Tripoli. They need to be registered by UNHCR and evacuated most urgently! Below are UNHCR hotline numbers to call: Community Service lines: 1. Tripoli: 00218917127644.2. Benghazi: 00218910007218.Registration line: 00218919897937.Sea Rescue line: 8916998580.
General Protection and Detention line: 00218919897936