Here is How and Why Eritrea Should Demobilize most of its Fighters Now? – by Michael Abraha
The Eritrean government fully appreciates the most retched existence of its troops since independence 25 years ago. In recent years young fighters have been exiting its borders in droves dodging flying bullets or walking around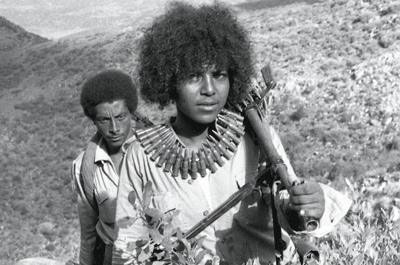 The Eritrean government fully appreciates the most retched existence of its troops since independence 25 years ago. In recent years young fighters have been exiting its borders in droves dodging flying bullets or walking around mines; then treking on for months through deadly African deserts and then onward to another deadly sea journey to Europe in overcrowded rubber boats; keeping patriotism aside for a moment, and assuming you (the escapee) have been horrified at the possibility of dying in a battlefield from a ghastly wound inflicted by a bullet, a bayonet, a grenade or mortar explosion, then you would probably prefer to die in the high seas in a capsizing boat – drowning may be a more pleasant way to die.
But assuming you have not drowned and u are now in a European city as asylee, you are probably already scrubbing floors and dusting streets and back alleys in exchange for that long awaited real income you have earned. Then it is time for this: "Dear Dad and Mum, I am sending 200 euros until I transfer more next time. Yes, I will pay the 2 percent Govt tax. Love you. Bye."
Endowed with very rich natural resources and very loyal and hardworking population, Eritrea should be growing at the rate of double digits.
So what went wrong? The govt has failed to trust the young generation and has long abandoned to take into account collective national wisdom. Not even a semblance of rule of law, no checks and balances. Just more gulags – over 300 of them scattered in this small country of about 5 million inhabitants. Yes, Badme should be returned and the UN sanctions must end now. But while waiting for these to occur, the people's right to political participation and free speech ought to be upheld at all times.
Alright let's forget free speech and democracy and transparency and just talk economics. The Eritrean govt is damn right when it says human rights mean nothing if tummies are not filled with food and people have no access to health care and education.
Important as these progressive measures are, there is not much economic success worth discussing with one 6% with mobiles and less than one percent of the people able to access the Internet.
Here is one one way to better maximize human resources with zero danger to national defense.
With its impressive mining and remittance resources, Eritrea could probably support up to 200,000 well paid, well fed professional standing army to defend the country. At the same time, the country may sustain over 300,000 reservists who could easily enter civilian life to raise families and boost the economy as farmers, employees in urban centers or as business managers and owners. They are would be as skilled fighters as of the members of the standing army.
In order to turn these 300,000 soldiers (would-be reservists) into an economic force, the Eriterean govt needs to introduce a scheme similar to that going on in South Sudan aimed at demobilizing and rehabilitating former liberation fighters. The South Sudanese are a very proud people who aspire for self-reliance but pride aside they appealed for UN and other donors for assistance in the form of aid or loans in order to make the rehabilitation program successful.
I was in South Sudan for two years after its independence in 2011 and reported on this extensively. Former fighters were provided with job training and sometimes literacy skills before they resumed civilian life and joined the labor force.
Eritrea should temporarily shelve its fervent self-reliance policy and do what is realistically advantageous for the people. It is time to call for external aid and take loans from global financial institutions so as to bring back the "non-standing army personnel" and provide them with financial assistance and equip them with the skills needed to serve in the agricultural and industrial sectors. Whenever there is an external threat these reserves who are skilled soldiers may be called back to duty at a moment's notice.
Please think your own thoughts as well and let's hear them.