HERE AND THERE
By Fetsum Abraham The Eritrean school system in view of students Stefanos Temolso on Eritrean education: "THE INDIAN TEACHERS NOT ONLY PAID CASH TO THE DEANS BUT THEY ALSO PAID THE DIRECTOR GENERALS AND RECRUITERS AT THE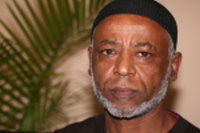 By Fetsum Abraham
The Eritrean school system in view of students
Stefanos Temolso on Eritrean education: "THE INDIAN TEACHERS NOT ONLY PAID CASH TO THE DEANS BUT THEY ALSO PAID THE DIRECTOR GENERALS AND RECRUITERS AT THE MINISTRY OF EDUCATION SO THAT THEY CAN HIRE THEIR WIVES WHO HAD BEEN LEFT IN INDIA. THE POINT IS, THESE WIVES HAVE NO ACADEMIC COMPETENCY AS HIGH SCHOOL TEACHERS LET ALONE BUSINESS COLLEGE TEACHERS. I KNOW A CERTAIN INDIAN LADY WHO CLAIMED TO HAVE A PHD BUT COULD NOT TEACH AT THE BUSINESS COLLEGE OF ASMARA (ASMARA COMPREHENSIVE SCHOOL) AND HER SALARY THEY SAID WAS 2000 USD. IN OUR ERA THE MINISTRY OF EDUCATION OF ETHIOPIA WAS FAMOUS FOR ITS TOUGH RECRUITMENT METHOD. THERE WERE EVEN INDIANS WHO TAUGHT ETHIOPIAN HISTORY TEACHERS BECAUSE THEY STUDIED IT FOR THE PURPOSE OF EMPLOYMENT. AND HERE WE FIND OUR SO CALLED MINISTRY OF EDUCATION IN ERITREA ESTABLISHED BY WEIGERAHTU AND CO. IN TATTERS!!!"
TwoWayStreet responds: " Stefanos, I hear you. You reminded me of one Indian teacher, who came to Asmara as a wife but later employed as a teacher in Management/Accounting during the 80′s. She was grading the students based on how many pages they wrote as an answer in their mid term and final exams. The more pages you write the higher grade you get. So students finally found out her method and started writing anything just to fill the pages because she was not going to read them all. So I understand the concern regarding Indian teachers in our country."
Araya-11:"Dear writer I read your article most of the time, I appreciate your effort to explain the current situation in our country. as I have read this article it makes me to remind my weakness in education, I am a student in pharmacy school in USA, always I have a problem in my English especially while I talk, and all my classmate wonder while I ask or talk, but I don't have any problem on taken exam. I always keep complain the Eritrean curriculum especially the instructors. Because I remember it was very shame to ask in English at middle school, if you do all students will laugh on you, and the instructor reply in tigrigna, which would make you understand easily. It is shame when I see graduated student from Asmara University required interpreter in immigration cases. So that curriculum has a great role, because 8th grade during Haileslissie regime talk fluent English."
Education in view of the Eritrean government from SHABAIT
"New graduates from Halhale College of Business and Economics express readiness to back up national development programs
Asmara, 9 July 2013 – New graduates from Halhale College of Business and Economics have expressed readiness to back up national development programs. They further indicated that the free academic opportunity accorded them attests to the government's commitment towards ensuring social justice, and asserted that they would do their level best in their respective careers."
Comment: How can the State call them graduates when everyone knows none of the Eritrean colleges are accredited? How is the government ensuring social justice without the most basic law, the Constitution? Justice is served by laws and where are they in Eritrea? What is next for the graduates in a country with paralyzed social economy under the full control of the State? I do not believe the graduates would willingly commit themselves for national development programs within the dehumanizing SAWA concept because the dream of a typical graduate is career development through professional employment, higher education and/or starting a family. In our case, there is no higher education to think about, no employment oriented career development with the only alternative being SAWA and of course no possibility of making a decent family without freedom of movement and independent decision for the self.
"Prisoners in Sembel Prison and Rehabilitation Center complete academic and training courses
Asmara, 8 July 2013 – Prisoners in Sembel Prison and Rehabilitation Center have completed academic and training courses for the current year, besides conducting various sports activities. Speaking at the ceremony conducted to this end, Maj. Mehari Andebirhan, Commander of the Center, pointed out that it has been organizing a range of programs with a view to raising the production capacity of such citizens. Likewise, Lt. Tesfahiwet Gebrai, administration head in the center, explained that it has been demonstrating commitment towards guiding prisoners to the right direction.
Mr. Berhe Ogbazgi, director of the school in the prison and rehabilitation center, disclosed on his part that prisoners have been sitting for matriculation examinations, giving rise to the success of 14 candidates of this type last year. Besides, 14 have participated in the matriculation examination this year, he added."
Comment: How many prisoners completed the training courses and what were the courses about? It appears that the prisoners who completed said courses must be high school kids because "some of them sat for the college entrance examination (Matriculation)". This is evidence that a big portion of the system's prison enterprise is composed of high school kids to say the least. How can the State raise the production capacity of the youth by locking them up instead of enrolling them in colleges and universities? What may "guiding prisoners to the right direction" mean other than terrorizing them into complete submission and unconditional SAWA slavery?
"Gash-Barka: Call made for reinforcement of awards focusing on 11th graders
Barentu, 8 July 2013 – The NUEYS branch in Gash-Barka region has called for reinforcement of awards focusing on 11th graders. It made the call in connection with an event organized to award prizewinners in that level of education.
Speaking on the occasion, Mr. Zerisenai Tesfai, head of the branch office, explained that the award entitled "Tamfeda" was extended with a view to nurturing spirit of competition in connection with academic pursuit of students.
Tamfeda Award was presented to 40 students who ranked 1st to 3rd from the grade units their respective schools, 10 of whom are females. "
Comment: Have you ever heard another school system talking about 11th grade academic awards when the whole world has a standard of high school education that strops at grade 12? This government has one more time created a unique educational standard that has never been practiced elsewhere for our high school students. The puzzle keeps going with no tendency of taking a turn towards normalcy!!
Things are happening fast in Eritrea as usual and we are watching them with mixed emotions. The following events took place recently:
"Mr. Negash Afewerki, Deputy Head of Economic Affairs of the PFDJ seeks political asylum in Norway after abandoning the dictatorial regime in Eritrea. Mr. Negash, who served at the crucial department of the ruling party for 15 years, was the second most trusted high ranking officer after Mr. Hagos Gebrihiwot … "
Comment: Things may look good for a while until something crushes and everything falls apart. No government can continue with absolute dictatorship without eventually leaking at different points of its structure. Everyone is leaving Eritrea except those who decided to die with the system. It is "save my life" time for Eritrean officials in this second phase of defection in front of our eyes. The first phase of defection happened to be the society at large (kids, teachers, intellectuals, professionals, etc) which is estimated to be going on at the rate of 1000 citizens per month. Now the servants of the system such as Ali Abdu are doing a head at a time.
The defection of Negash is a bombshell to the dictator and his system because now Eritreans can have access to substantial information of where the resources are going should he decide to help in this regard. This man knows everything Hagos Kisha knows about out wealth and money because he was the most trusted man after him. We have the chance to learn about State corruption from first hand information prospect if this guy comes forward but this opportunity will be wasted if he decides to shut his mouth like Ali Abdu: Whatever he may decide to do about this, the fact remains that the regime is rocking on a shaky foundation.
A SLOPPY GOODIE
Our people are trying to do the goodies everywhere on the planet and it seems like they are now working to unite our forces internationally for the final push to cleanse the dictatorship off our society. The question remains if the focus is unconditional unity for a transitional government that secures democracy in Eritrea.
The following took place recently:
"ትዕዝብቲን መርገጺን ኣብ ጉዳይ ኤርትራዊ ሃገራዊ ዲሞክራሲያዊ ባይቶ
መርበብ ሲቪላዊ ማሕበራት ኣብ ኤውሮጳ ኣብ ጉዳይ ኤርትራዊ ሃገራዊ ዲሞክራሲያዊ ባይቶ ዘለዎ ትዕዝብቲንመርገጺኡን ንመሪሕነት ኤርትራዊ ሃገራዊ ዲሞክራሲያዊ ባይቶ ብወግዒ ዘቕረቦ መዘክር በዚ ዝስዕብ ጽሑፍ ንህዝቢይገልጽ።…"
Comment: The effort is good and I encourage the participants to continue the resistance in such a fashion but the method of communication was lousy with all respect to the participants. The information serves only those Eritreans who can read and understand TIGRIGNA. No Eritrean, otherwise can grasp what happened from this sloppy presentation. This shows the weakness of our people in the field of effective communication because the information should at least have been provided at minimum, in English as well in order to reach a good portion of the Diaspora community. Please give us this information in English so that we can understand you and stop making this mistake in the future. Good luck and best wishes!!
ENTERTAINMENT from the FORUM
NIHATELATAT said " FUTSUM KURKUR WEYANE KKKKK"
Reaction:  What  is HATELA by the way in view of democracy? If one is hatela for having an independent mind that does not conform to dictatorship, wouldn't this imply the caller's conformist mind to his dictators? Is this an admission of KURKURNET to the worst dictator on earth?
belay nega: "Fetsum; Whatever you mentioned may be is exaggerated [about higher education in Eritrea] but the problem is there. But what makes me wonder is that you always ignore the heat coming from DC and ADDIS to melt this poor nation.
A government  who is challenged between to be or not to be a country, deserve praise.
For your information Eritrea had a lot of intellectuals like :
-HAILE DURU
-PETROS SOLOMUN
-SEBHAT EFREM……..etc
but all what they did was to blame HAILESSELASSIE and eventually MENGUSTU for ruining everything in Eritrea including our schools. I wish their outstanding brain saw the consequence of their intention…"
Comment: Belay is sandwiched between identity crisis and fear. He wants to stay Eritrean for life but is afraid of being one because he does not recognize the Eritrean sovereignty fully due to lack of confidence and clear understanding of the concept of nationhood. The existence of Eritrea for him is in the only condition that it stays under the regime at the consequence of the society. Freedom for belay stops at the territorial level of the paradigm: territorial identity is more important than freedom and the Eritrean society at large to this man. This unfortunate psychic stagnation collects his entire existence in view of one Eritrean called Isaias Afwerki.
Belay's answer to my question (the quoted) reads as the following: " Fetsum
" Where are the intelligent people u mentioned and why don't u defend the injustice against them instead of creating excuses for the beast who took them away without due trial?" [of course without the BUTT-LICKER Sebhat Efrem]
They are victims of their own policy; they could have arranged an EXIT in case of emergency instead of taking themselves as divine leader."
Comment: He could not even defend the "intelligent" Eritreans wasted by the regime without due trial for just criticizing its performance in Badme war and asking for democracy. Belay cannot understand the fact that he has abandoned his freedom by failing to defend the freedom of victims of injustice because freedom is only earned by defending the freedom of others. Moreover, Belay is scared of democratic rights and cannot exist under different political setting to dictatorship.
Apparently, a frustrated brother ahmed saleh said; " Poor belay; You never change after all these back and forth arguments with various commentators."
Kuiper Belt to Belay: "Please allow Fitsum to tell his people what is happening in Eritrea"
Belay nega: " Dear Kuiper Belt: The problem of our country is crystal clear to everybody. But the problem with FITSUM is he is fond of telling the consequence without acknowledging the cause. Born and brought up in Ethiopia either he doesn't know the psychological make up of Ethiopians,or he is overlooking it to achieve his narrow objective.
Ethiopians knew once they made us touch MANO [the war of 1998] everything will go according their plan. Therefore we like it or not whatever is going on in our country is part and parcel of Ethiopian agenda"
Comment: My narrow objective is the unity of Eritreans towards democratizing the country.  The MANO nonsense has no explanation and is a rigid excuse for failure of a typical conformist Eritrean. Belay feels he is under the mercy of Ethiopians because of the MANO syndrome that he himself cannot explain. He respects the Ethiopians more than he respects himself as an Eritrean. I believe we are now under the mercy of ourselves and I have no fear of losing my Eritrean identity earned by the sweat and blood of my people to the point of Ethiopian recognition of my country's sovereignty like any other nation in the world. We are now the makers and the shakers of our destiny……there is no other excuse for our situation except ourselves.
Enjoy the journey and see you soon