Updated: Mali hotel attack – 'No more hostages' after special forces raid – BBC
Officials say suspected Islamist gunmen who stormed a hotel in Mali's capital, Bamako, have "no more hostages". The Radisson Blu Hotel was stormed by special forces after gunmen entered it and seized 170 people. At least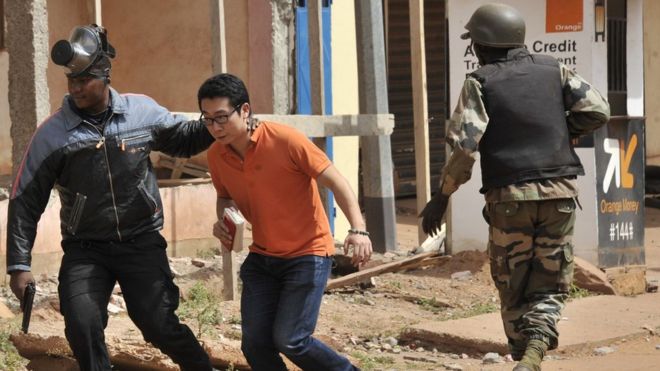 Officials say suspected Islamist gunmen who stormed a hotel in Mali's capital, Bamako, have "no more hostages".
The Radisson Blu Hotel was stormed by special forces after gunmen entered it and seized 170 people. At least 30 of the hostages are known to have escaped.
Al-Qaeda in the Islamic Maghreb and its offshoot al-Murabitoun said they carried out the attack, according to an agency used by jihadists in the region.
At least 18 people have died and two soldiers wounded.
One of those killed was Geoffrey Dieudonne, a member of parliament in Belgium's Wallonia region.
A journalist in the lobby of the hotel told the BBC that hostages were leaving the hotel. It is not clear how many survived.
The US-owned hotel is popular with foreign businesses and airline crews.
Eyewitnesses said the gunmen had entered the hotel shooting and shouting "God is great!" in Arabic.
Before special forces stormed the building, a security source told Reuters that some hostages who were able to recite verses of the Koran were being freed.
Mali's presidency has tweeted (in French) thanking the security forces and friendly countries for their support in responding to the attacks.
US special forces had helped in the hostage rescue operation. French special forces were also dispatched to the scene.
Malian security forces have been working their way up the building to where the gunmen were reportedly entrenched.
There is as yet no established link with the attacks in Paris one week ago that killed 130 people.