FOR IMMEDIATE RELEASE – The America Team for Displaced Eritreans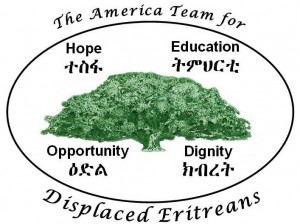 U.S. TO DEPORT ERITREANS TO LIKELY TORTURE OR DEATH
(MEDIA, PA, December 22, 2017) The America Team for Displaced Eritreans, joined by some 78 other organizations, has sent a letter to senior U.S. government officials urging that the Department of Homeland Security (DHS) suspend the imminent deportation of some 700 Eritreans under an order that the department had issued on September 13, 2017. The letter expresses the signatories' concern that any Eritreans who are removed are likely to be tortured or killed by the Eritrean regime.
The letter was addressed to the DHS Secretary, the Secretary of State, the Acting Director of ICE, the Ambassador to the United Nations, and the four leading members of Congress tasked with overseeing DHS through their committees. The letter appears here: http://eritreanrefugees.org/wp-content/uploads/2017/12/ERITREA-700-URGENT-LETTER-2.pdf .
The America Team has been advocating against such a suspension since September. The organization urges the Eritrean American community to consider taking the following actions:
1. Send a copy of the letter to your members of Congress, in both the Senate and the House of Representations. If possible, meet with their staff in person to discuss the matter.
2. For any Eritreans who have lost good faith asylum claims – including those who
have been released from detention under orders of supervision – engage capable counsel at the earliest possible moment so as to reduce the risk of removal to Eritrea. Important materials in this regard appear here: http://eritreanrefugees.org/reference-materials-2/ .
3. For any Eritreans who have been contacted by Immigration and Customs Enforcement (ICE) for possible deportation, advise The America Team confidentially, so as to facilitate the tracking of the government's enforcement efforts relative to the DHS order. Individuals may write to mail@EritreanRefugees.org .