Fires hit pro-[PFDJ] groups in Stockholm
Arson investigations have been launched into three fires that broke out near Stockholm in the early hours of Monday morning in three separate locations, all of which house organizations that sympathize with the regime in Eritrea. All the fires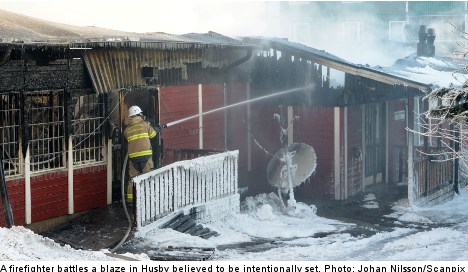 Arson investigations have been launched into three fires that broke out near Stockholm in the early hours of Monday morning in three separate locations, all of which house organizations that sympathize with the regime in Eritrea.
All the fires broke out within hours of one another, with emergency services first getting a call shortly after 1am about a fire in Högdalen south of Stockholm.
A second fire was reported in Solna, just north of the city, around 2.30am, followed thirty minutes later by reports of a third fire in Husby, also north of central Stockholm.
More than 50 people were evacuated from their homes as a result of the fires, which were eventually brought under control thanks to the efforts of dozens of firefighters.
The fires all erupted in offices housing organizations that support the regime in Eritrea, the TT news agency reported, although no representatives from the organizations were willing to be quoted by name about the incidents.
However, one person active in the Husby-based organization who wished to remain anonymous due to fears of reprisals said he was "100 percent certain" the fires were "political".
"It's those damn traitors who are behind this," he told TT, referring to Eritrean-Swedes who "hate their country" and often demonstrate against events organized in support of the current Eritrean regime.
Tensions have been running high between groups loyal to the Eritrean government and those critical of the regime of Eritrean president Isaias Afewerki.
When pro-regime actions are held in Sweden, opposition groups often stage counter-demonstrations, according to TT.
Regime critics in turn often blame the Eritrean authorities for engaging in threats and blackmail in order to squeeze tax money from Eritreans in exile.
Preliminary investigations into arson have been opened for all three fires, with police confirming that the Husby and Högdalen blazes were intentionally set, while forensic teams continue to investigate the scene of the fire in Solna.
However, police have refrained from confirming that the fires are connected.
"In Högdalen, the fire broke out in a building that houses an Eritrean organization, as well as several other companies. As far as I know, there is no connection to the fire in a laundry room in Husby. We're obviously looking into any connection, but for the moment we don't see one," police spokesman Mats Eriksson told the Dagens Nyheter (DN) newspaper.
Swedish-Eritrean MP Arhe Hamednaca, who is critical of the authoritarian regime in Eritrea, told TT he doesn't think the Eritrean democratic opposition is responsible.
"It could be a group siding with the government that wants to drag the opposition through the mud; they're known for doing that," he told TT.
He explained that supporters of the regime are desperate following an uprising among troops in Eritrea that took place about a month ago as well as recent reports in the Swedish media about how the regime has been threatening Eritreans in Sweden.
Last week, three people were arrested in Stockholm on suspicion of blackmail and conspiring to commit murder in a case believed to be connected to the Eritrean regime's systematic oppression of Eritreans living in exile.
TT/The Local/dl