Fetsum: Should Tigre mediate Arabic and Tigrigna in the current Eritrean Radical Democracy?
Fetsum: Should Tigre mediate Arabic and Tigrigna in the current Eritrean Radical Democracy? This Independence Day celebration went on in DC without Brother Vaccaro's participation because of a little hiccup that should not bother any Eritrean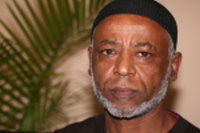 Fetsum: Should Tigre mediate Arabic and Tigrigna in the current Eritrean Radical Democracy?
This Independence Day celebration went on in DC without Brother Vaccaro's participation because of a little hiccup that should not bother any Eritrean in the struggle. Everything is ok with his health but he needed rest understandably because of overwork. The brother will start his activities soon and we are in perfect harmony with this situation. I, however, did not get the chance to privately converse with him for the next move although, he will receive the documents we were working on (transitional formula) through the mail ASAP. I will try my best to meet him in Europe even for one day given the proper arrangement from the resistance to discuss the matter in detail, but I cannot guarantee you that it will happen. Please wish him the best without pressing the panic button because he is doing excellent resting at home in Italy.
I tend to see Radicalism from both sides of its duality, as something either way extreme. Clearly, anything in social science has two extreme sides that represent radicalism, a disaster to the peaceful existence of society. A rational person stands somewhere in the middle balancing things out to accommodate the objective reality and the adamant sticks to one's subjective opinion believing that that was the absolute truth about a given common subject matter in question. A society sandwiched between two extreme positions on any social agenda or between two contradictory radical opinions is bound to exhaust its elasticity into destruction. In other words, we all have individual or subjective opinions on things but we should meet the objective reality at the middle of the pendulum for we cannot rationally approach it from our subjective positions. You cannot view objective issues from absolutely subjective points of view without the tendency to dictate!
What is obvious is that; no expression even applied science and mathematics can fully explain a phenomenon to the precise point: Formulas, languages or words cannot fully define reality; only can they approximate it. Truth in complete composure is therefore unexplainable by words and speeches; the reason it remains being relative, evident to state that no one owns truth and knowledge exclusively: We have no choice except compromising, sharing them through transparent relationships in order to peacefully coexist. We must understand that Subjective truth is only objective in view of the subject not in that of the objective reality. The way I perceive things remains to be only my truth not everybody's. People, thus, should be willing to compromise their subject opinions to some extent for the sake of objective reality.
The concept of objectivity cannot exist without that of subjectivity's, and vise versa. Subjectivity, however, can and should exist in society for there is no life without it. It does not have to completely lose its outlook for the sake of objective reality but must substantially succumb to it for neither can it legitimately dictate global realities nor can it survive in isolation forever. I have to be ready to compromise on a common subject matter through give and take transparency in order to coexist with the parties involved, with full right to exclusively dictate my private life. Anything else is Radicalism, a problem that has never produced everlasting harmony between people in history. It has always been destructive by universal consensus. The Skinheads, the KKK, Radical Feminism (not genuine feminism), Nazism, Fascism, Afwerkism, Communism, Talibanism, etc. are clear examples of radicalism: Thus, an obstinate, egoist and arrogant mind most probably ends up becoming Radical for whatever!
Eritrean Radicalism: Like any society in struggle for freedom and democracy, we are experiencing different types of radicalism in the resistance. Some of us refuse to compromise insisting of spotting the truth or the solution to the common Eritrean dilemma. We think we own KNOWLEDGE exclusively! We think we were 100% correct in this life where the term absolute does not practically exist. We reflect this dictatorial character through chronic intellectual chauvinism. Others may stick with the past trying to stop the course of history from going forward: they ignore the concrete reality instead, starting from many years back in psychological time and entertaining issues totally immaterial to the current Eritrean sociological realities.
What is sad is that our society is surviving extremely the hard way while we are wasting our energy and time on self aggrandizement and immobile philosophical hallucination. We radicalize for image instead of liberalizing the mind for the sake of society, but we are not the only ones. The world is infested with uptight and rigid individuals as much as it is full of flexible and rational people to balance out the mess! You need to remember that our experience is a human experience that will be repaired in the near future by rational Eritreans. Nothing is exceptional about our situation (dictatorship) that has been experienced by every society on this planet to bitterly grieve about as if it is exclusively personal. We should face our dilemma as it comes and strive to improve our situation through participation firmly believing that we are responsible for our condition. Do not believe people who exaggerate our situation and present it is as something exceptional, a unique curse on the society. Yes our situation is a curse that is lingering on for a while but it is not unique looking at it broadly: at the end of the day, it is dictatorship…PERIOD. It looks dim and discouraging, but it will be history like all social curses in the past. One takes Aspirin for a headache; a tranquilizer for depression and a society must accept democracy to exit from dictatorship.
Dictatorship starts at early age and develops making subjective standards for people to either conform or suffer the consequence of rejection. Experience keeps on molding it to full potency proportional to time. A rigid person with "know it all" attitude that rusts at one's idea refusing to compromise with other ideas would most probably dictate society given political power. We have this at home today. An intellectually dominant person with no room for entertaining other ideas in the flip of the coin would not hesitate to dictate society by force; in fact that is all he/she can do.
Individuals in this category are not transparent and assume of having the full answer for everything without the capacity to provide evidence based on local or external sociological experiences. I was in this state of experimentation when a brother (Abraham) called me from London to teach me something special: He said knowledge stays still between its entertainers (people, intellectuals, educated, etc.) to be taken advantage of for the benefit of society through transparent interaction. It produces harmonic and constructive result when the interaction modifies it to compose the entertained intellectual components in question. It improves in quality becoming highly productive to the common substance (society) because of the collective outcome. Through this, Knowledge transforms from potential energy to kinetic energy changing society for the better. It develops in essence through transparency! This dude rested his case with sarcastic smile and left me there to figure out the rest. Thank you my brother for this wisdom, but I wish I received it in person watching your style of infusing wisdom in my mind while attentively taking my notes! Even better in a cozy environment with good food and wine because I love your extravagance in downloading this into my consciousness in moderately tipsy state of mind!!
New democracy made by our communities: You see, our problem is not unique, though harsher than many similar situations elsewhere. But I admit we sometimes do unique things within ourselves. Something inimitable and interesting is going on in the communities; Democratic Radicalism or Radical Democracy, so to say. As you know, Yemane Monkey invented a unique concept of democracy last year saying in public that "Eritrea practically exercises full democracy except freedom of speech". This time the Eritrean communities have invented their own unique democracy to be discussed hereunder that well matches the Monkey's extraordinary creativity. I believe both democratic inventions are made of strange Eritrean minds, thus original treasure of the Eritrean people needless to say that they are patentable for uniqueness although unusable by decent societies, all inclusive.
My experience testifies that the average community meetings in the DC area (I don't know elsewhere) have been very thinly attended (20-25 people) mostly by people who understand English fairly well (may be 100% with a little exaggeration). But the meetings are traditionally conducted by two languages, Tigrigna and Arabic given that at least about 80% of the audience does not understand Arabic. A panelist tells his thing in Tigrigna and a translator does his damage in Arabic with said 80% of the audience quietly waiting for the next appearance in the Mother Tongue. Tigrigna goes on for a while and the cycle repeats. Another brother in reverse direction Arabically radiates his idea to the house and the translator changes it to Tigrigna for the panelist/s to respond. Back and forth swinging my mind like an electron in a circuit conditioned to move between the negative and positive polarities of a power supply under the pressure of AC signal. This unusual democracy retards the motion of life in at least three specific dimensions: Time; Flow of Communication and Efficiency!
Imagine of having a meeting on an important issue and wasting about 40% of the time on something the majority does not understand. A quiet audience seemingly tranquilized by this sedative hypnosis experiencing it with maximum inhibition in the presence of comfortable ambience for frank, honest and transparent communication because of the inbuilt fear and mistrust caused by our enemies in consecutively oppressive eras and our own exaggerative and pretentious nature. Hypocrisy disallows the real inner-feeling from being freely expressed in this situation where you see individuals writing something on a paper or scratching the body out of impatience and nervousness; probably snoozing a little bit as well; who knows?. I ended up drawing a weird geometric figure I have never imagined before in one of these occasions, God knows what the scratchers end up doing to their bodies!
As you know a speech penetrates deeper in the listeners' mind when it flows freely without interruption. Eloquence can excite people into creativity when given a chance to effectively transmit an idea through the current. Questions arise from the flow and productivity increases through transparent debate. Here, an idea begins and stops for translation, leaving the panelist day dreaming till it is over. One staggers to start a decent message in the process of recovering from the interruption and loses the microphone again for the translator to tell it to a non-audible audience. The walls end up enjoying the two languages leaving the audience soul searching; and before they know it, the monotonous meeting is over, more significantly impressing the material objects in the environment than the target audience.
In civilized atmosphere, the result of any public meeting is measured based on its productivity, on how it effectively uses time to achieve a goal. We should then talk about efficiency (the ratio between the effect and the cause or the output and the input of an activity). Assuming the translation consuming at least about 40% of it, we are talking about 60% efficiency in this scenario with 40% of the time literally wasted on this radically inconvenient procedure. Considering about at least 15% of the so called efficient time as being sacrificed for the negative psychological effects (fatigue, boredom, tripping out, etc.) of the flow-interruption on the panelist/s and the audience; we now end up with about 45% efficiency in the overall project.
The last Eritrean gathering with Baito members where about 25 people that all looked capable of understanding English showed up was as usual conducted by both languages. I heard a DC activist complaining to the panelists about two old meetings where one of them was conducted with only both languages in the presence of international audience and the other used English with exclusively Eritrean audience. Interesting drama, isn't it? I saw a translator in one of the events translating one of the languages (I forgot which one) to the same language; he either forgot the procedure or probably confused to lose his concentration: Do you blame him? I probably would have been accused of stuttering at a point in the process in his situation!
The catch: Eritreans are wasting their lives on this nonsense thinking they were practicing democracy while implying the opposite: Democracy in most cases allows people to communicate with the most efficient universal language that most people in the audience understand. It goes with the majority and never entertains about 20% of a common substance to dominate 80% of its component. The tiny minority governs the concept of this weird Community made Democracy where its believers unconsciously practice Communism or Dictatorship instead. This is Radicalism; a contradictory concept to Liberal Democracy! You can hardly see our style of conducting meetings in any democratic environment for me to entertain the notion that this Radical Democracy is a new phenomenon invented by 'politically correct' Eritrean democrats with shallow understanding of the concept, meaning that pretention governs the essence of Eritrean democracy into radicalizing its naturally liberal content to this extent of inefficiency. I think this new democracy is as patentable as that of the Monkey's though equally useless to the society and the universe at large!
Now, knowing that the society cannot catch up with any other society dragging its life as such and that the Ancient and Native Tigre being the closest language to Geez than Tigrigna and Arabic; yet that it is also spoken by half of our society;
Should we respectfully sideline Tigrigna and Arabic in favor of Tigre so that the society can optimize its efficiency saving half of its life after a generation worth of strategic experimentation? Should we normalize the Abnormal, convoluted or Radical Eritrean Democracy through Tigre (about 10-20 years down the road) instead of eternally molesting the society with this nonsense? Is it worth making Tigre our national language instead of suffering the consequence of the feud between Tigrigna and Arabic forever? Does not this pretentious democracy reflect the fear and mistrust of Eritreans between each other? Do we have to sacrifice half the life of the society through this strange way of conducting meetings to prove that we were for social equality in the country? Doesn't this practice testify the shaky or insecure relationship between the Eritreans?