Fetsum: Eritrean opposition forces under examination IV
Fetsum: Eritrean opposition forces under examination IV Special guest: Eritrean Nahda Party - ENP As you know I have been dealing with the opposition parties in the EDA and with this one out of the way, I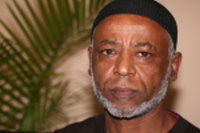 Fetsum: Eritrean opposition forces under examination IV
Special guest: Eritrean Nahda Party – ENP
As you know I have been dealing with the opposition parties in the EDA and with this one out of the way, I believe I will have done my brief analysis on 10 of them as of today with about three more to go besides the EPDP which is not a member of the EDA.
In searching for reasons that could have motivated this group to make this party, I found the following in the network.
"Treatment of Jeberti People by Government Authorities: Sources describe the Jeberti as "marginalized". The Senior Research Fellow indicated that the Eritrean government "discriminates against and marginalizes the Muslim communities in Eritrea in general, including the Jeberti community""
Comment: I don't think any person from the Christian Kebessa would experience what our Jeberti family is claiming to have been experiencing because of its religion like no Eritrean man can feel the oppression of our women directly. Rejecting this grievance should then be a terrible mistake we can do in approaching this situation. I do believe our society should have gone through the experience of religious and ethnic discrimination like any other similar societies in the world. This is unavoidable human mode of existence that will survive until the end of time and that can only be substantially rectified by Democracy and fair justice system. Yet, a society can only control the consequence of prejudice through laws but it cannot eliminate the biased mentality of individuals; only the individuals in question can. A Redneck racist can hate people of color within one's democratic right but that person does not represent white Americans except his/her individuality. I have no problem with a Redneck's outlook of life but I have one with a lawless society that allows him/her attacking or discriminating me without dire consequences. It is not because the US has eradicated racism that makes it a safe place for people of color to live but the existence of law that protects everyone in relatively acceptable equality.
One can be biased against Moslems or the vise versa (you cannot stop feelings) with full constitutional right to practice; we can only make laws that will make the hater suffer the associated emotional consequences alone. Further, that mentality only represents the person in question and not all Christians or Moslems in the society. Remember that we are requesting for religious and ethnic equality and not to convert haters to lovers which is impossible. This is a moralistic or an ethical issue that the individuals in the darkness should deal with, needless to say that I care less about, as long as the law protects me from them.
Whatever I am saying here, nevertheless, does not justify the discrimination of our Moslem family by some Christians or the vise versa but I know that there is only one remedy here and they call it constitutional democracy.
I further believe that the government uses division for political survival creating frictions between our people based on land, religion and ethnicity throughout its administration; meaning that this part of our society should also have been a victim of the state sponsored division like the rest of us. I am comfortable entertaining our Jeberty family's conclusion that the regime may be Christian dominated although I cannot prove it statistically because of lack of scholastic freedom in the country. I take this for granted resenting the damage inflicted upon its member like I do in relation to the entire society by the common enemy so said to be the Christian dominated regime in Eritrea. This Christian dominated regime, however, does not represent the Christian portion of our society that is suffering similarly in all aspects of life. All we can do is fighting the common enemy in unison until we secure democracy in our country but no ethnic group is responsible for what the regime did to our Jeberti and Moslem family members for the same enemy is responsible for the suffering of the Christians as well. I also believe that there are few Christian denominations (Jehova Witness and Pentecostal) that have been suffering the regime's offense probably more than the conventional believers of the society. Moslems and Christians from the Orthodox Church at least have more freedom to exercise their respective rituals than the believers of Jehova Witness and Pentecostal, which are Christians in denomination!
 "The Senior Research Fellow indicated that the Jeberti have the "same social duties as other Eritreans, such as serving in the military and national service for unspecified periods of time" (ibid.). The ENP Central Committee Chairperson indicated that, due to their faith, most Jeberti families do not want their daughters to join the military, but they are still forced to do so."
Comment: I do think the ultimate decision on the question of Jeberti women joining the Army should be exclusively left to said women at the end of the day because there is a question of gender equality embedded within the subject matter in discussion that male chauvinists can take advantage of to oppress their women.
This imposition cannot be seen in isolation from discriminating women from the Army on the basis of gender or violating their constitutional right and equality to decide for themselves.The reason American women are in the Army today is not because their men want them to be there but that women insisted to have the right to do so within the context of gender equality. FEMINISM was the cause of women's equality to men in this regard and our society must accept gender equality in all aspects of life including the Army that serves the nation overall. You cannot ask for protection from any system in society if you refuse to defend it at equal point of the ethnic relationship nor can you ask for equal treatment in it by simultaneously advocating exceptional treatment based on religion. I don't think one can ask for exceptional treatment without compromising one's equality in society! A society has to protect itself using all its resources equally: we did this during the struggle where our women in general fought for their equality in action. We cannot take away their equality earned by their blood and sweat and they should not allow it.
The saying " due to their faith, most Jeberti families do not want their daughters to join the military, but they are still forced to do so" applies to all Eritreans for one to make a distinct sense out of.
The Sawa Slavery Camp is against the interest of all Eritreans as a unit. It is an offense to every citizen of the land; it hurts them all equally without discrimination. Clearly, Islam does not approve women to indefinitely serve in the military but neither does Christianity. Our Christian and Moslem families are forced to involve their daughters in there with equal depth of spiritual resentment. What may happen in Sawa to our Moslem daughters also happens to our Christian daughters by both Moslem and Christian officials of the regime. We are equal sufferers of the common problem as Eritreans by common enemies from the society, heinous individuals from the two religions.Our Moslem family members cannot feel this pain more than the Christians in the same situation without crossing the line of fairness and suffering the guilt of bias and selfishness.
This issue is not exceptional to Islam but common to all religions in the world, meaning that all forms of spirituality condemn the application of slave labor on any human being irrespective of gender and religion. The Bible says this as good as the Koran words it down for all of us to respect and defend our people at equal spiritual intensity and activism. The Bible may teach to respect authority but never advocates forced labor slavery. I would imagine the Holy Koran does too, though I don't know for sure. In my understanding Allah does not discriminate between Moslem and Christian young ladies, nor does he appreciate a religious group discriminating others on a common problem. I think this is considered a SIN in view of Allah that impartially treats all members of the human races.
A diverse society must as a unit fights the problem that commonly affects the people and it does not sound fair for a group asking exceptional treatment because of religion in a society that equally suffers the suffering in discussion. It is not fair for me to discriminate Amina from Abeba or Mohamed from Girmai in any aspect of the Eritrean life or experience; I cannot and will never do it.
We cannot focus only on our specific interest ignoring the rest in the dangerous pool and claim being spiritual and democratic, at least in my common sense. All our kids, daughters included are suffering together in this dilemma and we need to concentrate on their salvation without discrimination if we want a decent society ahead. I did not find this request beneficial to any portion of the society including the Moslems for it would be a bad precedence bound to back-fire generating destructive and divisive issues from the Christians at a point in our mandatory coexistence as Eritreans. I also found it insensitive and immoral to ignore the pain of our Christian daughters condemned to the same forced labor slavery. How can I discriminate the daughters of Ali Abdu and Mahmood Sherifo from the daughters of Petros Solomon and Haile Drue in this situation just because I happened to come from a Christian family? The ethical challenge gets down to that point of ugliness!
"There is no implemented constitution [in Eritrea], and no freedom of press and speech. Both police and the military are dominated by the largest ethnic group, the Christian Tigrinya. They often discriminate against Muslims, including the Jeberti, and label them as Jihadists, fundamentalists or terrorists if they show any kind of protest against or criticism of government policies. The Jeberti community as a Muslim is no exception in this regard and suffers from the same degree of discrimination as other Muslim population groups. "
Comment: Once again the problem is directed against all Eritrean Moslems and only the government is responsible for this divisive characterization. We better concentrate on democratizing the country that we earned together by means of equal sacrifice so that we can equally protect all Eritreans through the law. No Christian Eritrean benefited from the common enemy and we should at least be equally compassionate to all Eritreans in the society because; "The Senior Research Fellow indicated that '[g]generally, all Eritreans who fled from the mandatory and timely unlimited national service as draft evaders or deserters face incommunicado detention of undefined periods without due process, torture and other cruel forms of treatment, if they are forcibly returned to Eritrea. There is no distinction between ethnic groups in this regard and this applies to the Jeberti in the same way as to any social group of Eritrea. An Amnesty International (AI) representative stated that "all returnees, of whatever ethnic identity, are treated with suspicion and hostility if forcibly returned to Eritrea; most, according to reports we receive, are arbitrarily detained and tortured for information about their attempts to claim asylum abroad"
Apparently, "Members of the Jeberti created the Eritrean Al-Nahda Party (ENP) which is part of the opposition against the Eritrean government. The ENP is "seeking the removal of the Eritrean dictatorship" and "to govern Eritrea in peace and unity for all Eritreans, with all Eritreans." The Chairman added that, although the "Jeberti cause is the ENP's main cause … the party is not only concerned with Jeberti, but rather all Eritreans."
Comment: This sounds good to me because I believe any group in the resistance should focus on the interest of all Eritreans as a family, not in fragmentation.
"Overview: Sources indicate that the Jeberti people are Muslims that live in the highlands of Eritrea as a Muslim minority within the highland population. Although the Jeberti are a Tigrigna-speaking group and their mother-tongue is Tigrigna, their cultural language is Arabic. Sources state that the Eritrean government does not recognize the Jeberti as an ethnic group but that it does consider the Jeberti to be a part of the Tigrigna ethnic group. Some members of the Jeberti have been seeking official government recognition as an ethnic group."
Comment: True is that the Jeberties live as a Muslim minority within the Christian highland population but they originally came from the same roots to say the least. The only difference with the other Highland Eritreans is their religion which actually was imported or probably enforced to our society from the Middle East (my subjective view). It is told that this portion of the family was originally Christian because Islam came into existence many years after Christianity and that we all are equally indigenous to the motherland. Please take this easy, it is just my speculation with absolute readiness to be reeducated.
This is fantastic but we cannot complicate reality based on this relationship. To me, a Jeberti is a person religiously conditioned to perform one's spiritual rituals in Mosques with Moslems from other ethnic backgrounds and does the rest of one's activities including friendship with his/her Tigrigna speaking Kebessians by cultural, ethnic and lifestyle orientations. A Jeberti is more similar to the Kebessian Christians than to any other Eritreans from other Moslem dominated ethnic groups not by accident but by fundamental relationship tracing to the same roots.
The Jeberty question according to Nahda: Nahda Vs "Arabic culture"
At the end of the day; the Eritrean Nahda Party says that it wants; "To Change the Dictator Regime in Eritrea and establishing a Democratic Government in Eritrea" but also wants the society to exceptionally define the community called "Jeberty" as the 10th ethnic group in the country formally composed of nine ethnic groups. Al Nahda wants to create a distinguished ethnic group similar to the Tigrigna, Tigre, Saho and other ethnic groups in our country because of its "Arabic culture".
The relationship between the Jeberties and said Arabic culture to my understanding ends up at the Holy Koran that is written in Arabic. But this does not and cannot rationally constitute said cultural relationship with the Arabs more than with their Tigrigna speaking Christians for this would also mean all Moslems in the world were culturally Arabic because of the common element, the Holy Koran. This conceptualization would then make the Jeberties culturally related to all Moslems in the world that 'were culturally Arabic because of the Koran'. Before you know it, our brothers and sisters in this philosophical entrapment may as well claim the planet earth in terms of ethnicity because Moslems live all over the world. It is a very complicated philosophy to contemplate in my understanding that one should not mess with, without getting ready to deal with the consequence of all the unforgiving complications, inconsistencies and contradictions associated with.
Further, we can only approach this situation academically. What defines an ethnic group? "
Ethnicity
 or 
ethnic group
 is a social group of people who identify with each other based on common ancestral, social, cultural, or national experience.
Membership of an ethnic group tends to be associated with shared
cultural heritage
, 
ancestry
, 
history
, 
homeland
, 
language
 (
dialect
), or 
ideology
, and with 
symbolic systems
 such as 
religion
, 
mythology
 and 
ritual
, 
cuisine
,
dressing
 style, 
physical appearance
, etc."
In reality, the Jeberties are Tigrigna speakers (by their admission) that share the same ancestral history, mother language (Tigrigna), ritual (Bun, Incense (itan burning)), music (Guaila and Kuda), dress (Gabi, Kuta) and cuisine (Enjera, Tsebhi, Shiro, Kolotitko, etc.)
I have no idea how a community can legimately define ethnicity only based on religion as it seems to be in this situation. Nahda believes that the Christian Tigrignya dominated Eritrean government is exceptionally biased against Moslems and fights back for the Eritrean people in general but with special emphasis on the Jeberty community. It claims to be for democracy, works as a member of the EDA which is great but once again, it wants to create a distinguished ethnic group away from its Tigrigna grassroots because of its "Arabic culture".
The only connection between our Jeberties and the Arabs is, however, the religion and the Holy Kuran, the spiritual guide line of all Moslems in the world. This similarity alone cannot institute Arabic culture in my take by any logical approach. A Moslem from Afghanistan, Sirilanka, Chechnya, Ethiopia, Senegal, Iran, Pakistan, Indochina, Nigeria or Somalia is not culturally an Arab because of the religion and so cannot an Eritrean Jeberti or an Ethiopian Moslem rationally be. This artificial identification has caused a lot of confusion in Sudan for example, needless to say many Sudanese today reject their fallacious Arabic identification because it contradicts with their Africanism and blackness and they have had a hard time being accepted as Arabic by the racist Arab community overall.
Narrative: Experience tells otherwise, that the Jeberti community members are not treated better than the other Eritrean refugees in the Middle East and in fact they suffer the same problems (deportation, servitude, abuse, and racial discrimination) as the rest of the Eritrean society and all black Africans in similar situation.
Further; we have Arab-Eritreans in the country that our Jeberti people don't have to look across the sea for the claimed cultural relationship. Should the claim really be significant, we would have seen a special effort of the Jeberti community establishing stronger ties with our Rashaida population. They should probably integrate into the Rashaida community as an Eritrean-Arab ethnic group of course if the later finds it acceptable. The claim reads too contradictory and very hard to intellectually justify and accommodate.
Question: Where is the beef? Why would an Eritrean Jeberti choose to identify Arabic just because of the religion trespassing the many elements that culturally trace one an Eritrean highlander (cuisine, dress, language, music, ritual, etc)? Why would one select being part of the culture (Arabic) that discriminates people on the basis of origin and skin complexion? If the Jeberties were Arabic in culture, how come they don't have closer relationship with the Eritrean-Arabs (Rashaida) than with the Christian highlanders?
I don't think this represents our Jeberti people very well, nor do I believe the group can empirically prove mandate from that portion of our society on the question of its Arabic verses Habesha culture. But I know quite a few Eritrean Jeberties that reject this question. I don't see the group's drive for a political party based on this theory as something legitimate. Note that Moslems have full right to practice their rituals in Eritrea as the Christians do. This traditional accommodation has been consistent during the Hailesellassie regime, the Mengistu regime and the Shabias.
Consistency test
Apart from my difficulty finding this party's national program it is clear that we Eritreans have a group of people categorized as Amiches. These are Eritreans that were probably born and raised in Ethiopia within its diversified ethnic communities. They were terribly mistreated by the regime after their deportation from Ethiopia before the Badme War. They lost their possessions in Ethiopia, the regime refused to assist their settlement in the presence of vast free land in the country and most of them ended up dying prematurely because of disappointment driven emotional and physical problems or becoming international refugees at the end of the day: this is triple death in my judgment!
The 'fact' remains that Amiches are Eritreans with Ethiopian psychological orientation that were circumstantially conditioned to adopt Ethiopian cultural and linguistic values.
Let us now read the following carefully;
"Sources indicate that the Jeberti people are Muslims that live in the highlands of Eritrea as a Muslim minority within the highland population. Although the Jeberti are a Tigrigna-speaking group and their mother-tongue is Tigrigna, their cultural language is Arabic.
The Eritrean government does not recognize the Jeberti as an ethnic group but that it does consider the Jeberti to be a part of the Tigrigna ethnic group. Some members of the Jeberti have been seeking official government recognition as an ethnic group."
If the above expression makes sense; should the Amiches then request for unique ethnic identification based on the partially modified version of the first paragraph; 'the Amiche people are Eritreans that lived in Ethiopia as Ethiopian minority within the Ethiopian population. Although the Amiches are from Eritrean-languages speaking groups with different mother-tongues, their cultural languages are Ethiopian languages; mainly Amharic?'
How about; 'The Diasporas are Eritreans that live abroad as African minority within the population. Although they are from Eritrean-languages speaking groups with different mother-tongues, their cultural languages are English, European, Arabic, Spanish, Italian, African, etc.'
Now it hits home: If religion or spirituality can be used to create a new ethnic group in society out of an existing ethnic group, should I also request for one as a Buddhist from the highland Eritrean roots with a hybrid far-Eastern spiritual culture (Tantric and Zen or Tibetan and Japanese Buddhism)?
My Verdict: The brothers and sisters in this trip should chill down and get for real concentrating on the big stake instead. The question of religious equality is a democratic question that cannot be used as a foundation for a political program driven "political party" status. Further, religion has been used in society to oppress women and deny them gender equality. The question of the Jeberties related to women in the Army is Chauvinistic by flavor and against gender equality (anti-woman) in principle by Universal Feministic outlook. Western women would not take them a second to reject this dangerous suggestion against their equality; why should Eritrean women accept this in our society? The question of Jebrety women cannot be separated from the question of women internationally and from that of the Eritrean women's in particular.
I encourage the Jeberties to organize better in defense of their community against discrimination from the Christians through democratic rights that can only be achieved by a constitutional authority but they have no legitimate reason to organize themselves at political party value of the paradigm for religious issues are social issues related to freedom and civil rights that have nothing to do with the elements (vision, policy) that constitute a rational political party. To the alternative, out Jeberti family members should ingrate into the Rashaida ethnic group by permission from the Rashaidas and by statistically proving mandate from that portion of the society or probably hold dual ethnicity (Tigrigna and Rashaida) within the society on the two conditions in brief. They may resolve that Arabic nostalgia or sentiment within the society this way and close their case with the Eritrean society to ever live happier after. See you soon.