Fetsum: Dialogue with Rezen
Fetsum: Dialogue with Rezen As you know, I have been working on two projects simultaneously, the reason I was pumping articles in alternation. The forum has been busy and a little more philosophical as a result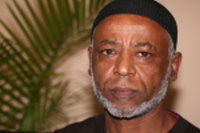 Fetsum: Dialogue with Rezen
As you know, I have been working on two projects simultaneously, the reason I was pumping articles in alternation. The forum has been busy and a little more philosophical as a result of Rezen's involvement and I welcome this development because it will make us stronger upstairs. I confess that I have a problem going toe to toe with the detail oriented and fearless philosopher called Rezen who will neither go away nor be satisfied easily. We cannot chase him away with sticks in the hand nor can we demand intervention from the State to neutralize him. I had to create a dedicated interactive media between us to confront the challenge in the ground.
In other words I am in double trouble! Please enjoy the articles under "Dialogue with Rezen" and let us together build it for whatever it may produce in the way. I expect this forum to go in parallel with the other subject matters being discussed and make sure you understand this so that you don't get confused. Beware that we believe in independent mindedness and practice here in this forum.
Warning to narrow-mined Eritreans: Please stay away from this forum if you are very sensitive about the Eritrean reality because you will be disappointed. There is no restriction or SIKIFTA in this forum; just saying it without modification as soon as the mind completes processes it.
Rezen: "No one knows Eritreans more than Issayas Afewerki Abraham. He can dissect the Eritrean psyche, including that of the Intellectuals who admired him; and he returned the gesture with contempt and hatred. It is a culmination of childhood experience coupled with a trait for attentive observation, natural shrewdness, reclusiveness and not trusting a soul, amazing capability for memory and above all characteristic of revenge and hatefulness. The rest is left for the highly educated Eritrean scholars, carriers of Doctor of Philosophy distinction, to research, to dissect and to produce books for the benefit, not for the current lost generation but, for future generations (in whatever form or shape Eritrea may wound-up to be at that time [1990 or late 1989] stand[ing] to be corrected."
Comment: Most of us including the educated respected and admired that guy during the struggle and up to a little after independence. It is easier to say that he messed up too much spoiling the opportunity and love we gave him to lead us normally. His deep knowledge of the society should have helped him help us better through democratic values without risking his power for as long as he wants.
Question: Was this guy an enemy from the moment he joined the struggle or got twisted in the process to end up being what he is? Did he join the struggle with honest desire to liberate the country or he did it to ultimately become its leader for life?  I don't think we can precisely answer these questions but do you consider that guy intelligent for using his knowledge of the society for adversely manipulating it at will or an idiot for losing the best opportunity, making a difference in society?
Rezen: "Twenty-four years late: Now, in 2014, Eritreans are still talking about "oppositions" whose precise numbers are still unknown like yesteryears, this time reaching somewhere in the order of thirty-forty and numerous civic groups. What was the proverb about a coward having 'ten sticks'??? Anyway, to make the thing still "laughable", the "oppositions" are even hollow in their structure – with no road map, no vision, no constitution, no working organizations….. Some time ago, there was an instance where one "opposition party" consisted of only one person and spouse! Anything can happen in 'liberated' Eritrea'"
Me: Having so many opposition and civic groups in the resistance without any substantial difference in political vision (they don't have this) and all of them claiming to fight for democracy should certainly tell something about the society's cultural orientation that I cannot academically play around with significant intellectual confidence. I think few symptoms (rigidity, hilik, seb mikilal, denial, destructive sikifta, image seeking, fear, inferiority complex cover-up, etc) support the hypothesis on the table. We grew up believing we were this and that to find that we were that and this.
Question: Is the collective problem of the society reflected through the questionable/shaky and divided forces a derivative of our authentic cultural values or something adopted by the two liberation fronts in the journey for independence and transmitted to the generations born into, within the life span or time-frame of the struggle? Have we always been like this or we became it as a consequence of the struggle overall?
Rezen: "So far, for all practical purposes, the result of [fetsum's] examination (unsurprisingly) is nil. Eritrean "oppositions": a) just simply sprout, one day, by a few people or individuals for personal ambition; b) get together without adequate preparation; c) talk without established agenda; d) form a committee to prepare documentation for the future, which for all practical purposes is empty; and e) once again, they meet, preferably, in an 'enemy' country like Ethiopia and the roulette keeps on rotating until the mechanism stops by external force. – as always. And so, a semblance of tranquility reins in the country, with the "inherent problem" still intact but recessed for another Time. "
Comment: One of my personal experiences from Amiche background asserts that some (I am saying some) home breaded Eritreans do not have the skill of completing a discussion successfully ether way. They seem to interrupt the flow of very important discussions with shallow projections. Someone from outside can easily interrupt a very serious group discussion. He can easily divert their attention with something nonsensical and get them carried away with no intention to come back finishing what was going on (may be they forget it). They laugh easily deviating from important on-going discussions. One asks a question and gets lost in the middle of the answer by minute and useless external interference never to get back to hear it in full. They get excited and diverted easily. They also have a problem getting the catch and missing the most important part of an event, article or discussion rather concentrating on the basic or superficial elements of the same. They cannot visualize far when acting and they practically contradict their objectives wasting resources and time unnecessarily. They also think appreciating and encouraging talented and committed individuals as a weakness for strange reasons I cannot understand. I think they have a serious inferiority complex that they try to cover up by looking good or better. They personalize things too much and cannot see between the lines or think critically. All these traits contribute to the opposition forces' shallowness as you characterized them from (a – e) in your input, needless to say that they get emotional for no good reason.
Question: do you think we need a cultural revolution to normalize the problems in discussion (which I do)? Do you think we Eritreans are traumatized people as a result of all the problems we went through and specifically because of our current situation (extreme offense from our family members in the regime) (which I do)? Is the Eritrean momentum to build and live peacefully that was disturbed by this regime reversible to its previous form (up to early nineties) OR will Eritreans love their country as much as they loved it in the past before that guy messed up to this extent of disappointment?
Rezen: "Qualification: In an endeavor to understand the bizarre nature of Eritrean psyche one would also be tempted to question the depth of knowledge and experience of Eritreans in the field of modern political organization and international relationship. From what we have seen so far – and this is attested by the preliminary findings of Fetsum – the stature of individuals in national as well as in international political arena is woefully lacking – putting it in a kinder stance.
It is liberally estimated that there are about three hundred Eritreans of extremely high educational caliber in the world, holding important posts in world-wide institutions on various professional careers. In connection with the present peaceful time struggle in Eritrea, there are many professional associations: notably the association of lawyers; the association of journalists; and glaringly the exclusive association of Eritrean Intellectuals at the top. These are the top notch of the Eritrean society. Against this background one expects active interactions and open results for the benefit of the Eritrean people. Most of all, from such caliber of intellectuals one would expect a recognition and appreciation of the Eritrean problem in the international forum. Alas! There is nothing of that nature. What happened? Is there something fundamentally hollow in their years and years of education in Ivy League universities around the world? Is there inherent problem that hinders any cooperation and understanding among them for a common interest of the nation? Shouldn't the scholars be the vanguard of the country and help to educate and lead the population to enlightenment, freedom and prosperity? What happened? It is truly frightening to contemplate farther on the possible cause for the complete failure of the Eritrean Intellectuals. By the way, if it is any consolation [and there are honest souls hungry for 'consolation'], it is not a new phenomenon in the African Continent. And Eritrea is not an exception – though, to its detriment, artificial superiority complex was touted around for so long that Eritreans started to actually believing it! What a tragedy!"
Question: Scary indeed! There is no doubt in my mind that our intellectuals have been extremely weak in this resistance compared to the noble contribution they did during the struggle. We have not seen their intellectual confidence on the open yet like we did then, and they have so far passively tolerated the Eritrean situation from distance. I can understand exhaustion, rejection from the indoctrinated mass till this point of awareness, etc. as causes of their insignificant role in the current Eritrean dynamics, but why were they afraid to speak out their mind this long into the disaster? Why are they still slow reacting to the call of the people where the regime is about to fall by itself, leaving a dangerous void in the immediate future of the country for the greedy and unqualified groups to fill without check and balance? Is it intellectual confidence or personal issues, what is it?
Rezen: "It was witnessed, these highly educated segment of the society who have gone through the alpha-omega of human history were simply blinded (or deliberately?) by the euphoria of the arrival of a charming dictator — for their own benefit. They were never critical to what they saw and heard, though they were capable and had the instrument to do so. Or were they really capable? To fathom the implication of this question is frightening! Either way, they failed their people – and still continue to give blind eye and deaf ear to their down-trodden compatriots. Only their conscious would be their judge – apart from history." You are welcome to beef-up your earlier articulation though this may serve a partial answer to my question for now.
Comment: Clearly, this president has had a hobby of humiliating the intellectuals since the let go. This president had the gut appointing Sebhat Efrem to run the ministry of health in post-independent Eritrea on top of his Chief of Staff position in the presence of over 25 medical Doctors within the EPLF. He has the gut paying our qualified Professors in Eritrean "colleges" $100/month compared to the $2600 + $100 monthly allowance he pays the uncertified teachers from India (Professor Sara Uqbai's testimony). He has done everything to disqualify and humiliate the educated portion of the society. Further, the regime is known for only taking without giving anything in return.
Question: Where is the "for their own benefit" stuff you mentioned as one of the reasons for this staggering intellectual mental stagnation? Where is the beef here (said benefit) that stops this class from playing its role in the society? What do they get from the regime in exchange to their quietism? Is this really the reason for their silence or there is a problem with their intellectual capacity and confidence: is "personal benefit" a cover up for intellectual incapacity considering it (personal benefit) does not exist in the books of Afwerkism (never gives)?
Rezen: "Here is what a renowned Eritrean Professor wrote in his article:
"I believe the Eritrean people expect Eritrean scholars to objectively and critically assess the ills of the nation and offer bold and constructive suggestions for the good of their country and the Eritrean people. Eritrean scholars should assume this responsibility as their national duty and indeed as their obligation. I also believe Eritrean scholars should not give a deaf ear and a blind eye to the suffering of their people. They should have the moral courage and intellectual integrity to speak on behalf of the voiceless and the oppressed."
Comment: Interesting quote and correct but I did not find it to be assertive enough to shake the napping intellectuals around. We cannot continue patronizing them with soft words as such when the society is dropping down rock bottom each minute in the go. The least we can do is at least bitterly express our disappointment but again I think I am getting emotional and better stop here before I cross the line! It's tragic indeed!
Rezen: "Sociological diseases: It is very hard for Eritreans to face the reality of their psyche i.e. their propensity to lock their minds in trivial and parochial matters – even if it means the total destruction of the country that they claim to love and cherish as exemplified by the horrendous sacrifices made in a 30-year war that produced nothing to the people of Eritrea, except destruction and misery. This is a fact. The three most debilitating cancerous diseases in Eritrea for time immemorial are: Religion, Provincialism and Racism. Eritrea has no enemy, except itself. Eritreans, who know better, may believe that once the beloved hero of yesterday – and enemy number one of today — is gone, Eritrea would be cleansed and transformed into earthly paradise with the population living in brotherhood, love and tranquility! May the good Lord or Alah have mercy upon Eritrea! "
Comment: That guy is not the only problem of the society and in fact he is temporary, needless to say that he is part of the society that has a fundamental problem. Lack of education allows the selfish, immoral and destructive elements of the society to personally benefit using the diseases you mentioned in the input. These enemies cannot be left alone to blander the country after this regime and I believe here is where the intellectuals can help designing something concrete in unison, yet in vain!
Question: Do you think the intellectuals' failure of designing a transitional formula was caused by lack of interest and motivation or by intellectual incapacity?
Rezen: "Postscript to Fetsum: Thank you, Fetsum, for your sincere interest and undertaking on the subject matter. It is a mammoth task. Whether or not you succeed in producing well-researched and credible reference document on this specific subject [i.e. characteristic of Eritrean political opposition groups] you will always have the satisfaction of knowing that you have done your best to a worthwhile cause. That would be your greatest gift."
Comment: I appreciate your love very much and I thank you for sharing your knowledge in such an impacting manner. Like you said, I benefit spiritually doing what I am doing but I must tell you frankly that I am very disappointed by the impotent intellectuals that so failed to contribute even at the participation level of the traumatized Eritrean refugees everywhere. It is a hard pill to swallow that sometimes makes me wish I was a home breaded Eritrean instead of an Amiche: I think I would have understood the situation better for me to let it go without resentment. Again, thank you.
Rezen: Subject: The opposition camp under examination IIIB, 17 march 2014
Rezen:"Liberation movements versus Democracy.
Liberation movements, with their subsequent off-spring opposition groups, are simply antagonistic to democratic system. In short, there is no such a thing as liberation movement turning into democratic institution, once they hold power. The proliferation of oppositions groups [off-springs of the liberation movement] is a natural consequence of struggling for power – definitely, not for the benefit of the hapless societies."
Comment: You are absolutely right: the product of liberation movements has always been dictatorship. But I wonder if we need a liberation movement to liberate Badme: The ELF, I think can aim at that as an excuse to keep the name except that Badme is only retrievable through dialog because it is already liberated. I am just scavenging for anything that may justify the cause of our brothers and sisters in the ELF Party. Dear Fetsum, I beg you to stay away from mathematical formulation or analysis in the field of socio-political matters. In wouldn't want you to wind-up in the Sahara Desert, all by yourself. Smile!"
Comment: I think everything is mathematically related no matter how complex. Don't you think landing at the Sahara is better than ending up in Chechnya boarding on that መርከብ considering "ደምበ ተቓውሞ፡ ጉዕዞ መርከብ ብዘይ ኮምፓስ?" You can at least see Eritrea better with a fine-tuned telescope from the Sahara rather than from ChechnyaJ.