Festival theatre, Edinburgh Transplanted to 1930s Eritrea, Christopher Honoré's version skims off the froth and stirs in the darker themes of power play, violence and abuse
It's the dregs of a war. Guglielmo and Ferrando are Italian fascist soldiers stationed in Asmara, bored and unsupervised, and their pent-up machismo turns sexually abusive. Dorabella and Fiordiligi are colonial daughters whose relationship to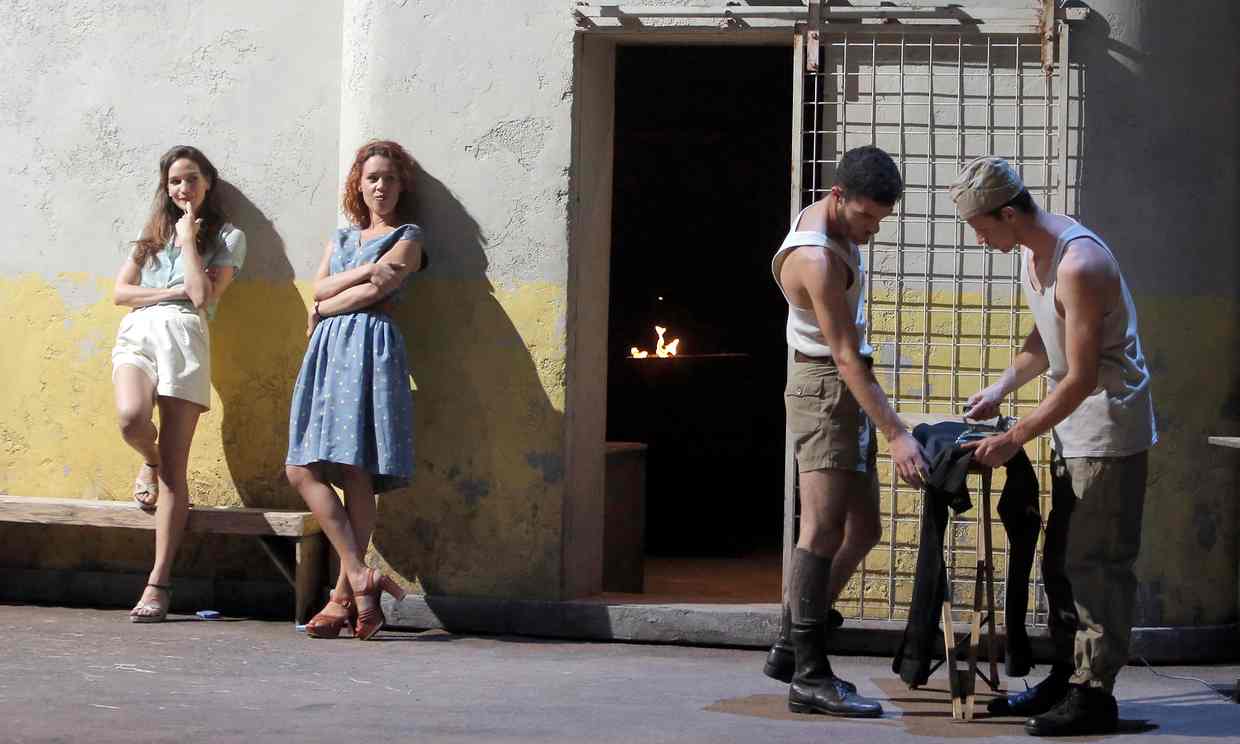 It's the dregs of a war. Guglielmo and Ferrando are Italian fascist soldiers stationed in Asmara, bored and unsupervised, and their pent-up machismo turns sexually abusive. Dorabella and Fiordiligi are colonial daughters whose relationship to local men pivots between disgust and desire – which adds to the fun when their boyfriends play a trick on them by blacking up as Dubat mercenaries. Ha ha.
After this production opened in Aix-en-Provence, letters were sent out to everyone who had bought tickets to see it in Edinburgh, warning of explicit adult themes. French film director Christophe Honoré transplants Mozart's opera to 1930s Eritrea and the curtain raises on a black girl dancing to calypso then being raped by a fascist soldier. And so it goes on, though none of the violence is particularly explicit, not compared with a 15-certificate movie.
Così is often done as a nice bit of fizz – men deceiving women, what a lark – but the adult themes are always there. Does opera need a warning as soon as it skims away the froth? What makes Honoré's interpretation valid is that the nastiness is true to the piece if you care to look and listen. This is a story about manipulative power play, and Don Alfonso's casual physical abuse towards Eritrean women is a plausible extension of the mental abuse to which he subjects Dorabella and Fiordiligi. The difference is they're not black, so he doesn't go quite as far.
What also makes this production valid is how good it sounds. The vibrant chorus comes from Cape Town Opera. Sandrine Piau is a tough and subtle Despina; Lenneke Ruiten (Fiordiligi) and Kate Lindsey (Dorabella) are sinewy, supple voices who strut and flinch in their singing as well as their acting. Joel Prieto (Ferrando) and Nahuel di Pierro (Guglielmo) are less remarkable but still poised. The excellent Freiburg Baroque Orchestra is conducted by Jérémie Rhorer and sounds alert, shapely, spacious: even if there's little tenderness on stage, there is ample in the pit.
At the Festival theatre, Edinburgh, until 28 August. Box office: 0131-473 2000. – The Guardian