Exile is not a solution
Exile is not a solution In the days… weeks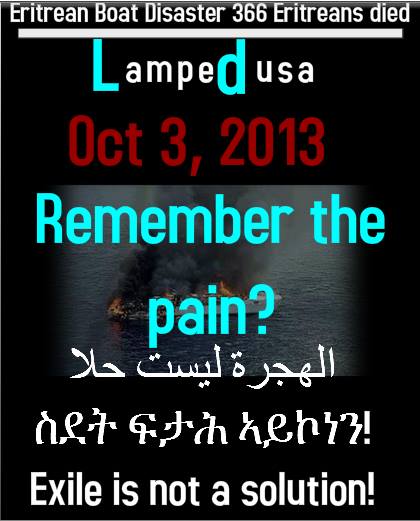 Exile is not a solution
In the days… weeks… months following October 3, 2013 Lampedusa disaster we vowed things would never be the same… we promised to fight harder than ever so this doesn't happen to another Eritrean… even though we have made modest progress in diaspora since then, the situation back home remains the same…
Nearly 25,000 Eritreans made that journey since the Lampedusa disaster and in July alone 5 boats went missing three of them resulted in fatalities.
2,000 people mostly from Eritrea and Syria have died in the sea since January 2014. Syrians are fleeing an active war of international scale… Eritreans are fleeing one man's madness. The world is looking for ways to resolve Syria… but who will do
that for Eritreans? According to UNHCR 4,000 refugees are leaving their country every month.
IT IS NOT DIFFICULT TO IMAGINE THE TOTAL DESOLATION OF ERITREA!
Exile isn't the answer! We ought to fight back… and our fight ought to start right at the root…let's tell our people to not run but fight! Let us make this a strategy and focus all our effort towards that…
We call on:
•All media organizations (radios, websites, magazines etc) to make fighting back the exodus of Eritreans a focus
•All youth groups to make fighting back exodus a core element of their
principles
•All political groups to have a strategy for curbing the exodus of Eritrean youth
•All lobbying and advocacy groups to use lobbying opportunities to highlight the engagement of the international community in this fight back
Arbi Harnet (Freedom Friday) is looking for partners in this campaign that we will launch on the 3rd of October as we mark the first anniversary of the Lampedusa Disaster.
We will:
•Expand our Nakfa Talks (Nakfa Tezaribu) project with the
message that exile isn't a solution
•Make robocalls calling young people to not choose exile as a solution to dictatorship and encourage them to fight back instead.
And we are inviting you to partner with us to maximize the effect. If you have any other ideas, please do share with us and we will be happy to support implementation. This is an Eritrean pain that will take all of us to heal.
Team Arbi Harnet