Ethiopia's Hailemariam re-elected prime minister
Addis Ababa (AFP) - Ethiopian Prime Minister Hailemariam Desalegn was re-elected as prime minister Monday for a second term in widely expected result with the ruling coalition holding all seats in parliament. The 50-year-old Hailemariam has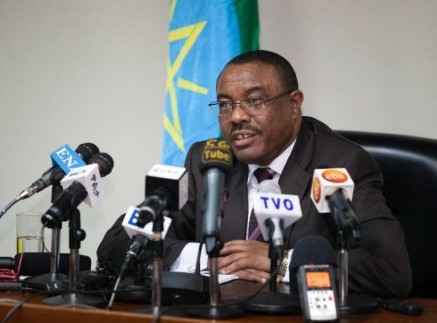 Addis Ababa (AFP) – Ethiopian Prime Minister Hailemariam Desalegn was re-elected as prime minister Monday for a second term in widely expected result with the ruling coalition holding all seats in parliament.
The 50-year-old Hailemariam has overseen a smooth transition in the vast Horn of Africa nation since he took over in 2012 on the death of strongman Meles Zenawi.
Hailemariam was unanimously elected by the House of People's Representatives, the lower house of parliament, by all 547-members of the ruling coalition, the Ethiopian People's Revolutionary Democratic Front (EPRDF), who won all the seats in parliament in elections in May.
"We successfully completed the implementation of the growth and transformation plan… we will continue to deliver the sustainable, rapid, double-digit economic growth, which was registered in recent years," President Mulatu Teshome said, promising economic growth of "about 11 percent" for the next five years.
Hailemariam himself did not speak, but is expected to make a speech in coming days when he names a new government.
Ethiopia, whose 1984 famine triggered a major global fundraising effort, has experienced near-double-digit economic growth and huge infrastructure investment — making the country one of Africa's top-performing economies and a magnet for foreign investment.
It also remains a favourite of key international donors, despite concerns over human rights, as a bastion of stability in an otherwise troubled region.
Hailemariam — in Ethiopian tradition, known by his first name, meaning "the power of Saint Mary" — is a Protestant, the first to lead Ethiopia, where the majority of Christians follow Orthodox traditions.
In a country long dominated by its major ethnic groups — most recently the Tigray, the ethnic group to which Meles belonged — Hailemariam notably comes from the minority Wolayta people in the Southern Nations, Nationalities and Peoples Region.