Ethiopia on heightened alert for attacks by Somali militants
(Reuters) - Ethiopia has put its police and security forces on heightened alert after receiving strong evidence that Somalia's Islamist al Shabaab group is planning attacks in the country, officials said on Tuesday. The move came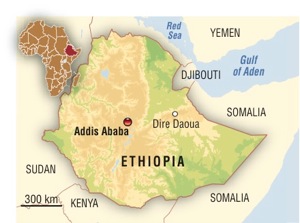 (Reuters) – Ethiopia has put its police and security forces on heightened alert after receiving strong evidence that Somalia's Islamist al Shabaab group is planning attacks in the country, officials said on Tuesday.
The move came three weeks after officials said two Somali suicide bombers accidentally blew themselves up while preparing to kill football fans during Ethiopia's World Cup qualifying match against Nigeria.
Al Shabaab has vowed to exact revenge on Ethiopia for sending troops to Somalia to fight the al Qaeda-linked militants, alongside African Union forces from Uganda, Burundi and Kenya.
"There is strong evidence that indicates Al Shabaab and terrorist groups backed by Eritrea are preparing to carry out attacks in Addis Ababa and other areas of the country soon," the National Intelligence and Security Service (NISS) and the federal police said in a joint statement.
Addis Ababa often accuses the government in neighbouring Eritrea of supporting rebels, which Asmara staunchly denies.
The statement, read on state television, said security forces were already on heightened alert and called on the public to inform police if they encountered "suspicious" activity.
Hotel staff and private landlords should verify the identity of visitors, the statement said.
It urged soldiers to remain vigilant at checkpoints along the country's borders.
In September, al Shabaab gunmen raided an upmarket shopping mall in Nairobi, killing at least 67 people in a four-day siege.
Ethiopia says it has thwarted several attacks over the past two years which it blamed on domestic rebel groups as well as Somali insurgents.
However, it has so far been spared the sorts of assaults seen in nearby countries – such as the Nairobi mall siege and an attack that killed 74 football fans in Uganda as they watched the 2010 World Cup final on television.
(Editing by Barry Moody)