Eritrea's Mugabe – Assenna.Com Commentary
Eritreans who are familiar with the history of Robert Mugabe of Zimbabwe, the 93 years old strong man with one foot in the grave, are watching him intently and wondering whether Isaias Afwerki, who has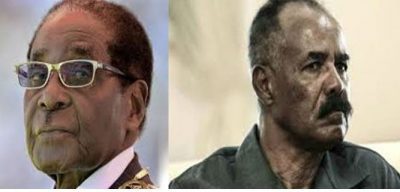 Eritreans who are familiar with the history of Robert Mugabe of Zimbabwe, the 93 years old strong man with one foot in the grave, are watching him intently and wondering whether Isaias Afwerki, who has just turned 72 recently, is going to follow the same path. Many think he is as senile and pitiful as Mugabe already.
Mugabe has been in power in Zimbabwe for 37 years.  His physical fitness to rule his country, once called the bread basket of Africa, is questionable.  He wrecked Zimbabwe's economy and Zimbabweans continue to flee to South Africa in huge numbers.  Zimbabweans in South Africa, both black and white, make up the largest group of foreign migrants – now estimated to have reached four million.
Mugabe is so weak he stumbles, his speech is slurred, suffers from absent mindedness and yet he is convinced that he is the best man for the 2018 elections, the only option for his countrymen.  Many were expecting him to tap his wife to run for office.  He didn't. Presumably he forgot.  Anyway, it is apparent that his condition has severely impaired his reasoning ability.  He is so drained he has no energy left in him to condemn Britain, former colonial master, as he used to.  As the world laughs at him Africans continue to internalise the shame Mugabe has brought to Africa.
What about Isaias Afwerki?  He has become cagier than ever as he continues to hold on to power by all means.  He does not have support from Eritreans inside and outside the country as government outlets continually propagate to prop up his image.  He is so bitter and has become cynical he does not grant interviews to foreign media any more.  He does not make state visits to western countries as he knows he is not welcome anymore.  What's more, his obsession with Ethiopian affairs is so strong one can easily take notice of his growing paranoia day-by-day.  The country's economic policies have, by his own admission, failed during the last 25 years.  Eritrea failed to create the private sector as the country pursues and pushes small business owners to their downfall.  Thousands of youngsters flee the isolated country each month making its defence forces devoid of the required level of manpower.
In 2015 the UN report accused the Eritrean government of crimes against humanity. And yet, President Isaias, like Robert Mugabe, continues to plod through the swamp.  Both leaders have plunged their respective countries into 'a de facto state of warfare' in order to stay in power.