Eritrean priest denies Trapani charge of facilitating clandestine migration
An Eritrean human rights activist is being investigated by the public prosecutor in Trapani for allegedly illegally sending information about boats and landings to NGO rescue ships. Don Mossie Zerai, better known as a candidate for the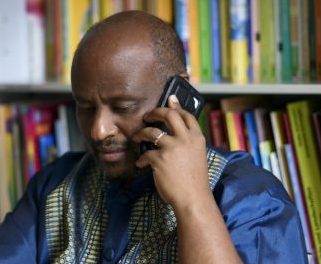 An Eritrean human rights activist is being investigated by the public prosecutor in Trapani for allegedly illegally sending information about boats and landings to NGO rescue ships.
Don Mossie Zerai, better known as a candidate for the Nobel Peace Prize in 2015 than as a people smuggler, has been charged with facilitating clandestine immigration by the Trapani public prosecutor.
Zerai is the founder of Habeshia, described as "lifejacket for migrants," a blog where he provides last-minute and life-saving information to his fellow countrymen trying to cross the Mediterranean to Europe. Habeshia serves as a hotline and distress signal for many Eritreans and others stranded in open waters.
Zerai released the following statement asserting his innocence on his website.
"I can confirm with all conscience that I have nothing to hide and that I have always acted i full legality. Apart from the Trapani initiative…, I have not been called to any other venue to justify or in any way respond to my work in favor of refugees and migrants."
Zerai, a priest, says he has sent sos signals to ships, but only through the right channels.  "I confirm that, in the context of this activity – which I have been working on for years with my collaborators – I have sent relief reports to UNHCR and NGOs such as Doctors Without Borders, Sea Watch, Moas and Watch the Med," says Zerai.
"Every time I informed the Italian Coast Guard operational center and the Maltese command. However, I have never had direct contact with the Jugend Rettet ship involved in the Trapani Prosecution investigation, nor have I ever been part of the alleged "secret chat" of which some newspapers have alluded to: my communications have always been forwarded through a normal cell phone. All the reports are the result of requests for assistance that I have been directed not from boats leaving Libya, or at the time of sailing, but from offshore vessels off the coast of Africa, outside Libyan territorial waters."
According to UNHCR data, nearly 5,000 Eritreans have arrived in Europe illegally via the Mediterranean in 2017. A total of more than 117,000 'sea arrivals' have landed in Italy or Greece in 2017, according to the same data.
"My goal is to save lives," Zerai is cited as saying in 
Il Fatto Quotidiano
. The charge against Zerai is linked to an investigation opened by the Trapani prosecutor against German NGO 
Jugend Rettet
, which is also accused of facilitating clandestine migration, through its 
Iuventa
 rescue ship.
According to German online news site 
Zeit.de
, the 
Iuventa
 has rescued 14,000 migrants so far in the Mediterranean. The German daily reports that staff of the 
Iuventa
 could face three years in prison for twice having "overstepped legal boundaries" during rescue missions in 2016 and 2017.
Source: The Local