Eritrean president visits Ethiopia again
This marks the second visit since relations have thawed Eritrean President Isaias Afeworki arrived in Addis Ababa early on Sunday for a two-day visit. Ethiopian Prime Minster Abiy Ahmed welcomed Afeworki at the Addis Ababa Bole international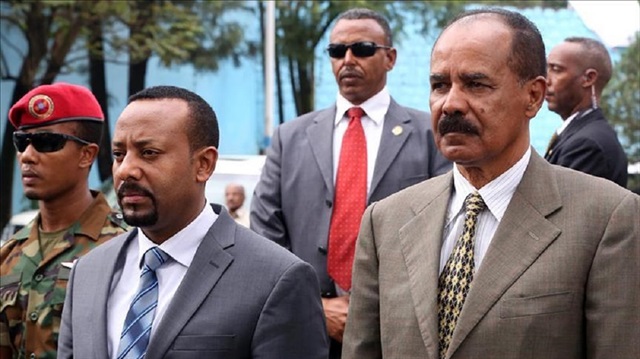 This marks the second visit since relations have thawed
Eritrean President Isaias Afeworki arrived in Addis Ababa early on Sunday for a two-day visit.
Ethiopian Prime Minster Abiy Ahmed welcomed Afeworki at the Addis Ababa Bole international airport.
This is the second visit to Addis Ababa by the Eritrean president since relations between both countries thawed after decades of tension.
The visit was meant to discuss the implementation of the comprehensive cooperation agreement the two countries signed on July 9.
Eritrea seceded from Ethiopia in 1993, and from 1998 to 2000 the two countries fought a bloody war in which an estimated 70,000 people perished on both sides.
The two countries broke two decades of tension after Ethiopian Prime Minister Abiy Ahmed extended an olive branch to the Eritrean president in his inaugural speech in April.
Both opened their respective embassies while Eritrea allowed Ethiopia to use its red sea ports.
On Sept. 12 the two leaders announced the opening of the borders allowing for free movement of goods and people leading numerous families to reunite.
The border opening however caused thousands of Eriteans to flock into Ethiopia demanding asylum.
"We are overwhelmed, " UNHCR spokesman Kisut Gebregziabher told Anadolu Agency adding that nearly 10,000 Eritreans had come to Ethiopia so far.
yenisafak.com