Eritrean female pilot seeking asylum in Saudi Arabia
An Eritrean female pilot is seeking political asylum in Saudi Arabia after she was sent to bring back the presidential VIP plane, which remained in Saudi Arabia after the defection of two Eritrean pilots last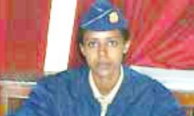 An Eritrean female pilot is seeking political asylum in Saudi Arabia after she was sent to bring back the presidential VIP plane, which remained in Saudi Arabia after the defection of two Eritrean pilots last year. According demo.archive.assenna.com an opposition website from the UK, the Eritrean government is trying to convince the Saudi authorities to reject her asylum request in an effort to deport her back to Eritrea, where her life would be in imminent danger.
The defection of Rahwa Gebrekrstos, a 34 years old pilot, is another blow to the Eritrean government after the widely publicized last year's absconding of two experienced pilots of the Eritrean Air force to Saudi Arabia. Taking the presidential plane Yonas Weldeab and Mekonen Debesay flew to Saudi Arabia last year, where the Saudi Authorities agreed to return the plane back to Eritrea, and the Eritrean government sent the female pilot to retrieve the plane, where she too ended up seeking political asylum.
She is currently in custody in Gezan police station, where the Saudi authorities are negotiating with the Eritrean ambassador to Saudi Arabia whether they should return her back to Eritrea, if they do so it is feared she could be tortured and possibly executed as a high profile defection in Eritrea is considered to be a crime punishable by death.
We urge the human rights organizations and UNHCR to pressure the Saudi government to give her protection.