Eritrea denounces foreign meddling in Somalia
NAIROBI — Eritrea, often accused of supporting Islamist rebels in Somalia, on Monday criticised foreign interference in the war-torn country, ahead of an upcoming peace conference in Britain. "External actors, even those most friendly and most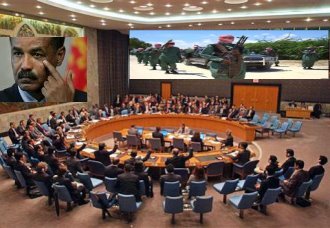 NAIROBI — Eritrea, often accused of supporting Islamist rebels in Somalia, on Monday criticised foreign interference in the war-torn country, ahead of an upcoming peace conference in Britain.
"External actors, even those most friendly and most sympathetic to Somalia, need to resist the urge… to act on behalf of Somali people, as such an approach has been repeatedly proven to be counter-productive," Eritrea's foreign ministry said in a statement.
"The people of Somalia should be allowed the political space and time to hammer out among themselves a political arrangement that serves as the basis of peace, stability and development."
Several peace bids have failed to restore normalcy in Somalia, which has lacked an effective central government since the 1991 ouster of president Mohamed Siad Barre sparked civil unrest.
Somalia's current Western-backed transitional government, which was set up eight years ago, has also been unable to asser its authority and its mandate is set to expire in August.
"The way forward for Somalia is thus clear — a Somali-owned and driven political process supported by an honest and effective facilitation process that empowers Somalis and wards off interventions that undermine their efforts," said the statement.
Eritrea, which has denied accusations of supporting the Al-Qaeda-linked Shebab rebels fighting to topple the Somali government, said military interventions by Somalia's neighbours were worsening the crisis.
Kenya and Ethiopia recently deployed troops to southern Somalia to crush the Shebab insurgents, while Burundi, Djibouti and Uganda have sent soldiers for the African Union force protecting the Somali administration in Mogadishu.
"The military interventions of Somalia's immediate neighbours, whatever their motivations, have to be brought to an end as they complicate and worsen the situation," Asmara said.
Somali and foreign leaders are due to take part Thursday in London in a major conference aimed at tackling the chaos that has allowed the Horn of Africa country to become a haven for Al Qaeda and pirates.
AFP