Eritrea blames US for Ethiopian attacks; US denies
ADDIS ABABA, Ethiopia (AP) — Eritrea's president said Monday that attacks on targets inside his tiny Horn of Africa nation by its archrival Ethiopia was the "handiwork of Washington." Ethiopia said on March 15 it attacked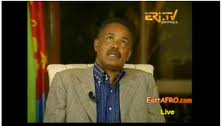 ADDIS ABABA, Ethiopia (AP) — Eritrea's president said Monday that attacks on targets inside his tiny Horn of Africa nation by its archrival Ethiopia was the "handiwork of Washington."
Ethiopia said on March 15 it attacked three military posts inside its northern neighbor Eritrea. The country said it launched the attack because Eritrea was training "subversive groups" that carried out attacks inside Ethiopia.
President Isaias Afwerki said in a statement sent Monday from Eritrea's Ministry of Information that "last week's so-called attack is basically the U.S. Administration's plan emanating from frustration." Isaias said the attack evolved out of a "failed agenda" to disturb Eritrea's "independent path" and "bright economic prospects."
Eritrea routinely accuses the U.S. of overlooking abuses by Ethiopia, a key U.S. ally in the region in its war against terrorism. Both the U.S. and Ethiopia denied the allegations. The U.S. Embassy said in a statement posted on its website that it "rejects any allegations that it planned, participated in, or supported the attack."
Ethiopia's minister of communications Bereket Simon said the U.S. was "not at all" involved in the attacks. He said Ethiopia was acting on its own and out of self-defense. Ethiopia and Eritrea fought a border war from 1998 to 2000 in which about 80,000 people died. Bereket said Ethiopia "won't allow a war situation" to occur.
Eritrea also said it won't go to war over the attacks. The Red Sea nation, with a population of about 5 million people, does not receive foreign aid and is sanctioned by the United Nations because of human rights violations. U.N. reports have indicated that Eritrea has supported the al-Qaida-linked al-Shabab in Somalia. Eritrea denies those allegations.