Eritrea blames U.S. for expanded U.N. sanctions
By Aaron Maasho ADDIS ABABA Dec 6 (Reuters) - Eritrea on Tuesday blamed the United States for expanded U.N. sanctions against the Red Sea state for supporting Islamist militants and said the new punitive measures would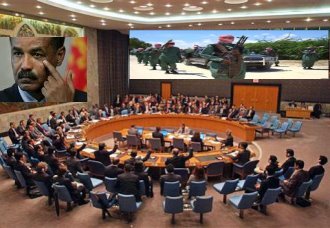 By Aaron Maasho
ADDIS ABABA Dec 6 (Reuters) – Eritrea on Tuesday blamed the United States for expanded U.N. sanctions against the Red Sea state for supporting Islamist militants and said the new punitive measures would further destabilise the chaotic Horn of Africa.
The council resolution – which won 13 votes in favor, none against and two abstentions – was diluted from earlier drafts that sought to ban investment in Eritrea's mining industry and outlaw imports of its minerals.
Asmara denies aiding al Shabaab or any other armed group in Somalia and denounced the sanctions as "illegal" and "unjust".
"The sanctions were the result of undisguised United States hostility towards Eritrea," its foreign ministry said in a statement. "It was an attempt by the U.S. administration to scapegoat Eritrea for its faulty and failed policies in the Horn of Africa."
The final version, which expands sanctions two years ago that included an arms embargo, requires countries to make sure companies mining in Eritrea exercise "vigilance" to ensure funds from the sector are not used to destabilise the region.
Eritrea is seen to be on the brink of a minerals boom that could revive its ailing economy.
The resolution also calls on states to ensure Eritrea ceases using extortion, threats of violence and fraud to collect a tax on remittances. Money sent back from its large diaspora in the West and Middle East is its biggest source of foreign exchange.
Asmara blamed the United States for championing the vote, which as vocally backed by Somalia, Djibouti, Ethiopia, Kenya and Uganda, and has accused Washington of obstructing President Isaias Afewerki's attempt to address the council.
It accuses Washington of failing to force arch-foe Ethiopia — seen by Washington and others as a bulwark against hardline Islam in the region — into handing over disputed territory that was awarded to Asmara by a U.N. commission following a border dispute a decade ago. (Editing by Richard Lough and Ben Harding)