Eritrea and Ethiopia: 'The beginning of a beautiful friendship'
Abraham T Zere Despite all the difficulties, Eritreans and Ethiopians are hopeful that lasting peace will be concluded soon. On June 26, a high-level Eritrean delegation led by Foreign Minister Osman Saleh arrived in the Ethiopian capital, Addis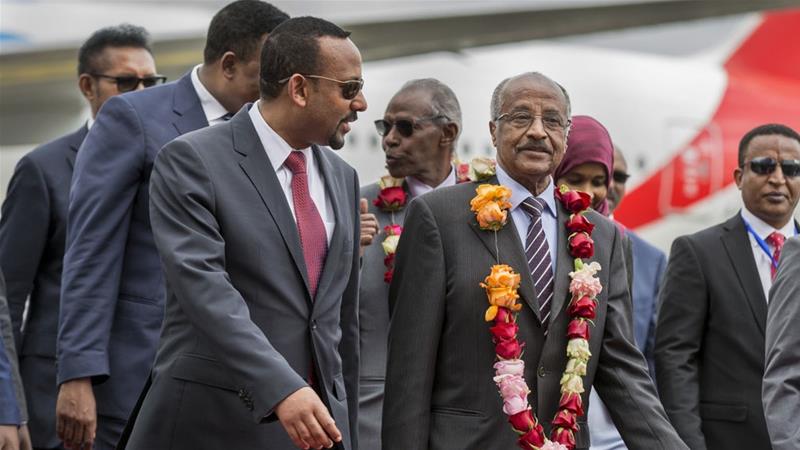 Abraham T Zere
Despite all the difficulties, Eritreans and Ethiopians are hopeful that lasting peace will be concluded soon.
On June 26, a high-level Eritrean delegation led by Foreign Minister Osman Saleh arrived in the Ethiopian capital, Addis Ababa, for talks on ending the decades-long conflict between the two countries.
Earlier this month, Ethiopia's new prime minister, Abiy Ahmed, had extended an olive branch to his country's longtime enemy by stating that Ethiopia is finally ready to fully accept and implement the terms of an 18-year-old peace agreement between the two countries. Last week, Eritrean President Isaias Afwerki acknowledged his Ethiopian counterpart's peace offer.
The Eritrean delegation arrived in Ethiopia only yesterday, but significant progress has already been made – Ahmed announced that Ethiopian Airlines would restart flights to Eritrea for the first time since 1998.
The positive steps taken by Eritrean and Ethiopian leadership to achieve sustainable peace have been applauded by regional and global organisations and powers, including the UN, EU, US and the African Union. More importantly, the peoples of Eritrea and Ethiopia, who had been suffering the most as a result of the ongoing conflict, are now ready for peace and normalisation.
All in all, Eritrean delegation's visit to Addis Ababa – to borrow a line from the classic film Casablanca – is expected to be "the beginning of a beautiful friendship". Yet, for both countries, there are many roadblocks ahead in this path to peace and reconciliation.
The TPLF may cause problems in Ethiopia
Ahmed's domestic reforms and reconciliatory attitude towards Eritrea have already started to bear fruit at home. Some Ethiopians, who have been living in exile in Eritrea as a result of their government's repressive policies towards them, are returning home. The armed opposition group, Gimbot 7 – whose fighters had mostly been based in Eritrea – announced that it will cease armed attacks on Ethiopia following reforms announced by the government. 
However, a recent attack on a political rally signalled that not everyone in Ethiopia is happy about the new prime minister's reconciliation efforts and progressive reform agenda. On June 23, as thousands gathered in Addis Ababa's Meskel square to attend a rally in support of the new government, a blast left more than 150 injured and at least two dead. The grenade attack, for which no group has yet claimed responsibility, clearly demonstrated that there still is a tough road before for the reformist prime minister.
In addition to such security threats, Ahmed is also likely to face multiple challenges from within the state, especially from the Tigrayan People's Liberation Front (TPLF). 
The TPLF, a faction of the ruling coalition that dominated Ethiopian politics for more than two decades prior to Ahmed's rise to power, had been sending mixed signals about the new prime minister's attempts to end hostilities with Eritrea. The Tigray people of Ethiopia are the most affected by the conflict, and as their representative in Addis Ababa, the TPLF feels responsible for making sure Tigray interests are protected throughout this new peace process. Moreover, the TPLF is threatened by Ahmed's reform agenda and do not want to give up its dominant position within the state.
There are also reports suggesting that some groups living in Ethiopia's Tigray region are already rejecting the peace proposal. This is partly because they feel Ahmed did not consult them before making a move that would inevitably affect their lives.
They want a return to the non-conciliatory tone of the previous administration. The Tigray region's negative response to recent developments may eventually encourage the TPLF to increase its pressure on the prime minister and hinder peace efforts. 
Despite these difficulties, Ahmed already made a name for himself as a peacemaker and many Ethiopians seem to support him in his effort to advance the peace initiative. Of course, any success Ahmed may achieve would be dependent on the developments on the other side of the border.
Expectations even higher in Eritrea
Expectations and hopes about the peace process are even higher in Eritrea. Eritreans at home, who have been forced to live in a police state for decades, want normalisation. Eritreans abroad, who had been forced to flee their homeland, want to be able to go back. And most Eritreans believe peace with Ethiopia can make their wishes come true. 
It won't be easy for the Eritrean government to suddenly reverse course and tacitly acknowledge its own chronic wrongdoings, but peace with Ethiopia will eventually force Asmara to implement reforms and loosen its grip over its citizens.
The Eritrean government has long been using "the Ethiopian threat" to justify systemic militarisation, oppression and censorship. With the disappearance of the Ethiopian threat, Afwerki's government will be forced to start the process of demilitarisation and the rest will hopefully follow through.
The areas most affected by the perpetual "no peace, no war" between Ethiopia and Eritrea are the border settlements that have been effectively reduced to ghost towns and villages.
Once Ethiopian troops leave the area, the Eritrean government will have no excuse for not investing in these towns and villages. Partners and stakeholders, such as the EU, that have been significantly affected by the migration waves caused by Eritrea's long, despotic rule, will likely extend a helping hand.
Eritrea's economy is in a dire state, mostly as a result of the state's self-defeating policies. The situation became even worse in January when the border with neighbouring Sudanwas closed. Ever since, Eritreans inside the country have been suffering from acute shortages of basic goods. Now that a peace process with Ethiopia has started, Asmara has no excuse for keeping the borders closed.
It will soon need to allow trade with neighbouring countries to resume which would help businesses thrive once again. This would wake up the desperate population and allow it to raise demands for reform.
Over the last decade and a half, Eritrea has gradually been transformed into a penitentiary state, with tens of thousands of prisoners rotting in underground prison centres, mostly run by military commanders. The peace process, and Ethiopia's decision to free thousands of prisoners, is putting pressure on Asmara to do the same. 
President Afwerki's landmark decision to send a delegation to Ethiopia got many Eritreans' hopes high. While there are forces within both countries that continue to try and block normalisation efforts, sustainable peace between seems closer than ever before. 
The views expressed in this article are the author's own and do not necessarily reflect Al Jazeera's editorial stance.