Eritrea accused of staging false apology from imprisoned patriarch
// // // b?1:0};var da=Array.prototype.forEach?function(a,b,c){Array.prototype.forEach.call(a,b,c)}:function(a,b,c){for(var d=a.length,e=n(a)?a.split(""):a,f=0;f// Reports that the imprisoned Patriarch of the Eritrean Orthodox Tewahdo Church has been released from house arrest following an apology have been denied by supporters. His Holiness Abune Antonios was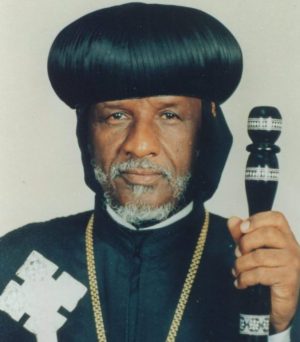 Reports that the imprisoned Patriarch of the Eritrean Orthodox Tewahdo Church has been released from house arrest following an apology have been denied by supporters.
His Holiness Abune Antonios was arrested in January 2006 and deprived of his office by his Church's synod in what the other Oriental Orthodox Churches regard as a violation of ecclesiastical law. He had resisted the Eritrean government's increasing encroachment into Church affairs and its persecution of believers, which has seen the country repeatedly condemned by human rights organisations.
Oriental Orthodox Pope Shenouda refused to recognise his government-appointed successor Dioskoros, who died last year. Antonios himself is in his eighties and suffers from severe diabetes.
According to Christian Solidarity Worldwide (CSW), the Eritrean Orthodox Church website published pictures of Antonios in a meeting with a delegation of monks on August 8, scholars and government officials. It also published a letter on headed notepaper saying he had apologised for any wrongs he had done. However, many observers believe the story has been concocted by government and Church authorities anxious to bring to a close an issue that has been a long-running embarrassment to both of them.
CSW sources have said the the delegation had initially visited the patriarch on August 5, ostensibly to apologise for their part in his illegal removal and to begin the process of reconciliation. The Patriarch was subsequently transported to the Patriarchate in Asmara on August 8 for further discussions, and the pictures were taken at that time.
The Diaspora Archdiocese of the Eritrean Orthodox Tewahdo Church (North America, Europe and the Middle East) said there had been no confirmation by Antonios himself. It added: "No statement of 'reconciliation' can be taken at face value where the venue is not free from any duress and without the participation of a neutral third party. Furthermore, the synod, with the full backing of the government, cannot be the accusing party, the judge, and now the agent to declare 'reconciliation'."
CSW's chief executive Mervyn Thomas said: "While any genuine initiative to reinstate Abune Antonios and reconcile the church would have been warmly welcomed, the information we have received so far suggests this report has been fabricated to deflect criticism of Eritrea's appalling human rights record by providing an illusion of progress.
"In reality, the continued detention of the legitimate leader of the largest permitted Christian denomination is a clear indication of the government's obsessive determination to monitor, suppress and control every religious community.
"CSW continues to call for the unconditional release and reinstatement of Abune Antonios. He is a severely diabetic octogenarian and the Eritrean Government must be held accountable for ensuring his safety and access to medication. It is vital that the international community maintains pressure on the regime until every prisoner of conscience is freed without precondition, victims of human rights violations receive redress and those responsible for the grave crimes perpetrated in the country are held to justice."
http://www.christiantoday.com/