Edmonton's Eritrean community worries other refugees being ignored
Canada's immigration minister remains confident the government will meet its target to bring in 25,000 Syrian refugees by the end of February. But members of Edmonton's Eritrean community are worried the response to the crisis in Syria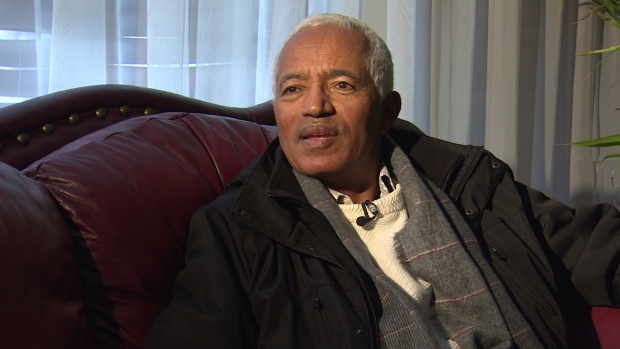 Canada's immigration minister remains confident the government will meet its target to bring in 25,000 Syrian refugees by the end of February.
But members of Edmonton's Eritrean community are worried the response to the crisis in Syria means refugees from their homeland will be forced to wait even longer.
In his Edmonton home, Gerezgiher Hailu flips through pictures of his sister, Almaz, her husband and their seven children. The family has been been living in a refugee camp in Ethiopia for the past five years.
"I really really miss them," Hailu said. "They are waiting."
A United Nations inquiry in June reported human rights violations in Eritrea. The report said many people there are subjected to forced labour or imprisonment under a totalitarian state. Hundreds of thousands of refugees have fled the country.
Zedingle Gahebremasse of the Edmonton Eritrean Association said he applauds Canadian efforts to help Syrian refugees. But he worries Eritreans risk being ignored as a result.
"Eritreans are abandoned," said Gahebremasse. "Some of their files are over five years old."
He said he knows of people who filed their paperwork in 2009 and 2010.
"Some have arrived but others haven't heard yet, so they're not giving them enough attention," he said.
"I feel frustration and I feel a lot of frustration from community members. Many Eritreans are dying crossing the Sahara Desert and the Mediterranean."
Eritrea is one of Africa's newest states. It was formed in 1991 after breaking away from Ethiopia following three decades of war. The United Nations commission said 5,000 Eritrean refugees flee the country each month, and many have settled in camps in neighbouring Ethiopia and Sudan.
"Syrians do need help," said Gahebremasse. "But so do many other community organizations that want refugees and family members to be fast-tracked."
"Not just Eritreans are being ignored. Sudanese, Somalis, Ethiopians."
A spokesperson for the Citizenship and Immigration department said the Syrian refugee crisis is the priority now. But Canada expects 4,000 refugees from Eritrea and South Sudan to arrive by 2019.
CBC News