East African Cultural Festival celebrates the rich diversity of Santa Clara County – Press Release
Press Release East African Cultural Festival celebrates the rich diversity of Santa Clara County San Jose, CA, February 9, 2017: In a celebration of its 9th anniversary, the Eritrean Community Center of Santa Clara County (ECC) is partnering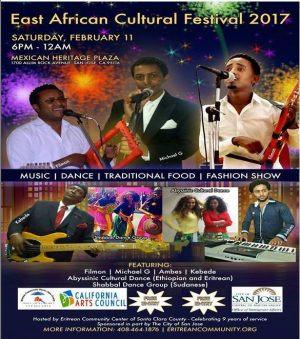 Press Release
East African Cultural Festival celebrates the rich diversity of Santa Clara County
San Jose, CA, February 9, 2017:
In a celebration of its 9th anniversary, the Eritrean Community Center of Santa Clara County (ECC) is partnering with its sister organizations from the Sudanese, Ethiopian, Somali and Kenyan communities to host an East African Cultural Festival.
The East African Cultural Festival will take place at the Mexican Heritage Plaza in San Jose, Saturday, February 11, 6 pm and ending at 12 midnight.
The festival will showcase the rich cultures of East Africa with live performances of traditional music, spectacular shows of fabulous dance, delicious food, and much more. A highlight of the Festival will be a coffee ceremony, an integral part of East African social and cultural life, a gesture of friendship, hospitality and respect
Admission is free and everyone is welcome!
About ECC: The Eritrean Community Center is a nonprofit organization serving Santa Clara County with a wide range of services and programs designed to enhance the quality of life of families and individuals in the community. The community welcomes the participation of all, irrespective of race, religion, gender, political, or ideological associations.
Sponsored in part by the City of San Jose's Office of Immigration Affairs, Media Restaurant and California Arts Council.