E.U. will send thousands of migrants back to Africa, many from Eritrea
Exclusive: Confidential draft from summit reveals that only 5,000 migrants will be allowed to resettle in Europe with large numbers likely to be repatriated Migrants wait to disembark from an Italian navy ship in Salerno.
Exclusive: Confidential draft from summit reveals that only 5,000 migrants will be allowed to resettle in Europe with large numbers likely to be repatriated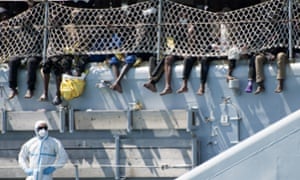 A confidential draft summit statement seen by the Guardian indicates that the vast majority of those who survive the journey and make it to Italy – 150,000 did so last year – will be sent back as irregular migrants under a new rapid-return programme co-ordinated by the EU's border agency, Frontex. More than 36,000 boat survivors have reached Italy, Malta and Greece so far this year.
The summit statement merely confirms the decision by EU foreign and interior ministers on Monday to double funding in 2015 and 2016 and "reinforce the assets" of the existing Operation Triton and Operation Poseidon border-surveillance operations, which only patrol within 30 miles of the Italian coast.
The European council's conclusions said this move "should increase the search-and-rescue possibilities within the mandate of Frontex". The head of Frontex said on Wednesday that Triton should not be an operation primarily aimed at search and rescue.
Instead, the EU leaders are likely to agree that immediate preparations should begin to "undertake systematic efforts to identify, capture and destroy vessels before they are used by traffickers". The joint EU military operation is to be undertaken within international law.
The statement describes the crisis as a tragedy and says the EU will mobilise all efforts at its disposal to prevent further loss of life at sea and to tackle the root causes of the human emergency, including co-operating with the countries of origin and transit.
"Our immediate priority is to prevent more people dying at sea. We have therefore decided to strengthen our presence at sea, to fight the traffickers, to prevent illegal migration flows and to reinforce internal solidarity," it says, before adding that the EU leaders intend to support all efforts to re-establish government authority in Libya and address key "push" factors such as the situation in Syria.
But the detail of the communique makes it clear that the measures to be agreed fall far short of this ambition.
In particular in terms of sharing responsibility across the EU the draft statement suggests only "setting up a first voluntary pilot project on resettlement, offering at least 5,000 places to persons qualifying for protection", it says.
The EU leaders also make a commitment to "increasing emergency aid to frontline member states" – taken to mean Italy, Malta and Greece – "and consider options for organising emergency relocation between member states".
Emergency teams are to be deployed to Italy to help register, fingerprint and process applications for asylum protection as refugees. Increased support is also to be given to Tunisia, Egypt, Sudan, Mali and Niger to monitor and control their land borders to prevent potential migrants getting to the shore of the Mediterranean.
EU leaders are expected to stress their determination to fight the traffickers and will promise to bring them to justice, seize their assets and make a concerted attempt to take down any online material likely to attract migrants and refugees.
On Monday, ministers and the European Commission agreed to bolster the Triton mission, to increase its funding and assets, and to expand the operational area of Triton, which is run by Frontex. But the head of Frontex, Fabrice Leggeri, said on the eve of the summit that saving migrants' lives should not be the priority for his maritime patrols despite the clamour for a more humane response after the deaths of 800 refugees and migrants at the weekend.
He flatly dismissed turning the Triton mission into a search-and-rescue operation and voiced strong doubts about new EU pledges to tackle human traffickers and their vessels in Libya.
"Triton cannot be a search-and-rescue operation. I mean, in our operational plan, we cannot have provisions for proactive search-and-rescue action. This is not in Frontex's mandate, and this is, in my understanding, not in the mandate of theEuropean Union," Leggeri said. Instead, he appealed for planes to conduct aerial surveillance so they could anticipate more disasters.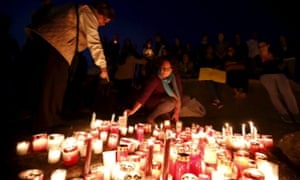 The letter appeals to EU leaders to go beyond the 10-point plan agreed by foreign and interior ministers on Monday and instead calls for an immediate restoration of expansive rescue operations "with a mandate and level of funding that match the humanitarian emergency that confronts us". The letter says the decision to withdraw support last October for Italy's Mare Nostrum operation had only succeeded in vastly increasing the number of deaths.
Patten said: "Today's crisis summit must be clear on its first and most urgent priority, increasing search and rescue back to at least previous levels. Addressing the drivers of migration, from conflict to human trafficking, climate change to human rights abuses is also critically important but will take a longer term strategy to address. My message to EU leaders is clear – history will judge you harshly if you fudge this."
David Cameron made clear on Wednesday his intention to support an expansion of search-and-rescue operations when he and the deputy prime minister, Nick Clegg, declared that the "coastguard policy" – a reference to Triton – that replaced Mare Nostrum, had not worked. "Now we need to make sure we do more to save lives. That will involve more search and rescue, and there is a contribution I'm sure we can make to that," Cameron said.
But it is understood that the British prime minister was facing stiff opposition from his own home secretary, Theresa May, and his foreign secretary, Philip Hammond, in his intention to support the expansion of search-and-rescue operations at the summit beyond the limited Triton measures agreed on Monday.
"May is still holding out for a deterrent approach. She wants to focus on action against the traffickers and a rapid returns programme," one Brussels source said.
Cameron is understood to have shifted his position this week as the extensive media coverage convinced Downing Street and Tory election strategists that voters see the tragedy in the Mediterranean as a humanitarian crisis rather than an immigration issue. He is now expected to override the objections of his home secretary and foreign secretary. "He will have to bump them into it," said one source.
The Guardian