BREAKING NEWS: Ethiopia attacks rebel targets in Eritrea again
Sat Mar 17, 2012 2:08pm GMT * Ethiopia announced previous attack on Thursday * Eritrea says will not be "entrapped" by incursion (Adds background) ADDIS ABABA, March 17 (Reuters) - Ethiopian troops carried out more attacks on Ethiopian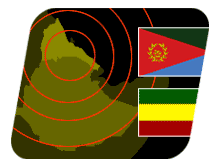 Sat Mar 17, 2012 2:08pm GMT
* Ethiopia announced previous attack on Thursday
* Eritrea says will not be "entrapped" by incursion (Adds background)
ADDIS ABABA, March 17 (Reuters) – Ethiopian troops carried out more attacks on Ethiopian rebels inside Eritrea on Saturday, a day after Eritrea called for U.N. action against its neighbour for a previous incursion.
This week's attacks were the first on Eritrean soil that Addis Ababa has admitted to since the end of a 1998-2000 war that killed 70,000 people. Eritrea says there have been others before.
"We've carried out further attacks on targets inside Eritrea. This time it's in the north section around Badme," a senior Ethiopian government official told Reuters on Saturday.
"We were once again successful. This strike was part of our plan to take proportional measures that included the attacks in Eritrea's southeast."
The official did not say who the troops had targeted, but said Ethiopia's government would make a more detailed announcement later in the day.
Addis Ababa announced on Thursday its troops had raided three military bases in Eritrea which it said were used by the rebels. It also accused the Eritrean government weeks ago of planning to kidnap Western tourists.
Eritrea said on Friday it would not be "entrapped" by the military incursion, signalling its determination to avert another conflict with its bitter foe. It called on the U.N. Security Council to "take appropriate measures to rectify acts of aggression against Eritrea's sovereign territories".
A vicious row over the position of Eritrea and Ethiopia's shared border was not resolved at the end of the war.
The Hague-based Eritrea-Ethiopia Boundary Commission ruled in 2002 that the border village of Badme belonged to Eritrea. But the village remains in Ethiopia, Washington's main ally in the volatile Horn of Africa. (Reporting by Aaron Maasho; Writing by James Macharia; Editing by Alessandra Rizzo)