Boat carrying migrants runs aground in Sicily
Italian authorities say at least 13 boat migrants have drowned while trying to reach Sicily on a trawler packed with some 200 people, reportedly from Eritrea. The coastguard is looking for more victims. At least 13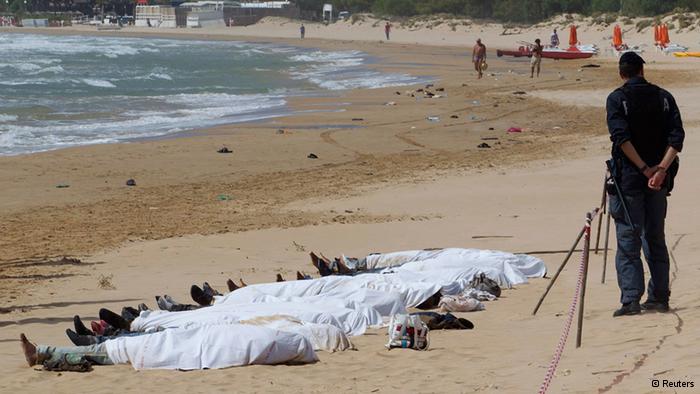 Italian authorities say at least 13 boat migrants have drowned while trying to reach Sicily on a trawler packed with some 200 people, reportedly from Eritrea. The coastguard is looking for more victims.
At least 13 migrants drowned off Sicily on Monday while trying to swim ashore after their boat ran aground. The Italian news agency ANSA reported that two suspected crew members had been arrested.
Franco Susino, the mayor of the town of Scicli near the point of landfall, told the television channel SkyTG24 that he believed some of the migrants had been thrown overboard by crew members.
"These people are treated like animals," Susino said.
Italian coast guard official Marco Di Milla quoted witnesses as saying that many of the migrants swam ashore and ran away.
Rescue boats and divers were continuing a search for others who had not made it to shore. All the 13 dead recovered were males, he added.
ANSA said a swimmer had warned the coastguard after seeing the small abandoned boat in poor condition near the shore.
Via northern Africa
Earlier this month, the UN refugee agency announced that more than 20,000 migrants had reached southern Italy since January, three times more than the total number last year. Most had come from Eritrea, Somalia and war-torn Syria.
Sicily and its islands are frequent destinations for smugglers and their boats which depart from Tunisia, Libya and Egypt.
Calmer weather conditions and unrest in the Arab world have led to the surge in migrant arrivals in recent weeks.
Last Wednesday, three boats arrived – two on the Italian island of Lampedusa and a third at the Sicilian port of Syracuse – carrying more than 700 migrants.
In August, six young Egyptians drowned while trying to come ashore at Catania in another part of Sicily.
ipj/mkg (AFP, Reuters, AP, dpa)