Assenna Foundation Ltd Chairman, Mr. Habte Hagos' remark regarding the personal attack on Amanuel Eyasu by the PFDJ thugs
On hearing of the personal attack on Amanuel, the Chairman of Assenna Foundation, Habte Hagos said "I am shocked and appalled that such an attack has again happened in broad daylight on the streets of London by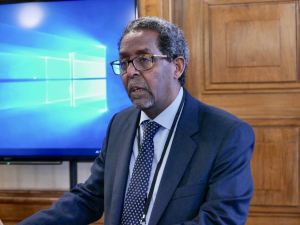 On hearing of the personal attack on Amanuel, the Chairman of Assenna Foundation, Habte Hagos said "I am shocked and appalled that such an attack has again happened in broad daylight on the streets of London by PFDJ sympathisers.
 This is an unprovoked and cowardly act, and I commend the British police for their swift act in apprehending one of the attackers. The others have been captured on CCTV cameras and I am sure they will be in handcuffs before too long. Unlike our fellow citizens in Eritrea, we live in a country where the rule of law is paramount and that no one can go around attacking people in the manner these brainwashed thugs have done without being punished.
 Amanuel has tirelessly worked for his country, putting in as much as 20 hours 24/7 to expose the suffering inflicted on the Eritrean people by Isaias and his handful cliques over many years. Amanuel's achievement in this regard is second to none and he is hugely admired by many peace loving and nationalist Eritreans across the world. Like the cowards who attacked him, Amanuel could have kept his silence but he chose to speak out on behalf of his people. Only fools or people with interest can stand outside and clap their hands whilst an arsonists burns down their home – any ordinary person would of course try to stop them by all means. Destruction is precisely what Isaias and his cliques are doing to our beloved country for which so much blood was sacrificed to liberate. These people do not care about the huge number of young Eritreans that perish in the desert and at sea to escape torture, enslavement and to simply live an ordinary life; to get education, to work and to start a family. Rights denied to them by the unelected ruler in Asmara who childishly trivialise their suffering by asking "Who told them to go?". Isaias and his clique do not care about the Eritrean people. All they care about is ensuring, in anyway they can, for the world to remain ignorant of their crimes. This is why they attack justice seekers such as Amanuel.  
This cowardly attack on Amanuel will not stop the excellent work he does and has been doing for a long time. The Assenna Foundation Board is committed to supporting him in that endeavour. Lawyers have been informed of the brutal attack yesterday and Assenna Foundation Board will take all necessary action to bring the perpetrators to justice.  We will fight injustice with justice. Our martyrs gave their lives in order we Eritreans can live in our homeland under the rule of law – free from oppression and fear. To build a country where every Eritrean wishes to live in rather than flee from.  Freedom is not free as we know it from our bitter history. Time to remain silent whilst our own people are tortured day in and day out is long gone – indeed silence is now complicit to the crimes being committed by Isaias. We must peacefully fight to save our people and the very fabric of Eritrean society which Isaias is hellbent to destroy.
 Our martyrs expect no less of us.
 May they rest in peace.