Allentown man charged with killing African refugee
By Manuel Gamiz Jr., The Morning Call Hagos F. Mezgebo, an African refugee living and working in Allentown, had been out with friends last month celebrating the start of his holidays with a few drinks in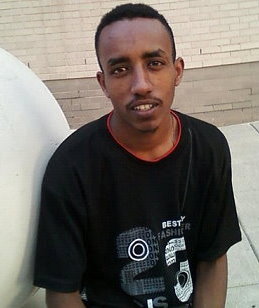 By Manuel Gamiz Jr., The Morning Call
Hagos F. Mezgebo, an African refugee living and working in Allentown, had been out with friends last month celebrating the start of his holidays with a few drinks in a bar at Ninth and Chew streets.
Around the same time, about eight blocks away, Enrique M. Ortiz had been thrown out of an Allentown nightclub and punched his girlfriend in the face during an argument about who would drive home.
The two men did not know each other, authorities said, but soon their lives would be tragically connected.
On Tuesday, Ortiz, 25, formerly of Allentown, was charged with gunning down Mezgebo early Jan. 7 at Fountain and Emmett streets, a short distance from the bar he had just left.
Lehigh County District Attorney Jim Martin said an investigation showed that the two men did not appear to know each other and could not say what prompted the shooting of Mezgebo, a 22-year-old man who fled war-torn Eritrea in the Horn of Africa and resettled in Allentown through the Catholic Charities, Diocese of Allentown.
Martin said Mezgebo, 22, had been at the B&B Piano Bar for about an hour that night before leaving. Security surveillance did not show anything unusual happening in the bar, he said.
According to court documents:
Ortiz's girlfriend said Ortiz was driving her car after he was kicked out of the Maingate Night Club on 17th Street at 11 p.m. Jan. 6. She told police he pulled over on Fountain Street and stopped the car. She did not say why he pulled over.
The girlfriend said she remembered seeing a black man standing on the sidewalk. She then remembered Ortiz getting out of her car and hearing several gunshots. She said he returned to the car and sped off north on Fountain Street.
Allentown police said Mezgebo was shot while standing near the corner of Emmett and Fountain streets. He ran north on Fountain Street, then turned east on Chew Street, where he collapsed and died.
As he sped away, Ortiz nearly ran into a car that was double-parked on Ninth Street. Ortiz got out of the car and pulled out a gun as he argued with three women who had been in the other car, police said.
Police interviewed the women and they told police Ortiz waved the gun in front of them and then shoved the gun under the chin of one of the women, asking if he should "cap" her.
Ortiz left the area without hurting the women and drove to the Super 8 Motel on Airport Road, where he and his girlfriend were staying.
At the motel, Ortiz roughed up his girlfriend, throwing her onto the bed and slamming her into the floor, television and a refrigerator.
Ortiz' girlfriend reported the domestic assault on Jan. 8, and also answered questions about the homicide, according to court documents.
Ortiz was arrested the next day when an Allentown police officer recognized him from a wanted poster circulated by the department.
The police officer stopped a car at 11:48 a.m. Jan. 9 at N. 14th and Linden streets. Ortiz was sitting in the front passenger seat and police found a 9 mm handgun with a scratched-off serial number underneath his seat.
Police said they also found heroin, cocaine, drug paraphernalia and $2,810 in cash in the car.
Since his arrest, Ortiz has been charged with simple assault and harassment for the alleged attack against his girlfriend and two counts of possession with intent to deliver, one count of possession of drug paraphernalia and a weapons violation for the Jan. 9 traffic stop.
After further investigation, Ortiz was charged with the killing on Tuesday morning. He was arraigned before Senior Judge John Dugan on a count of criminal homicide, along with five counts of reckless endangerment and three counts each of simple assault and terroristic threats, and a firearms violation.
He was sent to Lehigh County Prison and is denied bail.
Mezgebo came to Allentown in December 2010. He fled Eritrea in the spring of 2008, making a dangerous, five-day journey to a refugee camp in neighboring Ethiopia. If he stayed, Mezgebo would have been forced to fight in a war between the two countries that claimed tens of thousands of lives.
Mezgebo lived in a home on N. 13th Street with other refugees and worked at a meat-processing plant in the city, while also taking classes to learn English. Mezgebo, a recently converted Orthodox Christian, would have been celebrating Christmas the night he was killed.
The coroner's office and Catholic Charities tracked down Mezgebo's family and were working to get them to Allentown for his burial.