Algeria hails relationship development between Ethiopia, Eritrea
ALGIERS, June 23 (Xinhua) -- Algeria's Foreign Ministry Saturday welcomed the recent development in relations between Ethiopia and Eritrea. The Foreign Ministry Spokesperson Abdelaziz Benali Cherif Saturday said in a statement that Algeria welcomes the decision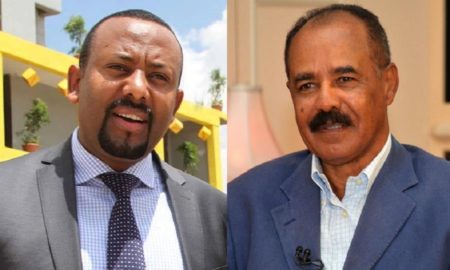 ALGIERS, June 23 (Xinhua) — Algeria's Foreign Ministry Saturday welcomed the recent development in relations between Ethiopia and Eritrea.
The Foreign Ministry Spokesperson Abdelaziz Benali Cherif Saturday said in a statement that Algeria welcomes the decision of Ethiopian authorities to fully implement the Algiers Agreement, signed in December 2000, as well as the conclusion of demarcation of the border.
He added that Algeria also welcomes the positive reaction of Eritrea, which marked its readiness to renew dialogue with its Ethiopian neighbor.
He stressed that such encouraging development that deserve all the support of the international community are likely to contribute to the definitive settlement of the border conflict between the two countries.
The two neighboring East African countries fought a border war from 1998 to 2000 before signing a peace accord, dubbed the Algiers agreement, in December 2000.
On June 5, Ethiopia's Executive Committee of the ruling party, the Ethiopian People's Revolutionary Democratic Front (EPRDF), passed decision expressing Ethiopia's commitment to an unconditional implementation of the December 2000 Algiers peace agreement with Eritrea. ADDIS ABABA, June 22 (Xinhua) — Recent positive developments concerning the relations between Ethiopia and Eritrea have given the global community with more confidence that relations among the two arch-rivals are normalizing.
For up-to-date news and current affairs SUBSCRIBE to ASSENNA NEWS channel