A Message to my Parents – Ibrahim Mahmoud Sheriffo
A Message to my Parents Ibrahim Mahmoud Sheriffo 18 Sep, 2016 I believe memories, whether good or bad, need to be dealt with, not deleted arbitrarily.  In my case I am enthused and at the same time haunted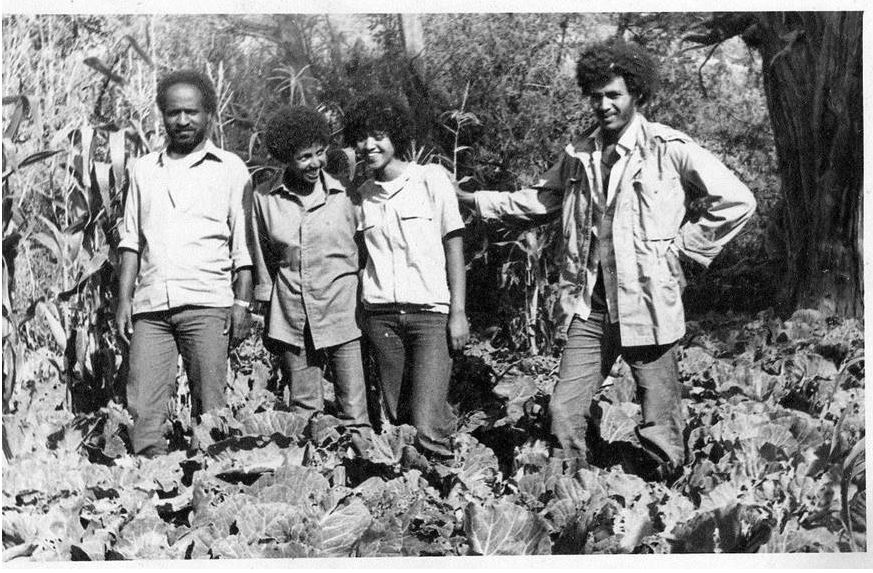 A Message to my Parents
Ibrahim Mahmoud Sheriffo
18 Sep, 2016
I believe memories, whether good or bad, need to be dealt with, not deleted arbitrarily.  In my case I am enthused and at the same time haunted by the memories of the past which have become part of me.  Today, sad memories are weighing me down.  However, I am not going to let this day be taken from me. If my soul abandons this day then it will certainly become an orphan.
In 1980s, I, together with thousands of other children, was raised in the battlefields of Eritrea. We, the children of the revolution, are forever linked to one another via memories of our unique childhood.  We sheltered in caves and makeshift dorms and loitered around the coarse terrains of the Sahel. Due to extenuating circumstances, our parents had very little time for us – they were always going about here and there carrying guns and ammunitions.  Besides, we were too young to comprehend the real meaning of what a family unit entailed.
Yes, we were kindred souls of the desolate tracts of the Sahel.  We did not fully understand the aims and objectives of the revolutionary mission – we simply recited stories of heroisms as we played and sat in those improvised classrooms.  We knew though, our parents coupled with each other through blood, sweat and tears.
We were toddlers when our parents broke through the Hal-Hal Front, the scene of some of the heaviest fighting of the armed struggle.  That was after the epic battle of Afabet.   Yes, we were too young to remember as our parents raided Massawa which gave some of us the opportunity to see the vastness of the Red Sea for the first time.  Of course, many of us experienced the subsequent aerial bombardments by the Ethiopian Air force that reduced the port city to rubbles.  There was death in the air, and so was the scent of decomposing corpses everywhere.   Nevertheless, we remained forever-linked by those experiences.  We were equally linked by other incidents of the time – the severe famine that sent hundreds of thousands of our people to the neighbouring country.  It was a miracle that we survived all that hardship.
As our parents remained steadfast during those ordeals, they, together with their comrades, eventually managed to liberate Eritrea. I was only five years old then. Frenzied elation and celebrations pursued.  Nonetheless I did not know what awaited around the corner; a few years later, in my early teens, my world would turn up-side-down when both my parents disappeared off the face of the earth.   Fifteen years later, here I am to commemorate another anniversary of their disappearance.
On 18 Sep 2001, my parents were unjustly incarcerated for writing an open letter that called for reforms – the 'cardinal' sin that sealed their fate.  Although I did not see that coming,  I have accepted the fact that very nightmarish incident provided a purpose for the justice-seeking people of Eritrea.
I am proud of my parents because I know they stood for something tangible. To me that is a sign of character.  They were not bullies but constructive critics.  Everyone knows what they stood for.  That goes into the good pages of history.  Even if the situation around me is goading me more and more into reacting angrily and irrationally, I refuse to stoop to harbouring acrimony; instead, I uphold the dignified position of my parents.
********
Dear mother, let me give news of the family.  Your dear mother has celebrated her 86th birthday a couple of months ago. Her limbs have gone unruly but her mind is still alert and remains very focused on you. She is waiting for you to come home; the only prospect that is keeping her alive.
Dear father, they tell me I look more and more like you now.  Frankly, I have no idea how you look like anymore; 15 years of separation does indeed play tricks on the mind.   Your stoic posture is what I remember most about you.
My adoring mother and my rock-solid father, I admit that your disappearance has deprived me of my many things in my life; it has robbed me of my youth – I am living in perpetual agony.  On the other hand, I welcome this agony because it has set my spirit free.  I celebrate the fact that you, via the position you took, empowered Eritreans across the globe to speak out against injustice.
PS: Ibrahim is the son of Aster Fissehatsion and Mahmoud Ahmed Sheriffo, veteran Eritrean freedom fighters.