Weynay Ghebresilasie: Running for freedom in Sunderland
It is not every day that an Olympic runner turns up to train at a provincial running club, but that is exactly what happened to Sunderland Harriers. Unfortunately, the circumstances behind Weynay Ghebresilasie's arrival on Wearside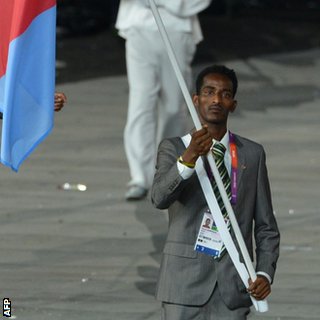 It is not every day that an Olympic runner turns up to train at a provincial running club, but that is exactly what happened to Sunderland Harriers.
Unfortunately, the circumstances behind Weynay Ghebresilasie's arrival on Wearside make for unhappy reading.
The Eritrean 3000m steeplechase runner, who finished 10th in his heat in London last summer, sought political asylum post-Games.
His home country has been criticised for its human rights record by United Nations human rights chief Navi Pillay, who estimated in July 2012 that between 5,000 and 10,000 political prisoners were among the 6,000,000 inhabitants of the nation.
There is also simmering tension on the borders with Ethiopia, where a bitter war fought between 1998 and 2000 claimed the life of Ghebresilasie's brother – and he was desperate to avoid a similar fate.
It was a move that will affect his life forever.
"If I return to Eritrea, there will be a great danger to my life," Ghebresilasie told BBC Look North.
"As every Eritrean knows, if you return after seeking asylum or even after overstaying the leave you were given for a visit, you are in an even worse situation than everyone else.
"That is very bad indeed, it's a very dangerous situation. If I get deported, it will be a problem."
The 18-year-old's decision to seek asylum has brought some tough sacrifices, notably in the loss of contact with his family, who he also fears could be in danger through possible recriminations.
In their place are friends, whom he lives with in Sunderland, and his new club who have rallied around to help.
"We'll support him as long as he's here. We make sure he's got enough food and vitamins – it's full support from the club," said Harriers chairman Kevin Carr.
"He's gone through some terrible times, and he's going through some serious thoughts in his mind thinking about his family in Eritrea and to add to that he's only 18 – it's not just going for a race.
"You can see sometimes he's thinking about home, and it's those situations he's got to manage, but it's very difficult."
Ghebresilasie's ambitions are to resurrect his Olympic career after his taste of 2012, and Carr is enthused by the talent on his doorstep.
"We were aware he was something special, he was going round the track at quite a speed, so we got him to sign for the Harriers," he continued.
"He's got great potential, he's serious and focused on his athletics and I can see him going far."
Meanwhile, the north east climate has provided a shock, but not an obstacle to Ghebresilasie's dedication to running.
He has not ruled out running for Great Britain, a place he hopes to call home.
"My dream is to be a top athlete, I want to compare myself with the best in the world and then I want to beat them," he said.
"I want to be a champion, at the top of athletics. I want to be there at the next Olympics.
"I have a dream and it would great for me. I want to achieve my dream. I am focused. If I can live in Britain, I can run for Great Britain."
Source:BBC Sport