'50 killed' in Sudan protests
Sudanese police killed at least 50 people this week, often "shooting to kill", when they moved to quell angry protests over the government's cut of fuel subsidies, two rights groups said. Hundreds of Sudanese activists, protesters,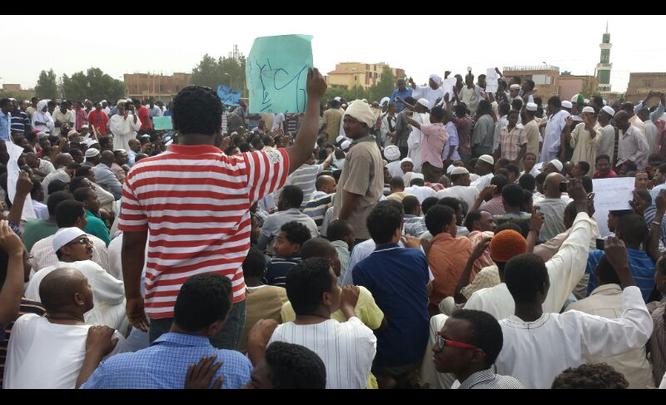 Sudanese police killed at least 50 people this week, often "shooting to kill", when they moved to quell angry protests over the government's cut of fuel subsidies, two rights groups said.
Hundreds of Sudanese activists, protesters, students and members of opposition parties have also been arrested amid the violence, according to a joint statement by the two groups – Amnesty International and the African Centre for Justice and Peace Studies (ACJPS).
Anti-government protests first erupted in the town of Wad Madani south of Sudan's capital, then spread to Khartoum and seven other cities in the country's east following president Omar al-Bashir's announcement last Sunday of new austerity measures, including the lifting of subsidies – a move that instantly almost doubled prices on fuel products.
A gallon (3.8 litres) of diesel sprang from eight Sudanese pounds (£1.13) to 14 pounds (£1.97). A gallon of petrol that was 12 pounds rose to 21, while a canister of cooking gas that was 14 pounds is now 25.
Mr al-Bashir – an autocrat who has ruled for nearly 24 years after taking over power in a military coup – justified the new measures, saying they would rescue the country from "collapse".
Sudan lost most of its main oil-producing territory when South Sudan broke off and became an independent state in 2011. The two countries are now embroiled in a standoff over an oil-rich region claimed by both and the northern state's threat to halt a key oil transportation route from the southern state.
Mr al-Bashir's announcement set off riots, with angry protesters torching police and petrol stations, as well as setting fire to government buildings. Hundreds of students, meanwhile, marched in the streets, chanting anti-government slogans and calling for Mr al-Bashir's removal.
The violence gripped the nation for three days and on Thursday, authorities deployed army troops around vital installations and petrol stations in Khartoum.
Residents prepared for more potential violence and protests expected on Friday, particularly after worshippers flood out of mosques following the weekly Islamic prayer.
Sudanese police said a total of 29 people, including policemen, were killed during the week's riots and that hundreds were arrested after police stormed "hideouts of gangs and rioters". The police statement was carried by the official SUNA news agency late on Thursday.
The two right groups, Amnesty and ACJPS, said they documented 50 deaths in two days of rioting, Tuesday and Wednesday. Most of those killed were aged between 19 and 26, the groups said.
ACJPS cited one witness as saying that he saw two bodies with gunshot wounds to the back, "suggesting that the deceased had been shot whilst running away".
"Shooting to kill – including by aiming at protesters' chests and heads – is a blatant violation of the right to life, and Sudan must immediately end this violent repression," said Amnesty's deputy chief for Africa, Lucy Freeman.
A precise death toll from the violence was almost impossible to obtain, partly due to a media blackout that prevented journalists from obtaining records and a 24-hour internet outage on Wednesday.
It was unclear whether the outage was government-orchestrated and linked to the rioting but the cut recalled a similarly dramatic outage in Egypt, Sudan's neighbour, when authorities shut off internet access during that country's 2011 uprising.
Youth activists and doctors at a Khartoum hospital told the Associated Press that at least 100 people had died in the protests since Monday.
Sayyed Qanata, a physician at the main hospital in Khartoum's flashpoint Omdurman district, a longtime opposition stronghold, said his hospital recorded 113 deaths in Khartoum alone. Those include the 38 bodies he himself counted, Mr Qanata said.
Amgad Farid, a spokesman for the Change Now youth movement, said the organisation compiled a list of 81 protesters killed on Wednesday alone in Khartoum.
A protest group, Girifna, which is Arabic for "Fed Up", also put the number of dead at 100 in a posting on its website.
Amnesty and ACJPS said chief editors of several Khartoum newspapers were summoned by authorities and instructed to only publish police statements on the violence. One paper, Al-Sudani, was banned on Thursday, reportedly for its anti-government stance.
AP