My fellow Eritreans the Time to take our country back has come.
As we all know, about 65,000 our Eritrean Brothers and sisters sacrificed their life for the libertarian of Eritrea, and thousands became handicaps. After the liberation of Eritrea, about 19,000 Warsaye has to sacrifice to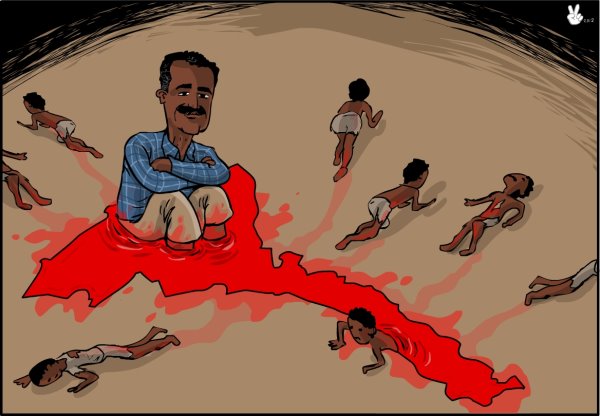 As we all know, about 65,000 our Eritrean Brothers and sisters sacrificed their life for the libertarian of Eritrea, and thousands became handicaps. After the liberation of Eritrea, about 19,000 Warsaye has to sacrifice to defend Eritrea from the questionable border war with Ethiopia. Why was all the sacrifice made? To make sure the people of Eritrea live in peace, democracy, justice, and prosperity. Did our fallen Brothers, and sisters dream has been realized? The answer is clear to anyone who wishes to look, and lesson. Things started going off the real when the legislative party has been dissolved, imprisoned for no clear rezone that we know of. The constitution was not implemented. The military service that initially was for18 month becomes permanent. The temporary civilian transitional Government changed into a military dictatorial Government. Knowing what we witnessed for the last 26 years, the border war with Ethiopia gave the president a perfect cover to aggregate total control of the country's affair under his command. From that point on everything went downhill. Construction was halted indefinitely. The cabinets of ministry become nothing but a symbol. With no budget allocated to the ministries, they were not able to administer their respective ministries. Therefore, all civil administration departments become almost none functional. The management who are appointed to these posts is selected based on their loyalty to the president, and not based on their qualification. They always wait guidance from the President. They don't have confidence to make a decision even if there is very minor deviation from the policy, for fare of been punished. And our people who paid so much sacrifice spend their day running from one office to the other, with never ending appointments.  I don't want to spend time telling you what you already know. How our beautiful city is ruined, our beautiful houses, and streets deteriorated. It is mind bugling to think that you will be punished if you fix your own house. It is painful to see the government demolishing houses that were constructed with a scarce resource. The rezone given may be they are constructed without a permit. But if the government stopped giving permit for decades, what are the people to do? But the ramification of such authoritarian rule is way deeper than that. From the get go the president's plan was to destroy the fabric of the very Eritrean culture, Eritrean family, and Eritrean sprit. You see, the president has recognized that the university students would be an obstacle for him to implement his ill-intentioned policies. So he closed the Asmara University, and created collages around the country for better control. According their statistics they have graduated over 30,000 with a Master's degree. The question is where are they now? When the Eritrean people were asked to send their beloved children to Sawa, they did not think twice to send them. They entrusted them with their beloved children. Once the students are in Sawa, they did not only receive military training, but they were controlled, and abused by the cadres. All their activities are monitored. Those who try to challenge the system are severely punished. The plan is to install fear in them to never question the authority. When life under this condition becomes unbearable, they flee to the Sudan, or Ethiopia. According to the human rights watch group, in 2016 alone 52,000 Eritreans have crossed the border. God knows how many left since then? In the last 3 month, since the boarder opened, about 15,000 Eritreans crossed the border.  And the Government is happy to see them go. We have independent Eritrea hangry of its own people. The Government wants us to belie that they are providing free education, so they can be productive citizens. But the reality is, once they complete their education, they don't have any employment for them. The girls are working in Coffee shops, Hotels and Bars. The men wonder around the city wanting for handouts from relatives in the diaspora. That is why they made military service permanent. And if they sneak in to the city to see their family, they are hunted like wild animals. In short the second generation of Eritrea has been intentionally lost. The rest of the population leaves in fear. The aim of the government is to constantly keep the population in crisis. The Eritrean people endured all kind of shortages that was thrown at them. Furthermore, they require old men to be a night guard, even if you have to go to work the next day. There are more prisons that there are factories in Eritrea. Thousands of our Brothers and Sisters are suffering in person. You can be imprisoned for any rezone. And there are plenty of excuses if they choose to put you in jail. Because the government purposely force you to engage in a black market activity, and use that at their connivance. For example, at one point they were unloading containers of merchandise in to Teseney. If you have a business, you can't go to Tesney and bring it to Asmara. They will search you at the check point, and confiscate your merchandise. But there are certain people who have connections that will bring it from Teseney, and sell it to you. This is very difficult to comprehend. Isn't Teseney in Eritrea? Why is not allowed to come to Asmara in the first please? Now we are witnessing the Woyane bringing their merchandise to Asmara. Their Minivans are operating without any permit.
As much as the Government uses the sanction as a cover, there are a lot of us who believe it. In 2009, the UN Security Council sanctioned Eritrea for its alleged support of al-Shabab, an Islamist militia in Somalia. The UN measures include an arms embargo and travel bans and asset freezes for designated individuals. The sanction prevents Eritrea from importing Arms, and anything related to military use. It is not economic sanction. The sanction would not prevent us from structuring our national institutions in a functional manner, with qualified people. It would not stop us from allowing anyone who can build a house to do so with their own foreign currency. It would not stop us from allowing Eritrean businessman to play a role in the economy. The list goes on, and on. We have thousands of Eritreans who are capable of contributing to the Eritrean economy, but in the absence of constitutional guarantees of the fundamental rights and freedoms of citizens, and constitutionally enshrining the basic principles of a market Economy, private investment is impossible. In short the sanction imposed to the Eritrean people by its government is far worse than the Sanction imposed by the UN. In the last 26 years nothing significant industry or factory has been completed. We could not even develop our Fishery. Another good example is the new cement factory.  The Gov't spent millions of dollars to construct it, and remained idle for years until recently for luck of Electricity. There are many small and big projects that were started, and never completed intestinally. This is squandering the country's resources in unproductive projects. You don't have to take it from me; you can listen to the arranged interviews of the President. Every year he tells us no progress was made in all the sectors. And he lectures us how someone needs to think, or what you should be able to do. He puts himself as an outsider, and point a finger to others, while he is 100% control of everything. So it is clear that the rezone Eritrea finds itself in a worst situation than the 50th is not because the luck of its own peoples intellectual, and economical capacity, or the dedication to rebuild their beloved country, but because his own government made it impossible. The president tied half of the Eritrean brains behind their back to make sure its economy collapses. What the president has been doing for the last 26 years fits what once Mussolini said "If you pond a chicken Feather one at a time, nobody will notice". And slowly, but surly our country is collapsing. This is considered treason. And whoever is a responsible need to be held accountable.
The border war with Ethiopia has ended. Someday the truth of whom, and why the war started will be told. And it is important for us to understand, as we have paid dearly. I would like to thank Warsay for saving the country. But I am happy that peace has prevailed. We should live in peace with all our Neighbors, based on mutual respect, and cooperation. The peace initiative started when the prime minster of Ethiopia announced that his country has accepted the Algiers agreement. But so far Ethiopia has not pulled its military from Badme. A peace agreement has been signed in Asmara, and in Saudi Arabia. But no detail information has been provided to the Eritrean people. The Eritrean people have been getting most of the information through the Ethiopian Television. The president could not bother to address his own people. He seems to forget who he is working for. This is the highest level of disrespect to the Eritrean people. Not long ago when the border war started, he went running to his people to ask for cash donation, and a lone. And the Eritrean people rose to the occasion. But now that he found a new love with Ethiopia, he forgot his own people. There are worry some events taking place with the opening of the borders with Ethiopia. Thousands of people of all ages, as young as 12 years olds are migrating to Ethiopia, specifically Tigray. They are living on the streets, and churches of Tigray. And our young Girls exposed to morally an Eritrean behavior. Basically we are witnessing a revers of history. My intention is not to put Tigray people down for what they did to survive in Eritrea before the independence, but to point out the intention of the President to bring the Eritrean people to the Tigray people level, or under. At the same time Thousands of Tigrayns have flooding our city to sell their merchandise, without any restriction. When our Mothers, and Fathers were selling goods on their own street, they have been chased, their goods confiscated by municipality for not having a permit.
Considering what we have witnessed in the last 26 years, we cannot expect anything to change. We are not sure what the president's plan is for Eritrea, but frankly we should not care. The question is what are we going to do about our country? Eritrea is in a very critical juncture at this time. We need to take our country back, and put it in a right track of growth, and development. I call upon all opposition groups to put aside all their difference, and unite the people towards a common goal of liberating Eritrea. That is how we were successful in achieving our independence. There should not be any ideology that can divide you. As at the end, it will be the Eritrean people who will elect it is own leader democratically. If you are planning to be another dictator, Eritrean people will not have it. I call upon our Artist in the diaspora, especially musicians, to motivate our people like our past revolutionary singers. I call upon the religion leaders to play their roll. At last I call upon my fellow Eritreans to be a voice to those who do not have a voice. Stand up for the truth. Have the courage to call a spade, a spade. There are a lot of Eritreans who decided to be apologist to the failed government, and do not see the pain, and safe ring of their own people, but we should be patient with them, and not engage in a name calling. We should rather stick to the facts.  Division amongst our self is giving life to the current failed administration.
May God/Allah save Eritrea
Peace and Liberation to the Eritrean people!
Warsay Adhanom
https://www.cfr.org/backgrounder/authoritarianism-eritrea-and-migrant-crisis
https://en.wikipedia.org/wiki/United_Nations_Security_Council_Resolution_1907