The Gulf Rift and Eritrea's Playbook for Meddling in Conflicts
Eritrea, a country ravaged by poverty has a long track record of fiercely repressing its people and preemptively attacking its neighbors. Isaias Afeworki, leader of the pariah state for 26 years was found guilty by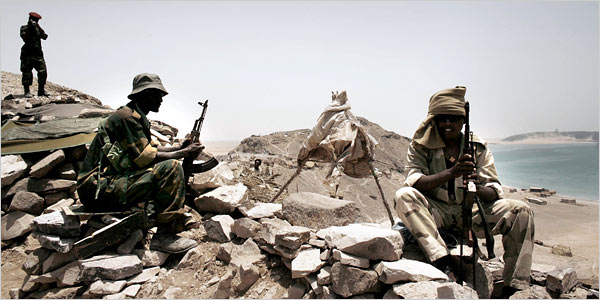 Eritrea, a country ravaged by poverty has a long track record of fiercely repressing its people and preemptively attacking its neighbors. Isaias Afeworki, leader of the pariah state for 26 years was found guilty by the U.N. for committing and continue to commit a litany of crimes, some of which amounted to crimes against humanity including enslavement, imprisonment, disappearances, torture, rape and murder. In less than 25 years, Isaias has also ignited conflicts and wars with all of Eritrea's neighboring countries, to be precise: with Yemen, Sudan, Ethiopia and Djibouti. One fact is evident, Isaias prefers violence and wars over settling disputes through courts and diplomacy. What may be less obvious is his latest decision to plunge his country in the current gulf rift.
For decades, the Shiite-led Islamic Republic of Iran and the Sunni-led Saudi Arabia have been locked in proxy wars in the region stretching from Syria to Yemen. On the other end, Qatar aspires to be the region's indispensable mediator. As such, becoming a mediator is a strategic choice for Qatar. Its efforts are highlighted from seeking political consensus in Lebanon to securing a peace agreement for the Darfur conflict and dispatching peacekeeping force to the Djibouti-Eritrean border. Qatar's financial resources were instrumental in allowing the country to deploy large peacekeeping forces for extended periods, build its credibility through humanitarian assistance and supplement its mediation activities with investments. Eritrea was a beneficiary of these investments, such as the "Qatari-Dahlak project" at a cost of 115 million US dollars.
When Saudi Arabia and its allies cut diplomatic ties with Qatar on June 5, 2017, by accusing Qatari's government of harboring terrorist and sectarian groups, a charge Qatar denies, it did not take time for Isaias to abandon his longtime ally, Qatar, and side with the Saudi-led coalition. This may come as a surprise to many observers but not if Eritrea's playbook for meddling in conflicts is correctly understood.
To understand Eritrea, one must begin by understanding how Isaias deals with conflicts. To start with, the art of diplomacy and statecraft is nonexistent in his playbook. Moreover, his severe disregard for both peace and stability in the region has doomed his adventures to drown Eritrea into conflict after conflict. What's more baffling is that Isaias' longtime allies are usually the main victims of his continuous transgressions. For example, the ruling party in Ethiopia was the first to recognize Eritrea's independence and it had close economic, political and military ties with the Eritrean regime. Sudan, Yemen and Djibouti had similar relations with Eritrea. However, Isaias chose the use of force to settle minor disputes with all of these countries. Through a look-back analysis of all of these conflicts, a trend emerges that shows the short-sighted calculations of Isaias and his quest for short-term gains to keep his regime and its influence alive. From this vantage point it becomes apparent why Isaias would abandon his longtime and closest ally, Qatar, and side with the Saudi-led coalition.
The government of Qatar was on the side of the Isaias led Eritrean liberation struggle and it has made several investments in Eritrea after the liberation war ended in 1991. Moreover, about 450 of its forces were deployed on the Djibouti-Eritrean border to monitor the implementation of a ceasefire agreement that was signed between the two neighboring countries in June of 2010. Due to his short-sighted calculations, Isaias may have chosen to abandon his longtime ally and side with the Saudi-led coalition this time. The fact that United Arab Emirates is using the port of Asab as a military base may have also weighed heavy in his decision which may seem a strategic advantage for Eritrea and its new allies. However, this new coalition couldn't be further from gaining a strategic advantage. For as long as Isaias is invited to any partnership, the Eritrean regime will continue to be a bad apple and it will make an already bad situation even worse. That's because 1- Isaias has a proven track record of making unpredictable and unreliable decisions and at times sending mixed messages. His erratic moves to save his tattering regime may prove once again he is more of a liability than an asset. 2- Just for the fact that Eritrea is a member of this new coalition complicates the partnership itself and an internal issues may develop anytime, forcing members of this coalition to disagree or make unexpected detours. 3- The gulf diplomatic rift may have a ripple effect and trigger a renewed war between Djibouti and Eritrea and beyond adding another dimension to the current rift. 4- As the construction of Grand Ethiopian Renaissance Dam wraps up, Isaias may take this opportunity to move the center of gravity from the gulf to the African continent with the sole purpose of thriving in an escalating tension between Ethiopia and Egypt.
Network of Eritrean Activists
The North Star Movement
eriactivists@gmail.com
The North Star Movement is a network of Eritrean activists with the aim to study geopolitical issues affecting Eritrea and the Horn of Africa.