170 bodies of migrants found off Libya coast – AFP
Libyan rescuers have recovered the bodies of around 170 people after a boat carrying illegal migrants from sub-Saharan Africa sank at sea last week, a Coast Guard official said on Monday. "We freed about 100 bodies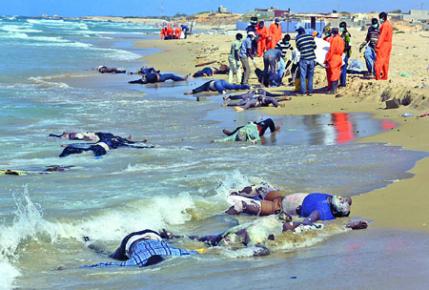 Libyan rescuers have recovered the bodies of around 170 people after a boat carrying illegal migrants from sub-Saharan Africa sank at sea last week, a Coast Guard official said on Monday.
"We freed about 100 bodies trapped in the hold of the 16-metre wooden boat which foundered not far from the coast," Abdellatif Mohammed Ibrahim said. Another 70 bodies were washed up by the tide, including five young children, he said. "It looks like the boat overturned suddenly, leaving the passengers no chance," he said as Red Cross rescuers pulled bodies from the water. Mr Ibrahim said no leaks were found in the hull of the vessel, shipwrecked off the coast of Guarabouli district, 60 kilometres east of Tripoli.
In the absence of documentation, the rescue workers have been unable to make a list of victims or establish their nationalities. But the few papers recovered showed the victims included migrants from Ethiopia and Eritrea. Libya, mired in unrest and political chaos, has been a launchpad for illegal migrants seeking a better life in Europe, but who turn to people smugglers to cross the Mediterranean.